Learning Russian Handwriting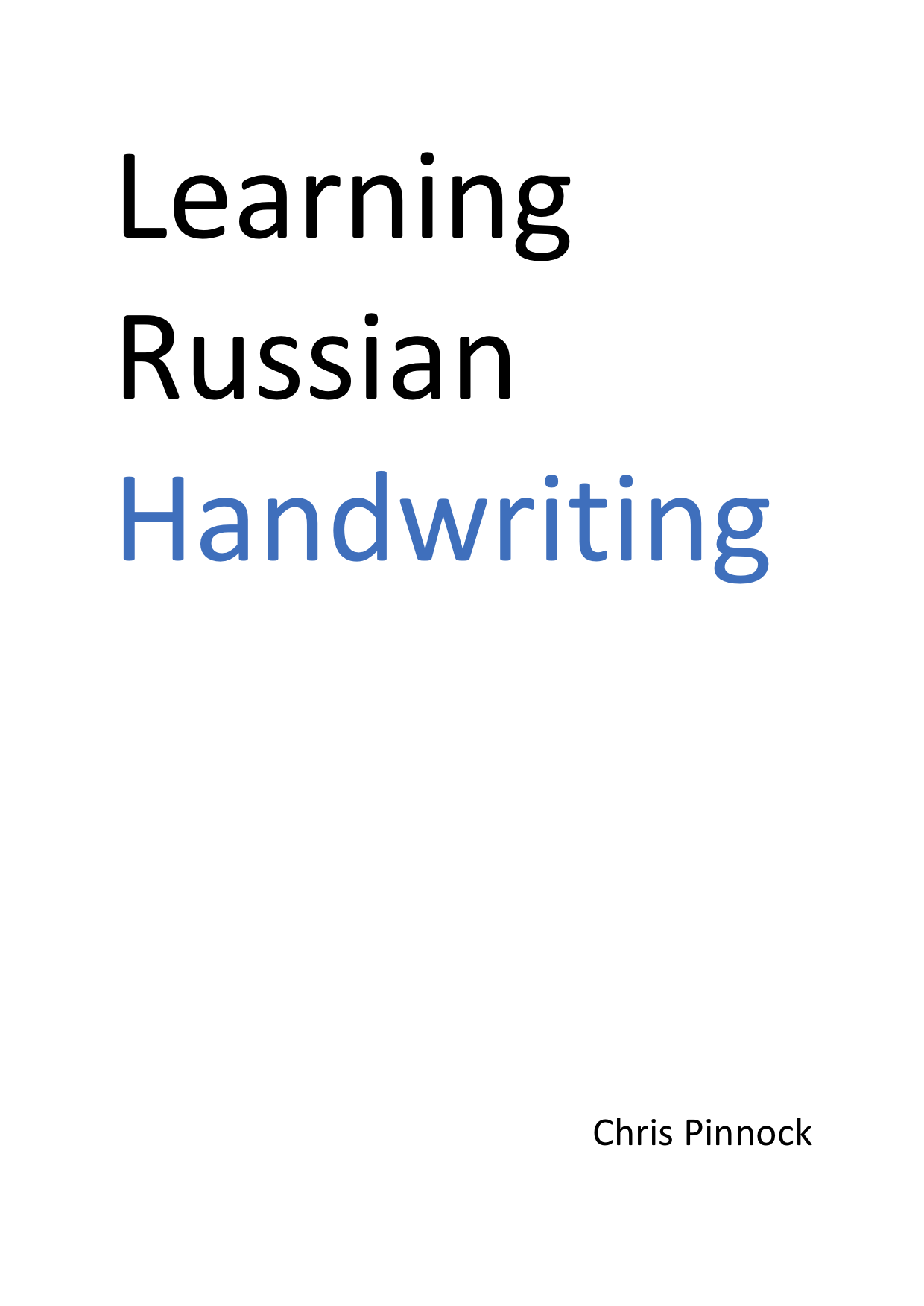 What is it about?
I learnt the art of Russian handwriting in three weeks in 2017. This book will show you how to handwrite the Cyrillic letters and quickly get to grips with Russian handwriting. It is organised in digestible chunks so that you can learn quickly. In the book, we also cover the Belarusian, Bulgarian, Ukrainian and pre-revolution alphabets.
The book is available from Leanpub. The current release is 1.4 (March 2020) and is 50% complete.
Resources
Practice sheets are available for the chapters in the book (published as we go):
Chapter 3 - с, н, п, р, у, х, д & и/й
Chapter 4 - т, ж, ш & щ
Chapter 5 - б, в, ы, ь & ъ
Chapter 6 - г, л, ф, ц, ч, э, ю & я
Chapter 7 - Words and phrases
Chapter 8 - і, ў, ґ, ї, є, ѳ, ѣ & ѵ
ChangeLog
Once we've published a more complete edition, the errata will appear here, although by the power of Lean Publishing it will be easy to issue new digital versions.
To-Do and in progress for version 1.7
The ChangeLog has moved to this page.
б, в, ь, ы, ъ will definitely be revisited, as will some of the words
Sensible pagination and page splits if required
Consistency of red arrows.
The entire book will be reviewed once the draft is completed
The first chapters need to be revised to incorporate some new ideas
The end is in sight!
1.6
спасибо has been redone but may be revisited.
А - the guidelines have been removed, мама has been replaced but may well be replaced again.
A - the red arrows have been tidied up somewhat
щ has been made more consistent with ш
The Glagolitic Alphabet has been traced and redone
1.5 (90%)
Draft of chapter 7
The heading image of chapter 6 was updated
1.4 12-Apr-2020 (65%)
A draft of Chapter 6 has been added
A few nits corrected
This version was not published, because now is the time to do fixes
1.3 23-Mar-2020 (50%)
The У has been fixed throughout as strictly my capital У was incorrect
An example for щ was added
Chapter 3 has been drafted
Some typos fixed
1.2 17-Mar-2020 (35%)
New Proactive templates and pens used in the background
Chapter 4 on Т, Ж, Ш and Щ has been added
Some small typos corrected
1.1 10-Jan-2020 (29%)
Chapter 5 on б, в, ь, ы, ъ has been added
A correction on the origin of ы. According to Wikipedia it is actually derived from ъi
A note in chapter 1 about the lower case nature of ь, ъ and ы has been added.
1.0.1 3-Dec-2019 (20%)
Some very minor formatting changes in the front matter.
1.0 1-Dec-2019 (20%)
The first edition was published with the introduction, chapter 1 on the Alphabet, chapter 2 on М, А, Е, Ё, О, К, З along with chapter 8 on Belarusian, Bulgarian, Ukrainian and pre-revolution alphabets.
BIBLIOGRAPHY
Here are the books referenced in the Bibliography: