North Norfolk Railway Beer Festival
This weekend my brother and I went to the North Norfolk Railway Beer Festival held at Sheringham Station. The festival is a good place to try many Norfolk real ales and also beers for other counties. Also available were ciders and perries.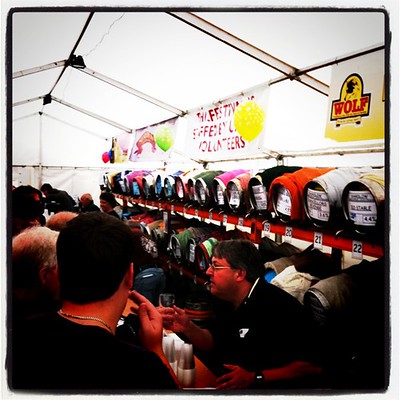 I was constrained by my 6 drink a week rule (enforced by Health Month) and so I decided to restrict myself to 12 halves. I'm counting a pint as a drink - others don't, but my conscience is clear, so help me God.
We tried two beers at a time and so the scorings below are more comparisons between the two beers being tried. As the beer flowed, the capacity to remember what the previous ones tasted like became difficult. We graded the drinks at the beginning of each tasting. I've included the beer festival's notes below for reference and you can find their beer list for 2011 online.
The two best beers tasted were Ole Slewfoot's Orange Blossom and Fox's Apollo, the latter of the two being the best in our opinion.
1st:
2nd:
Northcote - Norwich, Norfolk - Cow Tower 3.8% ★★★
"Light hoppy session ale." (Northcote brewery no longer seem to have a website. 14/4/2013.)
Ole Slewfoot - Hainford, Norfolk - Orange Blossom 4.4% ★★★★
"Lightly hopped beer, charged with honey and a nice orange citrus flavour."
3rd:
Panther - Reepham, Norfolk - Black 4.5% ★★
"Full-flavoured, a dark and mysterious ale with bite."
This was too sweet for me, but I can see the appeal.
4th:
Bees Brewery - Walcott, Norfolk - Navigator 4.5% ★★★
"Traditional best bitter, crisp and hoppy nose and taste, copper in colour."
Blackfriars - Great Yarmouth, Norfolk - Whyte Angel 4.5% ★★ "Celestial golden wheat-type beer."
My brother wanted to give Whyte Angel ★★★ but I put my foot down.
5th:
Fox - Heacham, Norfolk - Kelham Fox 4% ★★★
Brewed from a collaboration of Kelham Island and Fox's Head brewers.
Front St - Binham, Norfolk - Callums Ale 4.3% ★★ -
"Copper hued ale with wheat malt added to the grist to impart a good mouthfeel." This was too syrupy for me.
6th: Perries
Gwatkin - Abbey Dore, Herefordshire - Golden Valley Perry 6% - ★
Gwynt y Ddraig - Llanwit Fardre, Glamorgan - Two Trees Perry 4.5% ★★★
"A pale, fruity perry with an aroma of fruit and a hint of honey."
7th:
Fox - Heacham, Norfolk - Apollo 4% ★★★★
"It's so new the brewer can't even tell me." This was by far the best ale we had and went down a treat.
Next year's North Norfolk Railway Beer Festival will be held 13-15th July 2012.