[caption id="attachment_8926" align="alignleft" width="300"]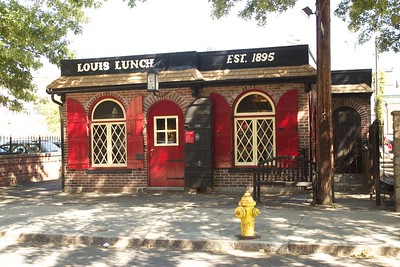 Louis' Lunch Shack[/caption]
I'm currently travelling around the United States of America and I'm going to visit every state in New England. On Tuesday I went to New Haven, Connecticut and one of the reasons was to visit Louis's Lunch. This place is a shack that serves burgers. More importantly, it claims to have served one of the first hamburgers in America around 1900.
I discovered the place via Heston Blumenthal's TV programme on the hamburger where he attempted to create the perfect burger. He visited Louis' Lunch when he made the programme.
[caption id="attachment_8927" align="alignright" width="300"]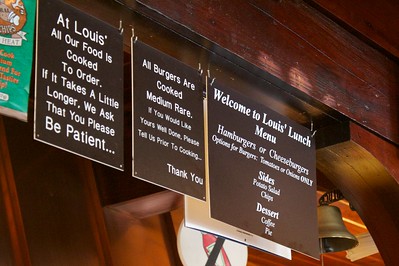 The Menu[/caption]
The menu is very simple - hamburgers with or without cheese, with or without onion and tomato. And that's it. The hamburgers are all cooked fresh to order in some very old looking equipment which I assume are broilers.
The burgers are cooked vertically and are served in toast, which is the way Louis's Lunch has always served them. I think there was something on the toast but I don't think it was butter.
[caption id="attachment_8928" align="alignleft" width="300"]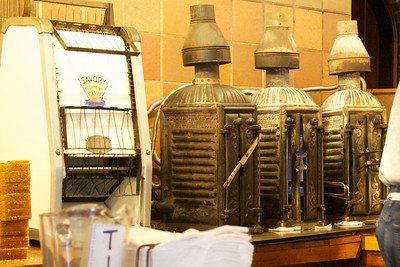 Cooking Apparatus[/caption]
The shack has very limited opening hours but they know what they are doing. There were people queuing outside. A local walked past saying "The best burger in America". It was a very tasty burger indeed. The owners were very friendly, calling me by my name from the moment they took my order. Well worth the visit for this burger I have to say. But please be patient if you go - they do cook to order and it takes a quarter of an hour to get your burger.
[caption id="attachment_8929" align="aligncenter" width="300"]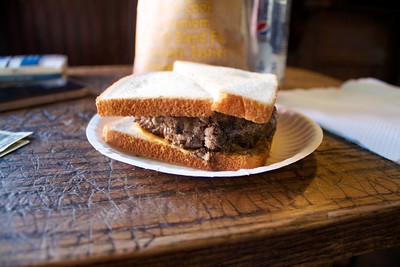 The final product[/caption]