Training for my April bike ride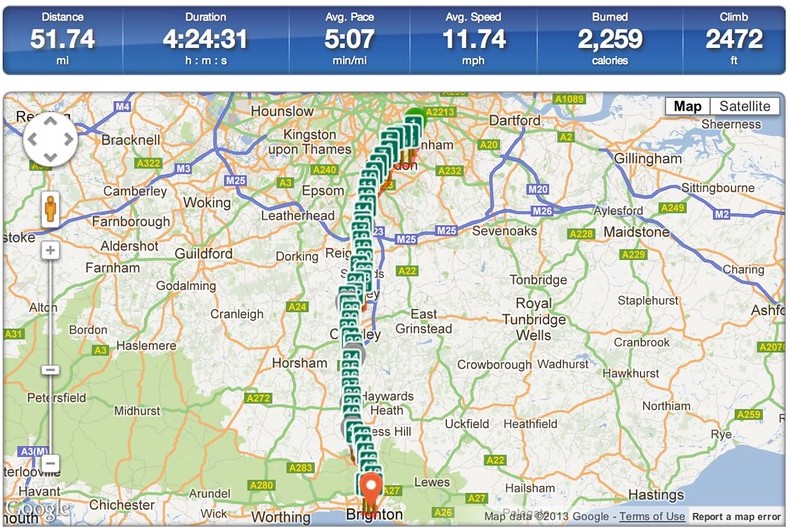 Today I cycled from my home in southeast London to Brighton aiming to break the 50-mile barrier. When I arrived in Brighton, I'd got to 49.3 miles so I rode up and down the coast ending by Coffee Republic for a well-deserved espresso.
I stopped briefly for water and cashew nuts to keep me going. The last 15 miles were the hard ones. Between the 15th and 8th mile, I nearly gave up. The incline was getting to me, but then I got into the main Brighton area and managed to finish. Also throughout the ride, my toes where very cold and so were my hands despite wearing gloves.
Several thoughts:
I'm not worried about my bike ride over four days between London and Paris. (This is in April - see my JustGiving page.) Provided I do not get injured and I keep up my exercise bike training in addition to real rides, I should be able to do the ride.

Furthermore, I'm not worried about missing the ferry to France. We are leaving at 630 in the morning and are having 2 refreshment breaks and lunch. The 70 miles is achievable provided I do not lose the energy.

I did the ride on a Slow-Carb meal of steak, two eggs, broccoli (two portions) and black beans. I was absolutely fine until the last 15 miles when it took a little while for two handfuls of cashews (approx. 200 calories) to help. I do ride well when I have carbs, but it is possible to have a low-carb diet and do a ride like this.

Padded gloves are definitely helping my hands. Without gloves or with normal gloves, my fourth and fifth fingers were going numb for up to two days after a long ride.

I took the train back to East Croydon and cycled home from there. I should not have cycled as my calves are very tight as a result. I need to warm down properly and I'm considering taking a foam roll on the trip.