[caption id="attachment_8933" align="alignleft" width="300"]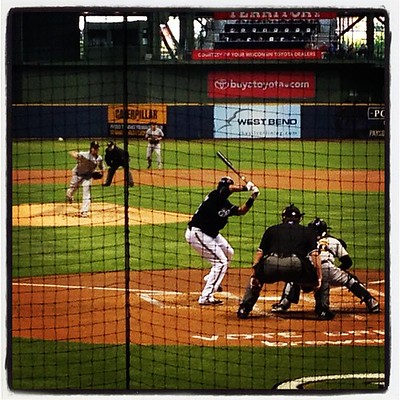 AJ and Russell do their stuff[/caption]
I'm back from Chicago after a week of baseball. I visited four baseball stadiums - Miller Park, US Cellular Field, Target Field and Wrigley Field. I do these trips because I like baseball and have liked the game for 2 years ever since I saw the Yankees play in 2010 in New York.
The Yankees (who I support) were not playing at any of these games. I supported the home team most nights, the only exception being the first night where the Pittsburgh Pirates played the Brewers. A.J.Burnett was pitching and Russell Martin was catching - both former Yankees. It was good to see these guys work together again particularly as I had a home plate seat.
One of the games was rained off. Actually, to be specific, it was "lighteninged off" because the US Cellular Field was hit with lightning several times. We had to move to the concourse area to avoid being hit by lightning. In the end, I had to make a dash to the nearest Starbucks to get on Wifi and order an Uber taxi home.
By the end of the week, the weather was great and on the last day, I did a tour of Wrigley field which is the 2nd oldest ballpark in America and home of the Chicago Cubs. I grabbed a beer and a Chicago style hot dog, soaked up some sun and watched the game.
I intend to visit every Major League Ball Park in America of which I have visited 10 already. At Miller Park, I sat next to a guy who was on his own. By pure coincidence, he was doing the same thing. It is an easier task for him because he lives in the USA. It is uncommon for someone from the UK to be passionate about baseball, but it is fairly uncommon to meet someone in the USA who is visiting each stadium.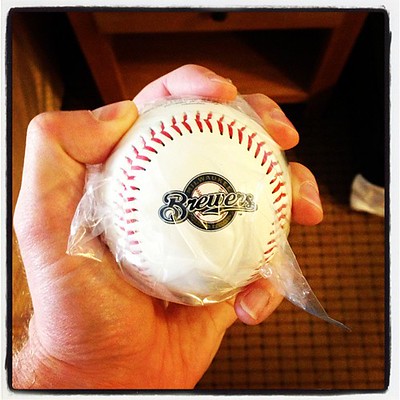 We compared notes and exchanged business cards. He collects baseballs with the team's logos as I do. I buy one at each ballpark I visit and I put them on my mantelpiece.
He also saves the ticket and places the ticket behind the ball in his collection. Do I do this? Certainly not, that would be obsessive...