The Pebble and the iPhone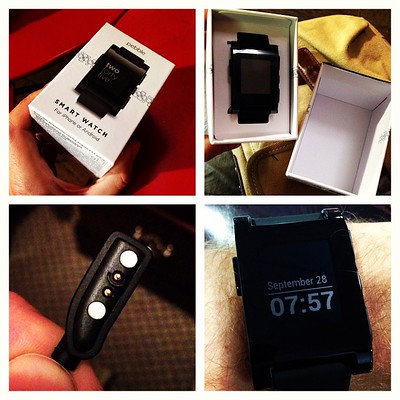 I now own a Pebble which is a SmartWatch with an e-ink display. Out of the box, you can change the clock face, but it will also pair with a Smart Phone via Bluetooth to provide further functionality.
The Pebble is a crowdsourced project and they used the Kickstarter site to raise funds for manufacturing the device.
I'm using it with my iPhone. On the iPhone, you install an application that is used to install applications and watch faces but also to send notifications to the Pebble. The application can also check an e-mail account and notify you via the Pebble of new mail.
I bought one of these because I happened to be in America. I might have spent a bit more time researching if it had been more readily available in Europe. It works well out of the box to display information about phone calls and SMSes on the watch screen. It also works well as a remote controller of Runkeeper, an application used to measure running and cycling. The vibration mechanism is a discreet way of keeping up to date when in meetings and it also means you can leave your phone in your pocket and still be up to date.
Two things that do not work well at all. Firstly, the Pebble does not seem to support non-Latin characters (specifically Cyrillic) so phone calls and SMS messages from my Russian and Bulgarian friends do not display correctly.
Secondly, it is not currently possible to reliably get notifications from all applications on the iPhone. It is possible to achieve this by removing the Pebble application and changing some settings on the iPhone, but when the Pebble becomes disconnected from the iPhone these settings need to be reset. (This resetting is referred to by Pebble users as the "finger dance".) By removing the Pebble application, you lose caller ID on telephone calls and messages.
Apple introduced an API in their Bluetooth stack on iOS 7 for sending notifications to Bluetooth devices. Basically, Pebble needs to update its iPhone app to use this API.
I struggled to get the Pebble application to work with Gmail reliably. Also, the phone comes with a proprietary connector for charging. At least one end is USB. Actually, the watch end is quite a nice connector and it is magnetic. It does mean that you need to carry this cable around with you if you travel a lot. The phone needs to be charged every 5 days or so.
It is a nice well made device, but personally, I would wait a bit longer before buying one if you intend to use it with the iPhone. When Pebble get this working with the general Apple notification mechanism, it will be a good companion device for the iPhone.