3 ways to be great at business
I have been using Take-A-Cake for a couple of months to buy cupcakes when I'm in Bulgaria. They are a small bakery that sell and deliver boxes of cupcakes online and from a shop. I have yet to find similar businesses in Prague or London that are as good at cupcakes as Take-A-Cake.
Take-A-Cake is a great little business and here is why:
1. A focused uncomplicated product set with great products
Take-A-Cake sells great cupcakes and that's pretty much it. Each bite is a pleasure. If you go to their shop, they will sell you coffee and tea, but this is just to support their main product - cakes. Their shop is designed for the production of cupcakes and it is optimised for making a good product. Despite the number of available options for cakes, their product set is actually quite small and focused. It is easier to deliver a great product if the menu is limited.
2. Accessibility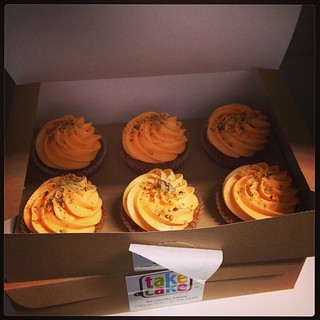 I can go into their shop and buy a cake with a coffee, but I can also buy their cupcakes anywhere in Sofia and have them delivered within a time window. Their web site works very well and is very flexible with payment options. Some web sites in the Czech Republic will not accept my billing address which is outside of the country, so I go elsewhere. Take-A-Cake will take direct payment but will also take a PayPal payment. Sell, sell and sell, and use any channel you can. Remove the barriers and make it easy to buy your product.
3. Reliable customer service
They deliver on time. The cakes are boxed up so that they do not break in transit. They've never let me down, so I want to use them again and again. Do a good job and you will get repeat business.