5 ways to avoid pointless eating
S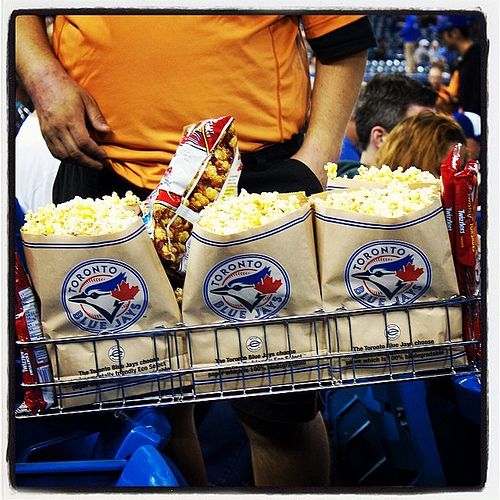 ince April 2011 I have taken more care about what I eat and furthermore since July 2012, I have been eating less sugar and starchy carbohydrates. I have become more sensitive to "pointless eating".
The fact is when we go out to a sporting event, the cinema or the theatre we have the option to buy junk. It is everywhere. At the football, it is traditional to have a pie and a pint. At the cinema, I get sick to death of the sound of popcorn being munched. At the baseball stadium, it is easy to buy hot dogs, popcorn, crackerjacks, fried dough, burgers, fries and beer at your seat. It is true that you can find a decent steak sandwich and a salad at some baseball stadiums but it is rare (I mean non-existent rather than the way it is cooked before you ask).
The time when I lost the most weight (or rather fat) in my life was when I spent September 2012 travelling around New England and Baltimore. I was on the Slow-Carb Diet. At the beginning of September, I was wearing 38 slim jeans which were a little baggy. Three weeks into September and I had to visit Gap in a hurry to buy 36" ones. I was living off scrambled eggs and broccoli, rice-less Chipotle bowls, steaks and fish with vegetables. In the oldest restaurant in America, I ordered a lobster for dessert. On Saturdays, I was stuffing my face with anything I could get my hands on. The only exercise I was doing was walking. The diet itself was doing its magic and by October I'd got to 76kg down from 86kg in July.
Being on my own and travelling made me very observant of others. I sat on a Greyhound bus from Boston to New Hampshire. There was a dude on the bus. He looked like a cool dude, but he was severely overweight. In the space of an hour, he got through a pack of Reese Peanut butter cakes and a pack of cola bottles. I doubt very much he was hungry.
These are snacks that are completely pointless and unnecessary - you should forget about them for most of your week.
Here are some steps to take to avoid stuffing your face with pointless foods:
Go nuts. A handful of cashew nuts will stop your hunger. Buy a large bag and portion them off into 8-10 pieces. Keep these for emergencies. After 15 minutes of eating them, your hunger will have gone. So will celery sticks laden with peanut butter (choose a pure one - peanut butter does not need any other ingredients other than peanuts).
Hydrate. Are you hungry or thirsty? Yes, you are probably thirsty. Contribute to your 2 litres of water a day by drinking instead of snacking.
Treat yourself with a glass of red. Out at the theatre or with friends? A small glass of red wine will not kill you and may have positive health benefits, but small means 125ml. You can have two of these a day. Make sure you are hydrated, however.
Queue it up. Want a doughnut? Write it on a list. On Saturday allow yourself what you want and revisit that list. 
Try to think about those less fortunate in the world. Did you have a choice for breakfast today? Congratulations. Many in the world did not this morning and will not tomorrow morning either. If you have a choice to eat healthily, why choose otherwise?