I spent the weekend in Bridport, Dorset with my wife and my dog. If you were in Bridport this weekend, you would know this as my dog probably barked at you. She barked at everyone and their dogs.
Apart from the beautiful coast, the lovely friendly people and the local community that supports each other, there are five very good reasons to go to the area. They are:
Palmer's Copper Ale
Palmer's Best Bitter (an IPA)
Palmer's Dorset Gold
Palmer's 200
Palmer's Tally Ho
We first came across these beers in the Ropemakers on Friday night, a very friendly pub where the landlord and landlady source everything locally in the town and surronding area. We started with the Copper , a light session ale and followed it with a 200.
[caption id="attachment_6532" align="alignright" width="300"]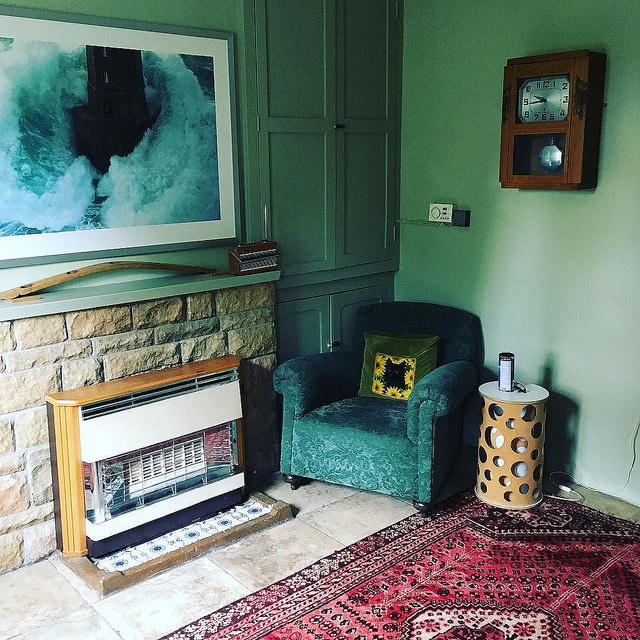 The cottage[/caption]
This is the first time we have stayed in an AirBNB and the whole process was very smooth indeed. The accommodation was rustic but comfortable.
On Saturday, after procuring Cornish Pasties in the town we went on a walk along the coast up and down the hills in the rain. We passed the Palmers brewery but we didn't go in because this was a holiday strictly for the 3 of us. If the pouch isn't coming in, then neither are we, although to be fair we didn't check if the brewery allowed dogs on the tour. I doubt it.
[caption id="attachment_6506" align="alignleft" width="300"]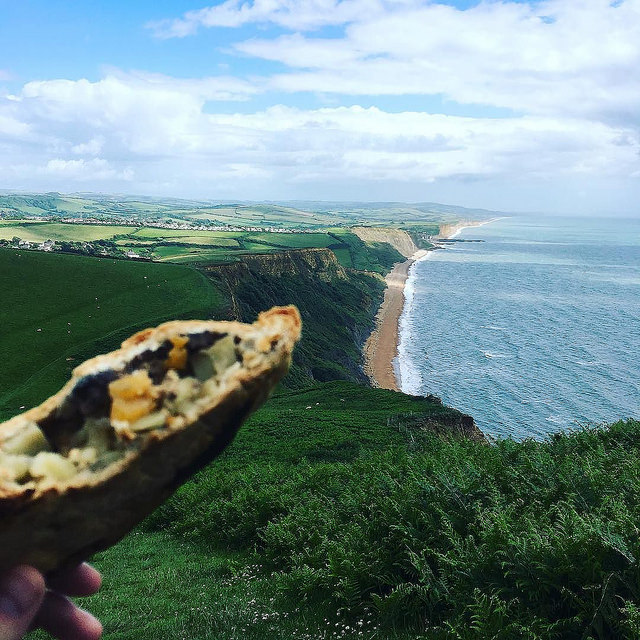 Pasty + Dorset coast[/caption]
On the walk, we popped into the George Inn by the coast and finished the range of Palmers beers. Rain did stop play temporarily. The young bar steward in the George warned me off the Tally Ho and said it would probably be too strong. What little he knows.
The coast is very beautiful indeed and we had the pasties in a field occupied by sheep. We ended up in Seatown where we popped into the Anchor for a Palmers. Time to head back to Bridport by bus and into the Ropemakers for an evening meal.
[caption id="attachment_6533" align="alignright" width="305"]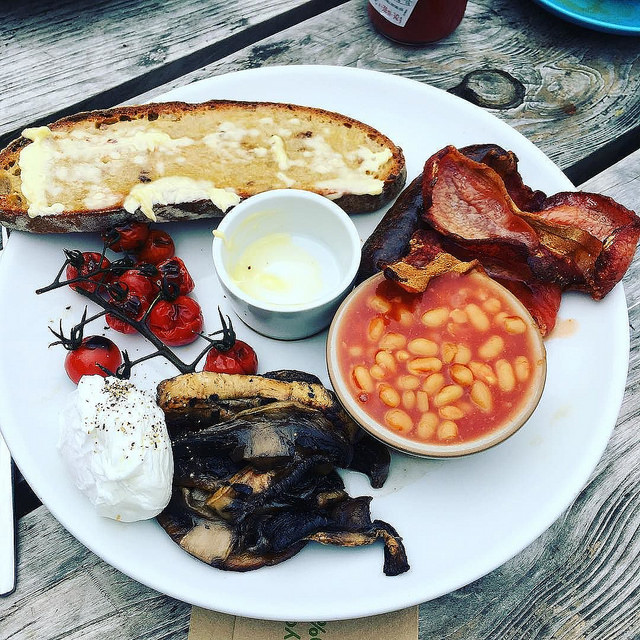 Full English[/caption]
On Sunday we went to Soulshine for a lovely full English breakfast. They make their own sour dough bread.
We slowly made our way back to Essex, going via Studland, the chain ferry to Sandbanks, stopping briefly at Hengistbury Head for an ice cream and then having a Sunday lunch in a pub in the New Forest. The Trusty Servant Inn, Minstead is dog friendly even in the restaurant. However our dog is going through a phase of "come on then" with everyone, so we sat outside. I had a pint of Flack's Double Drop, a beer brewed nearby in Hampshire. The pub sourced their food locally.
Basically it was a weekend of locally sourced food, beer, friendly people and lots of barking.
AirBnB @ Portland Place, Bridport
The Ropemakers
36 West St, Bridport, Dorset DT6 3QP
T: 01308 421255
The George, West Bay
18 George St, Bridport DT6 4EY
T: 01308 423191
The Anchor Inn
Seatown, Bridport DT6 6JU
Soulshine
76 South St, Bridport, Dorset DT6 3NN
T: 01308 422821
The Trusty Servant
Minstead, SO43 7FY
T: 023 8081 2137
Palmers Brewery
The Old Brewery, W Bay Rd, Bridport, Dorset DT6 4JA
T: 01308 422396