[caption id="attachment_7818" align="alignleft" width="230"]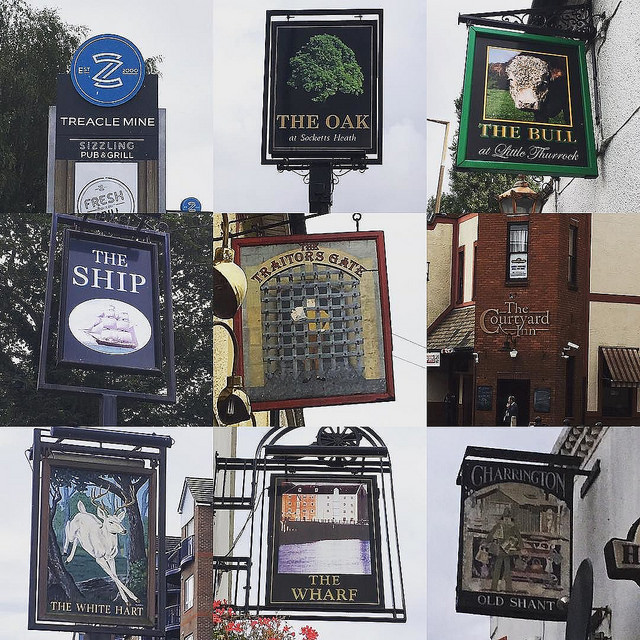 Nine of the pubs[/caption]
I've took a break from brewing in September and as a result the chaps and I had nothing to drink last weekend. We've been planning a bit of a tour for sometime and last Saturday was the day we put the plan into action.
The plan was to visit all of the pubs in Grays. To make this achievable at our age, there were some simple ground rules. We must ensure we eat food and we would only have half pints in most of the pubs. Where a pub had interesting real ale, we would be allowed a pint. Our intended route was to start at the Oak in Socketts Heath and work our way into Grays via the Bull and take a bus from the Courtyard Inn to the Rabbits so that our route at the end would leave us in the Theobald Arms. As usual we made it up as we went along and had a good walk in the process.
[caption id="attachment_7843" align="alignright" width="230"]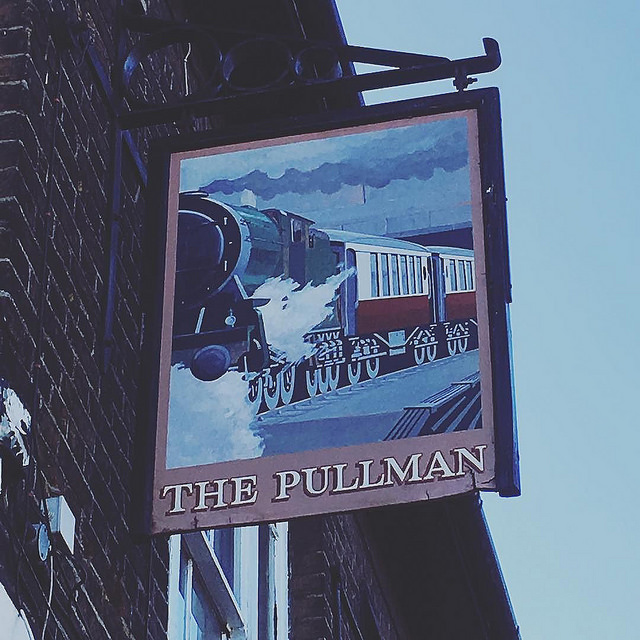 The Pullman - RIP?[/caption]
There were several pubs out of scope of the tour, namely:
The Chafford, Brewers Fayre - just a little bit out of our route and we've all been there over the past year
The Dog & Partridge, North Stifford - again, would have complicated the route and we know the place well.
The Sandmartin - it could have been done at some point during the day but the committee moved it out of scope.
The Treaclemine - it would have extended the route but as you will see, I ended up having a cheeky half on the way to meet the others.
Unit 4, working men's clubs and similar - we stuck to the pubs.
Sadly the Bricklayers Arms shut some time ago and the Pullman's Arms is being refurbished. Actually it is unclear if this will be a pub in the future. There is a Wetherspoons opening in Grays and it will affect the local pubs and area. People are drinking less in pubs and more at home, meaning that as unfortunate as it is, some of the pubs will close at some point in the future. This is one of the reasons we wanted to get around and see the current set of pubs in Grays.
[caption id="attachment_7821" align="alignleft" width="230"]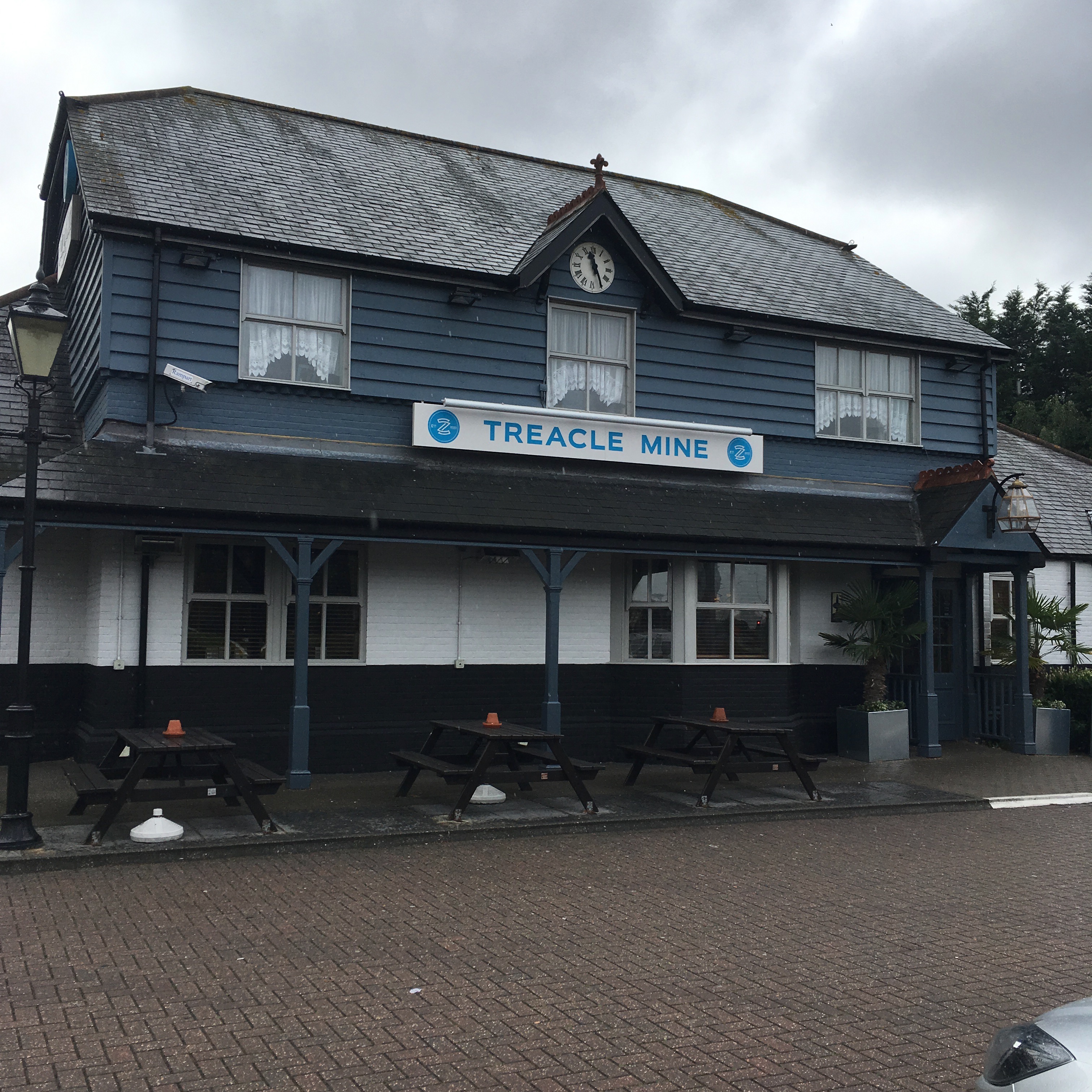 Treacle Mine[/caption]
As a general comment, I was glad to see that most of the places we visited had a proper real ale. CAMRA has achieved their goal of getting real ale back into pubs. Anyway here are some notes we made on tour:
I started in the Treaclemine around 1140 with a half of Broadside. It looks like there has been a refit recently and it serves a Sizzling Pub menu. There is a big range of lagers including Carlsberg, Carling and Coors. There were three real ales on - Broadside, Doom Bar and Green King IPA. Doom Bar is everywhere at the moment and it deserves to be. There was also Punk IPA on tap but it must have been kegged rather than barrelled. I had a chat with the bar maid who used to run the Bricklayers Arms.
[caption id="attachment_7822" align="alignright" width="230"]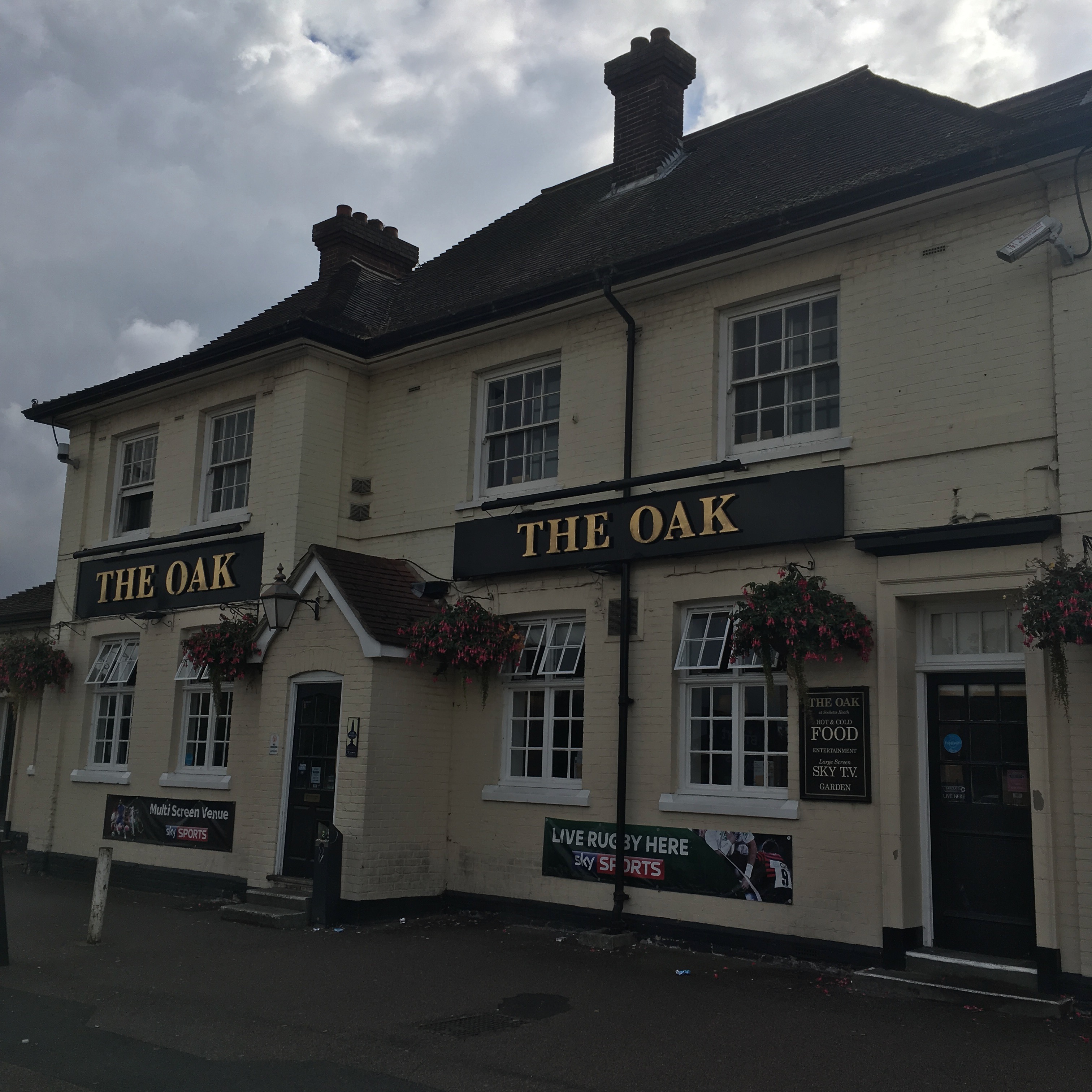 The Oak[/caption]
Then I dashed along to old A13 to the Oak, where the other reprobates were waiting, already in the process of breaking the half pint rule. Despite living near the Oak, the first time I went in was this year. It has a large seating capacity and shows all the sports. It is another Sizzling Pub with the Green King beers on tap. I had a pint of Green King IPA to keep up with the chaps. We had intended to eat in the Oak but plans changed.
A brisk walk to Little Thurrock took us to the Bull at 1300 which is a regulars bar with a rustic interior. This is my first visit, although I understand that since we visited,
[caption id="attachment_7823" align="alignleft" width="230"]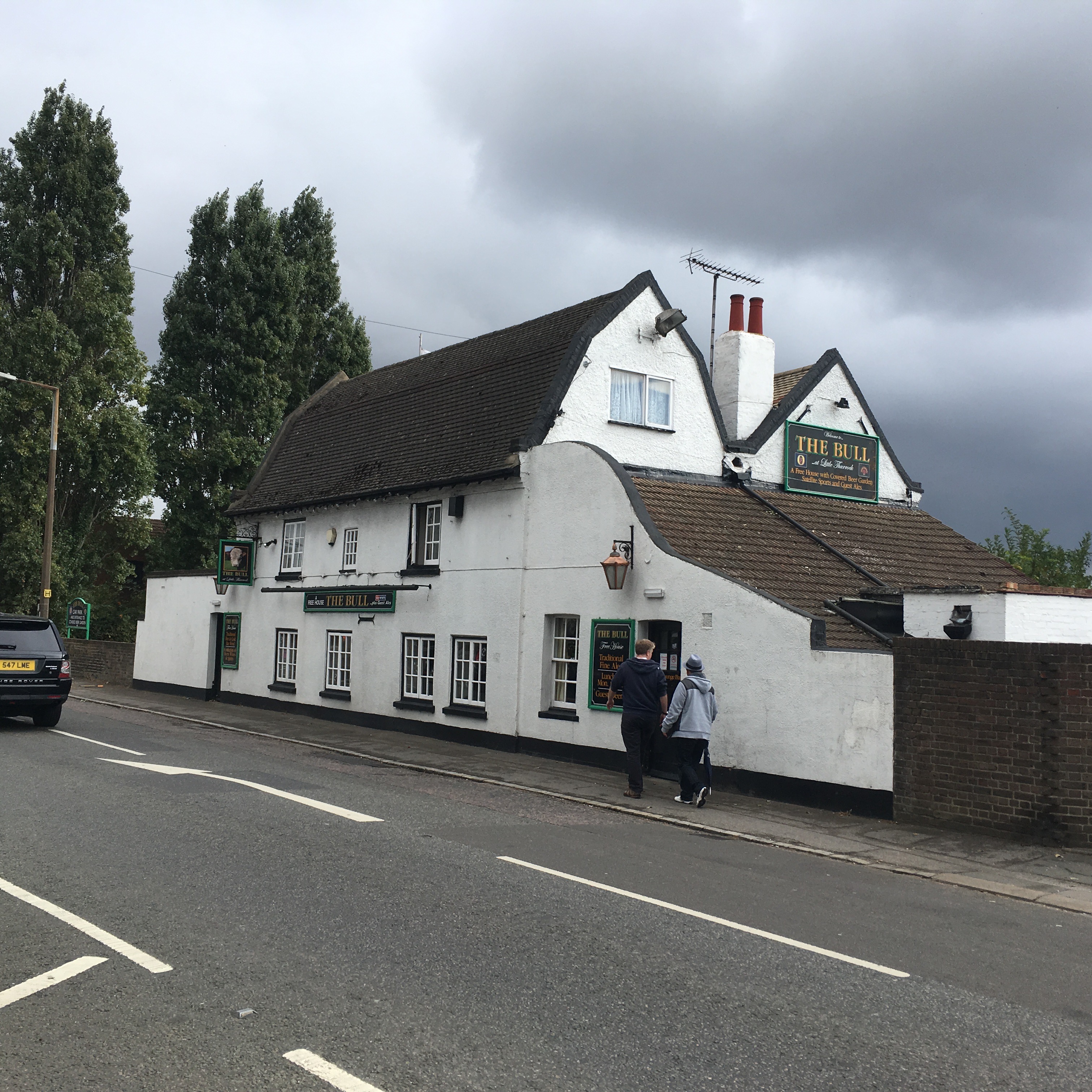 The Bull[/caption]
the bar has been taken over and is being refitted. (We are checking the pub crawl rule book to see if we have to do the whole thing from scratch when it reopens.) There was Doom Bar on a pump and the tables were the bases of Singer sewing machines.
Via the St Mary's graveyard to visit some relatives, we went on to the Ship at 1330. There were four ales on when we got there - Elsie May, Broadside, Bombardier and 6X. They know how to look after their ale in the Ship and they do some excellent food there too. They do carveries two days a week and gastropub food on the other days along with the usual fry-ups. The staff are friendly. We decided this was the place for lunch having been here before a couple of times. I had a pint of Elsie May. As I understand it, the Ship may be up for sale. I hope it falls into safe hands as the building has a lot of potential.
[caption id="attachment_7824" align="alignright" width="230"]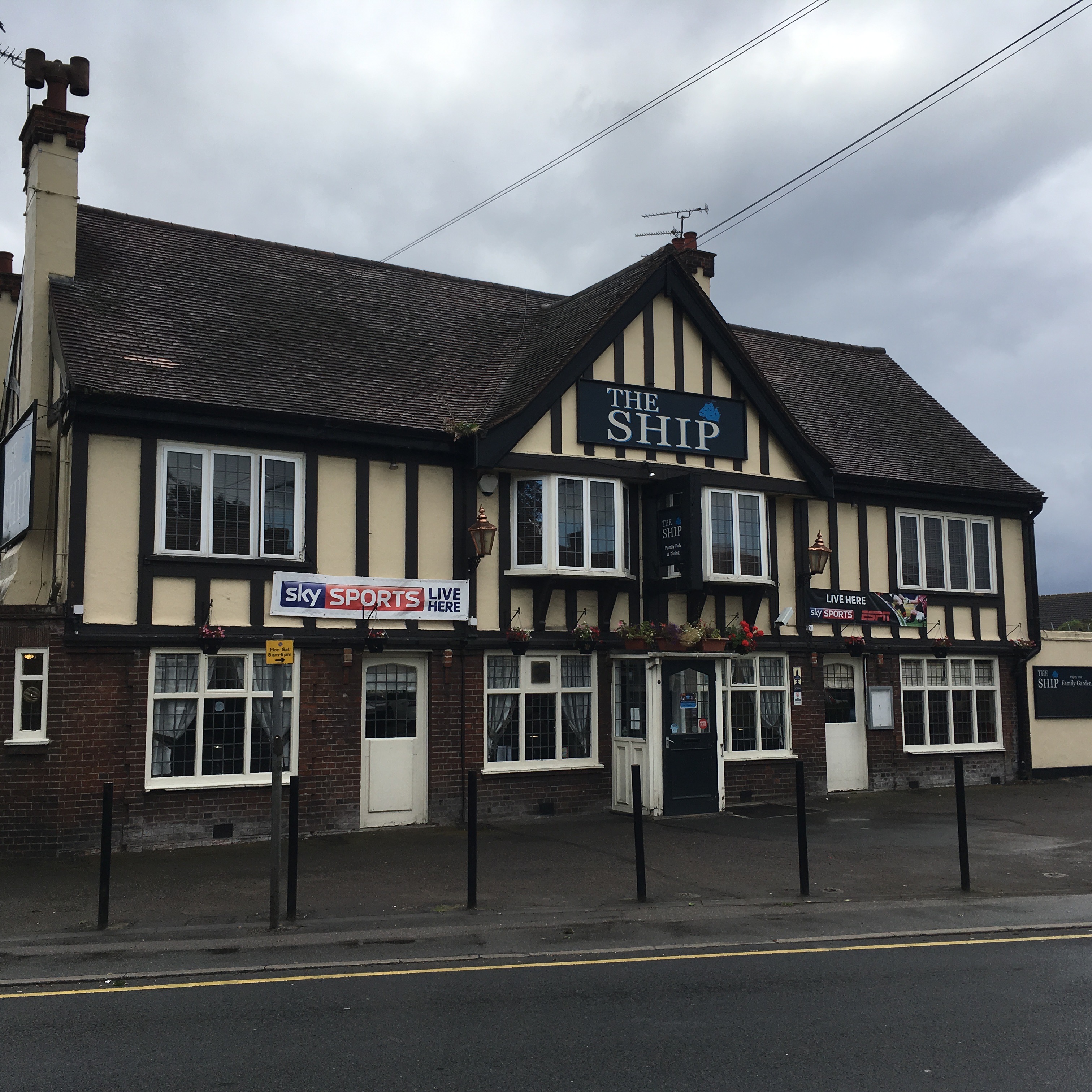 The Ship, Little Thurrock[/caption]
After a fish and chip lunch we stumbled down a few metres to the Traitors Gate. Now the Traitors Gate is a real ale pub that gets a mention in the CAMRA Good Beer guide. It has a relationship with a local brewery, Deverils and I had a pint of their Darkside. As a real ale drinker, you know what you will get in this place. You will notice my comrades were standing outside the pub in the picture. The reason became apparent quickly - it was my round. It seems that they can't go into a pub without clear financial commitments. After all I've done for them
[caption id="attachment_7825" align="alignleft" width="231"]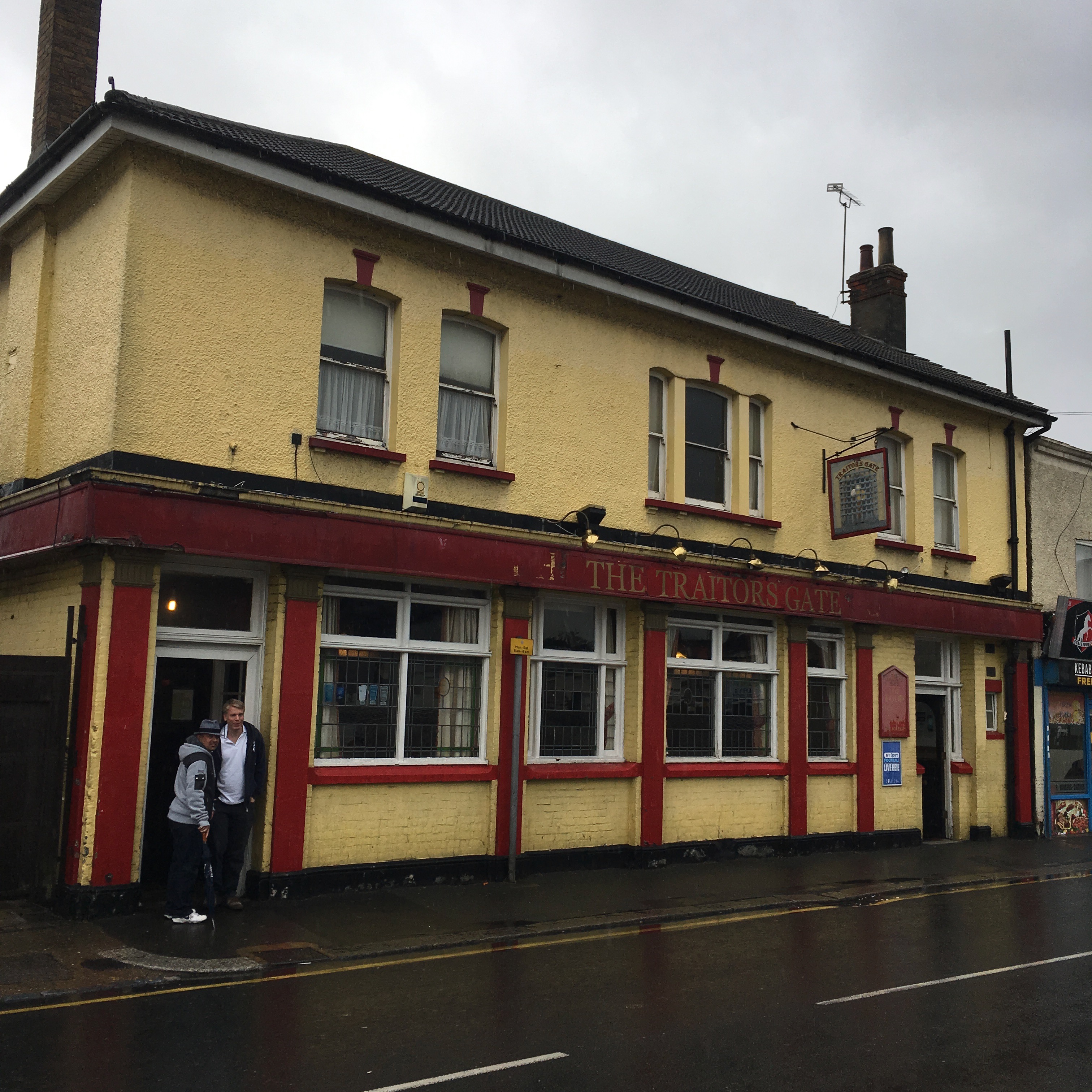 Traitors Gate[/caption]
over the years too...
[caption id="attachment_7826" align="alignright" width="230"]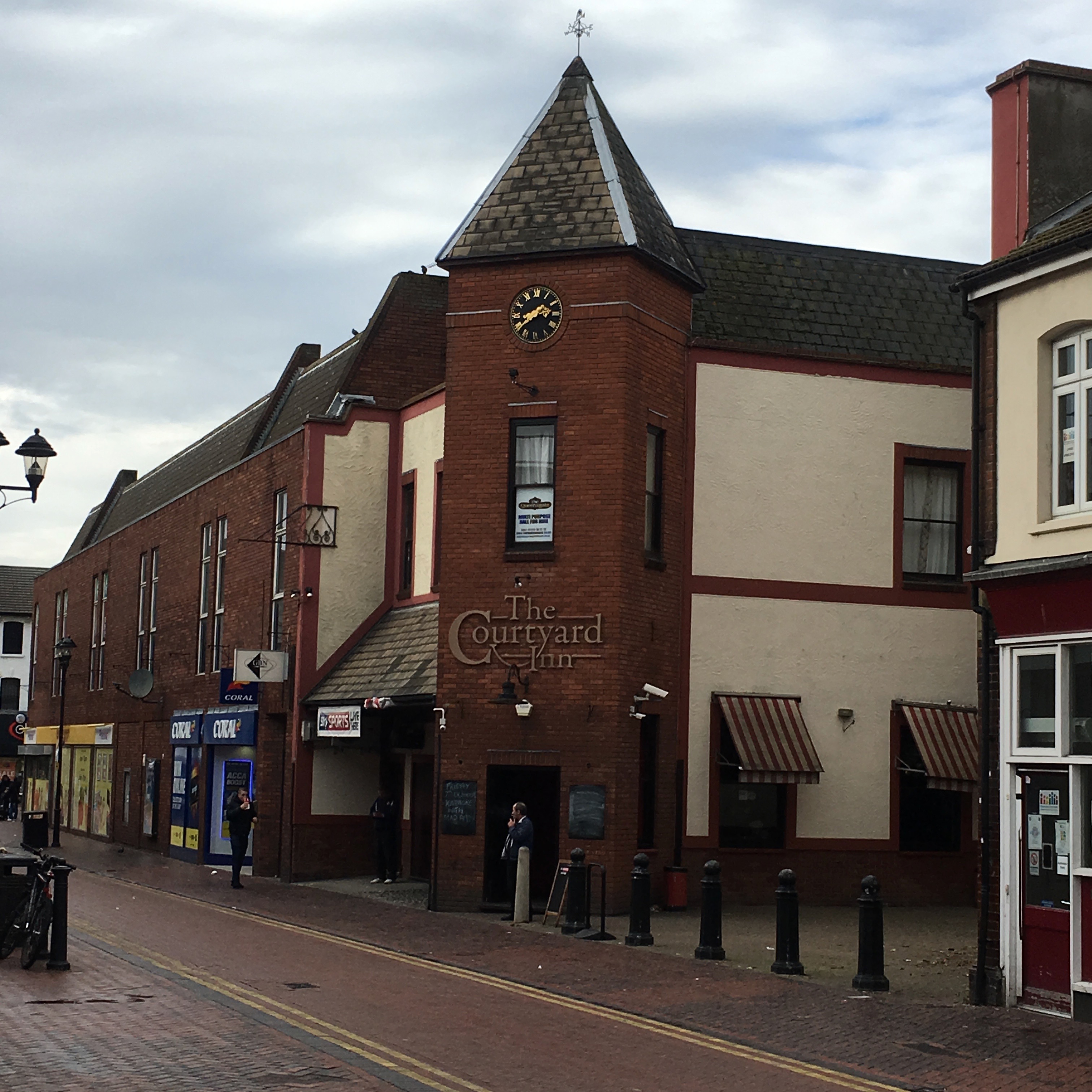 The Courtyard Inn[/caption]
By 1540, we had reached the Courtyard Inn behind the Queensgate centre or as some remember it, the Co-op building. The pub was called Queens previously and apparently changed its name due to a licensing issue. The pub had a very lively atmosphere and had two real ales on. Unfortunately Hobgoblin was off, so we had a Doom Bar.
The plan at this point was to get a bus or a taxi to the Rabbits and then head back to Grays. We changed our mind. We headed to the White Hart around 1615 before the football game and I settled down to a pint of Harveys IPA. The White Hart (and its neighbour Theobald Arms) is always in the CAMRA real ale guide. It gets very busy on a Saturday so I prefer to drink there during the day. It often stocks (as does Theo's) Mr Majolica's beers. He is another local brewer.
[caption id="attachment_7827" align="alignleft" width="230"]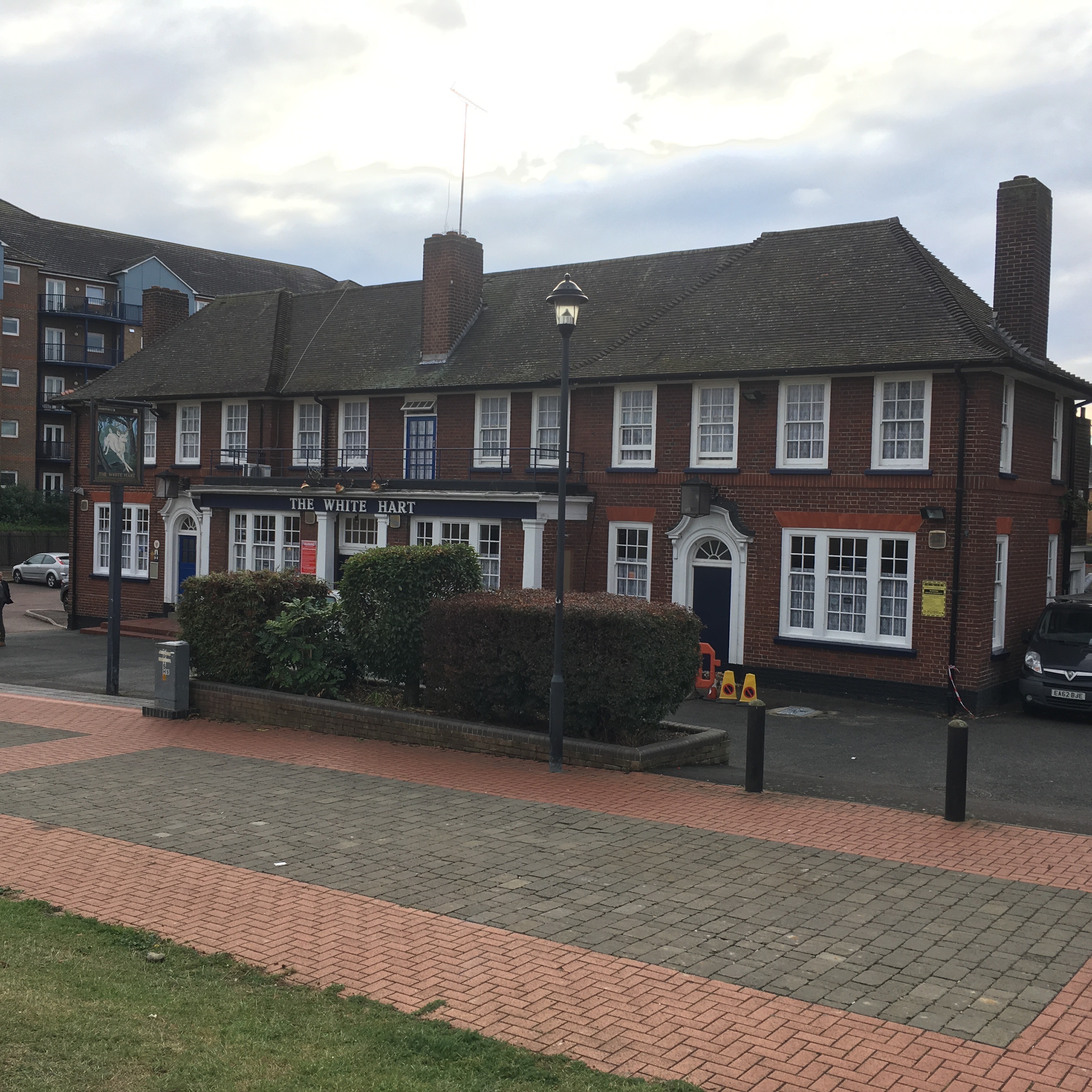 White Hart[/caption]
I confess that my notes (and I did take them) start to get illegible at this point. I wonder why that could be? It's never happened before. What I can tell you is that around 1705 we made it to the Wharf. The Wharf is by the river Thames and it is pleasant to sit outside in the summer. Actually we did sit outside in the air even in October. They also give discounts for CAMRA members. There were four beers on the menu. Untappd reliably reminds me that I had a pint of Hannah O'neill by Handcrafted House.
Then onto unchartered territory. We reached the Old Shant around 1830. This is a locals bar that has been recently refurbished.
[caption id="attachment_7828" align="alignright" width="231"]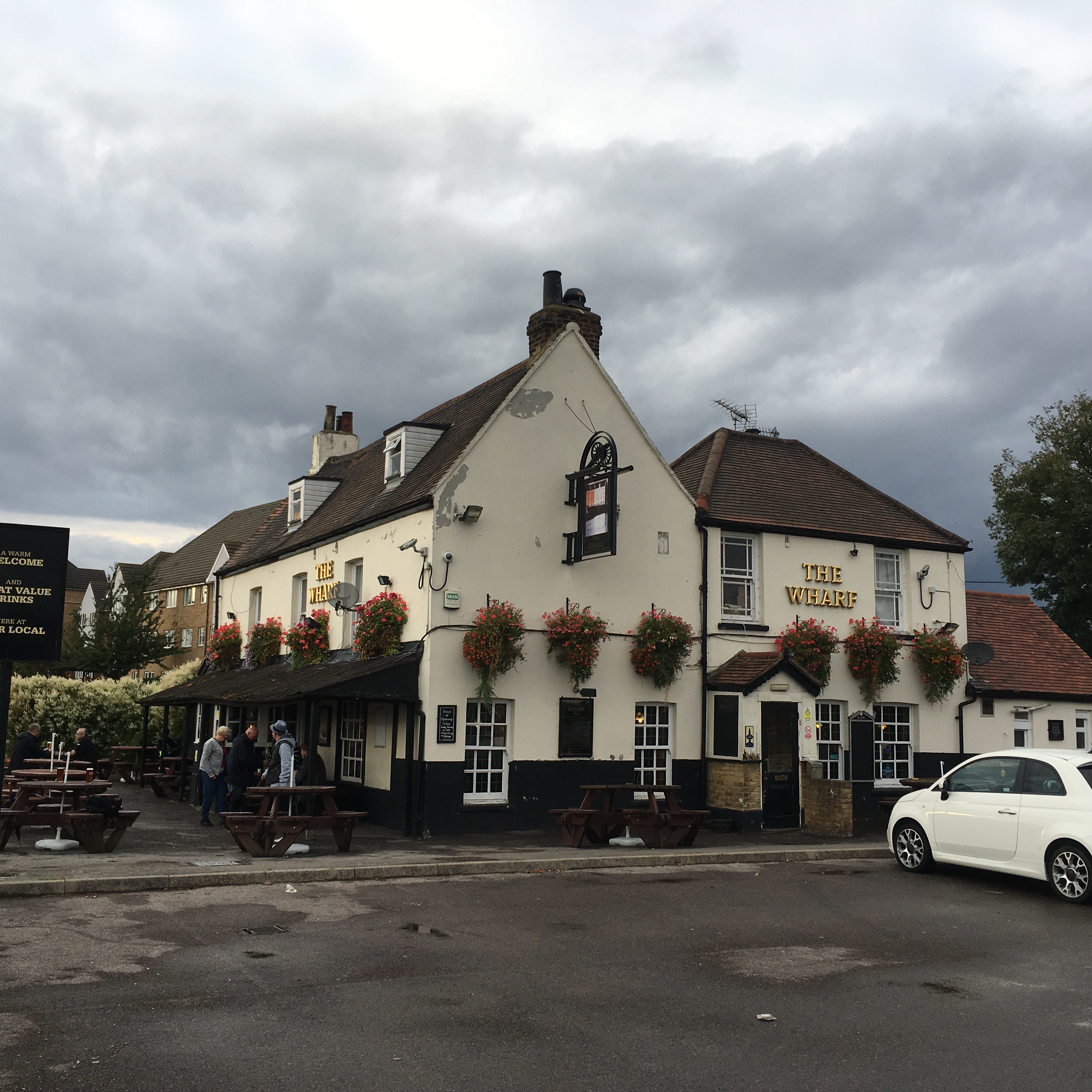 The Wharf[/caption]
There are no real ales - only a John Smiths Smooth beer. There was the usual pool table and pub games.
By 1910 we'd reached the Ship. This is different from the other Ship. Being near the Thames, there are pubs called the Ship. There used to be another one in Tilbury as well. Anyway this is the Ship in Grays. Despite a sign outside advertising real ale, we could not find any when we arrived. To be honest, we were lucky to find anything given the day we'd had. We had a half of Worthingtons Creamflow and moved on.
The next bar was the Rabbits. I'd given up taking notes at this point. We had a half of a John Smiths Smooth. We did not stay long. There was a pool table and one of our crew was in the process of pretending to be Paul Newman on it. We left before he lost all his money and remaining dignity.
[caption id="attachment_7833" align="alignleft" width="230"]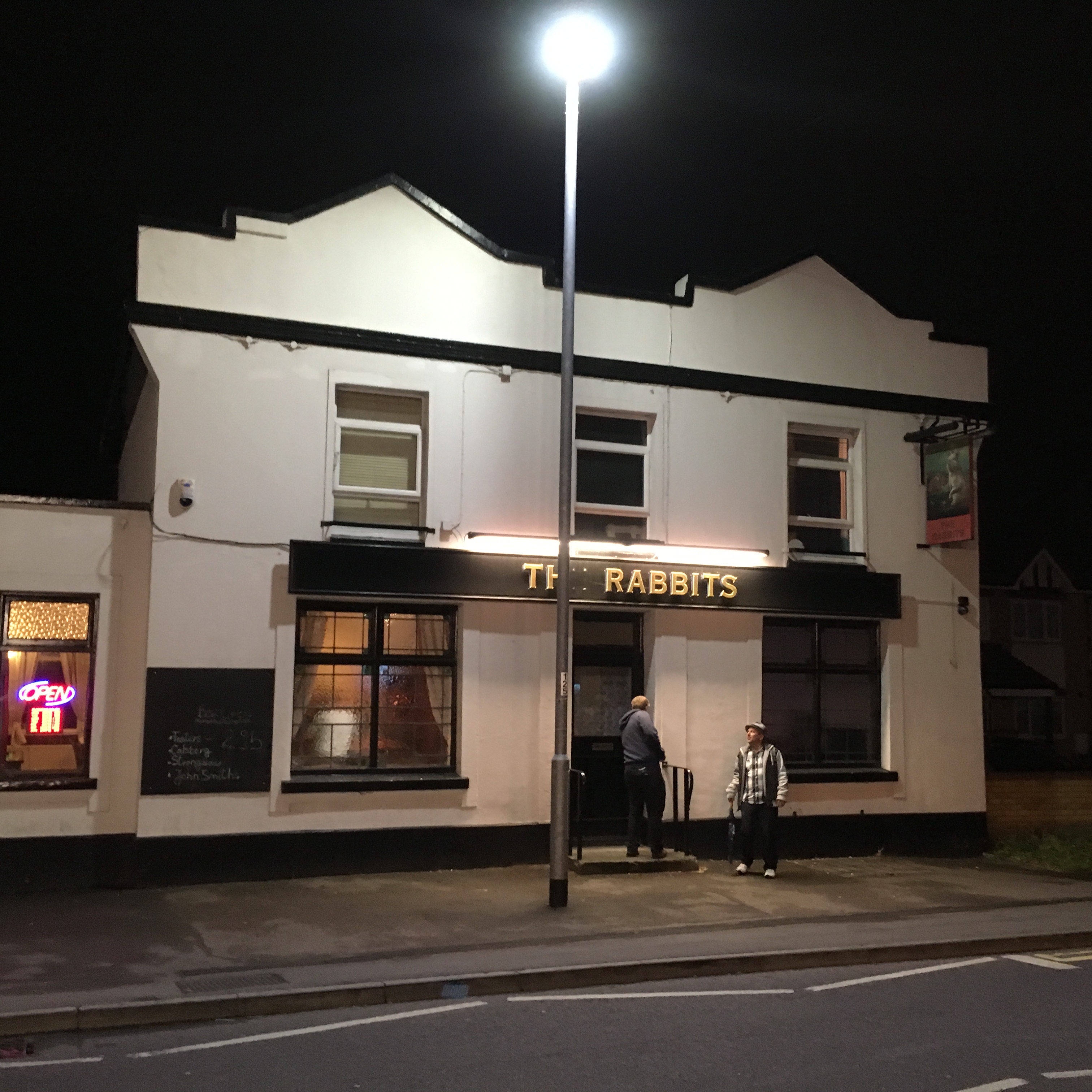 The Rabbits[/caption]
We headed across the road to Mr Chippy. This place does fantastic chips. We then jumped into a taxi. Strangely there was an Uber car parked outside the chippy, almost as if it should be there. We headed back to the Theobald Arms for a few pints to end the day. Theo's is probably our favourite pub. There's always an interesting real ale on and I had an SX Dark. In fact I had two.
We finished surprisingly sober. It was nice to see all the pubs in Grays in one go. All in a days work with over 15000 steps of walking too.
Treacle Mine
Lodge Lane, Grays, Essex, RM17 5PR
01375 382735
The Oak 
Lodge Lane, Grays, Essex, RM17 5RZ
01375 392752
The Bull
98 Dock Rd, Grays RM17 6EY
01375 373979
The Ship (Little Thurrock)
Dock Rd, Grays RM17 6EX
01375 371121
Traitors Gate
40-42 Broadway, Grays RM17 6EW
The Courtyard Inn
7 Clarence Road, Grays, RM17 6QA
The White Hart
Kings Walk, Grays, RM17 6HR
01375 373319
The Wharf Hotel
Wharf Road South, Grays, Essex, RM17 5YX
01375 372418
The Old Shant
432 London Rd, Grays RM20 4AD
01375 376093
The Ship, Grays
470 London Rd, Grays RM20 4AR
The Rabbits
783 London Rd, Grays RM20 3JT
01708 868716
Mr Chippy
660 London Rd, Grays RM20 3JT
Theobald Arms
Kings Walk, Grays RM17 6HR
01375 372253