I did relatively well this week on the diet, until yesterday evening. I stuck to the rules from Sunday all the way through to yesterday lunchtime and this week I did not have any cheese. I prepared my lunch, except for two days. I managed not to breach the diet on my trip to Manchester.
However, we have some guests over this weekend. I always intended to have a usual cheat day today, but I was also going to give myself tomorrow off too. We are going to have afternoon tea in London on Sunday. Afternoon tea is a carb-laden affair of sandwiches, cakes and in this case prosecco.
But on the way home last night we were all tired and needed to eat. We ended up eating fish and chips along with drinking some beers. Life is short - enjoy yourself, particularly with your friends and family. But get the 80% right and you'll be fine.
I've done less walking this week because I have not been able to get out at lunchtime. Not that I capture it here, but I've been generally tired this week and that can have a knock-on effect on weight loss. I have not bothered to do a ketosis test today - I simply cannot be in ketosis. Overall I've dropped my weight to just until 83kg, although I should really be focusing on my fat %.
Anyway, as I type I'm enjoying a Bulletproof coffee and will be having eggs royale and a few cold ones later on. Happy weekend. I'll be getting back on it on Monday.
Full stats here:
[caption id="attachment_9095" align="aligncenter" width="546"]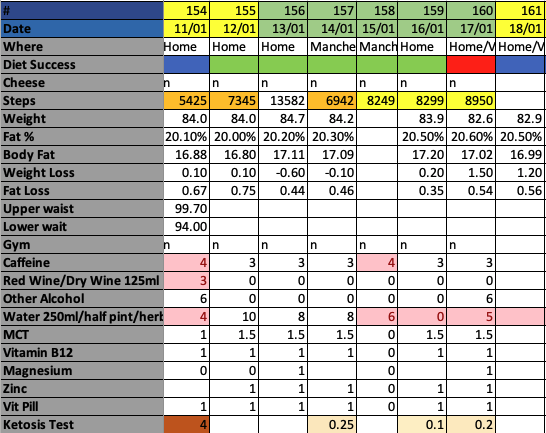 Diet Statistics 18/1/2020[/caption]