In search of better paper
I have more or less abandoned disposable pens in favour of fountain pens. The only time I do not use fountain pens is when I fly. In a pressurised cabin, a fountain pen will usually leak unless it is either full or empty.
Up until recently, I used Moleskine notebooks, a popular premium brand found everywhere on the high street. I use them for Russian study, my diary and other note-taking. However, when writing in them with fountain pens, I find that the paper is reasonably good but the ink soaks through the page to the other side.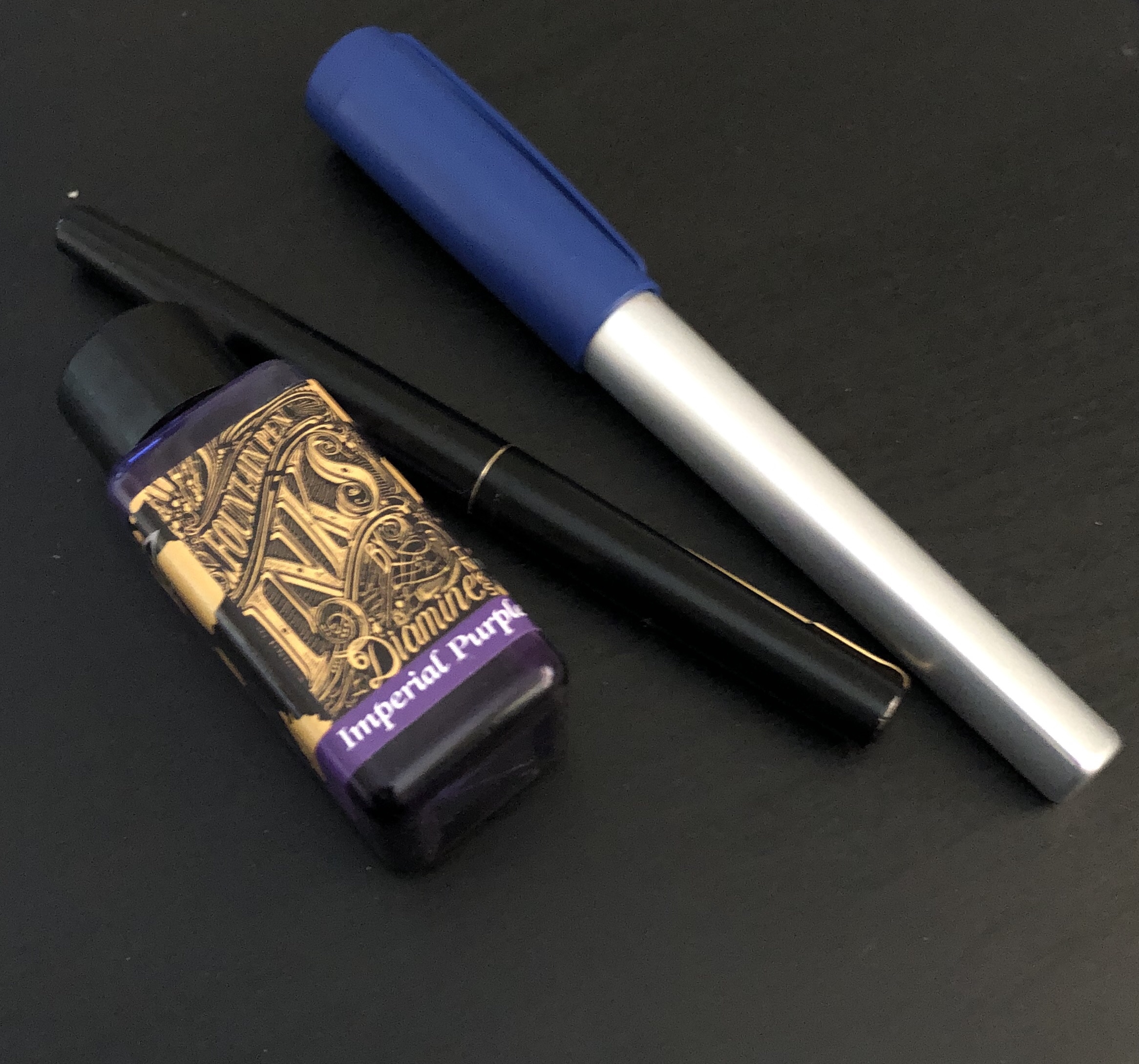 I have been looking for alternatives and here is what I have found so far. For this article I did some tests on several notebooks from Lechtturm, Exceed, Moleskine and Rhodia. Exceed is a brand I found in Walmart last time I was in America. It is significantly cheaper than the premium brands.
I used a Parker Jotter with Waterman red ink and a Lamy Nexx with Diamine Imperial Purple ink. The Diamine inks tend to be wetter and will expose inferior paper.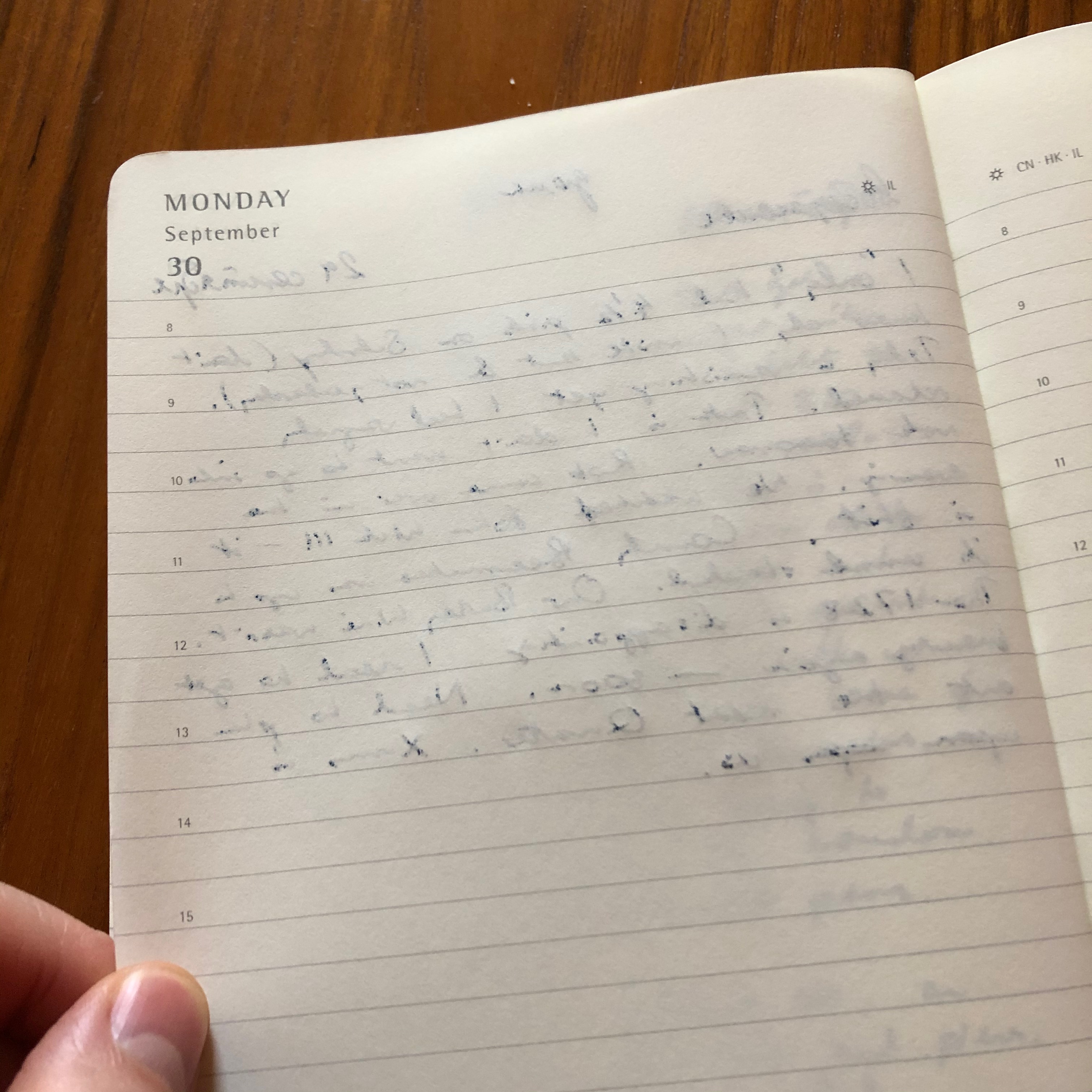 Here are the important characteristics to consider:
Bleeding - to what extent the ink soaks through the page to the other side;
Ghosting - to what extent one can see the ink through the other side;
Feathering - to what extent the ink is absorbed into the small fibres of the page outside of the area one is writing;
Ease of writing - the feel of the pen on the page;
But of course price and availability count too.
Good performance
I testing with a bright green squared notebook that I've had for some time. I use it to take notes in my Russian class. It is A5 sized and has 251 pages at 80gsm. The book is available in lined, dotted, squared and plain formats. New notebooks are around £15.
The writing experience is nice - there is little drag on the pen. The paper copes well with the wet Diamine ink. There is no feathering at all and the ghosting is minimal. In fact, the picture below exaggerates the ghosting.
I deliberated stressed the paper by making a square of ink. The paper coped reasonably well, but there was some bleeding. This is not a normal use of the pen, more a stress test.
[caption id="attachment_8739" align="alignleft" width="150"]
Ghost/Bleed test[/caption]
The notebook has page numbers and several pages reserved at the front for making contents entries. For studying this is great. There is an envelope pouch at the back containing spine and cover stickers to help archive the book when it is finished.
Also, there are double ribbons to bookmark the pages. A second ribbon is extremely useful for a study notebook. The elastic band holds the book closed.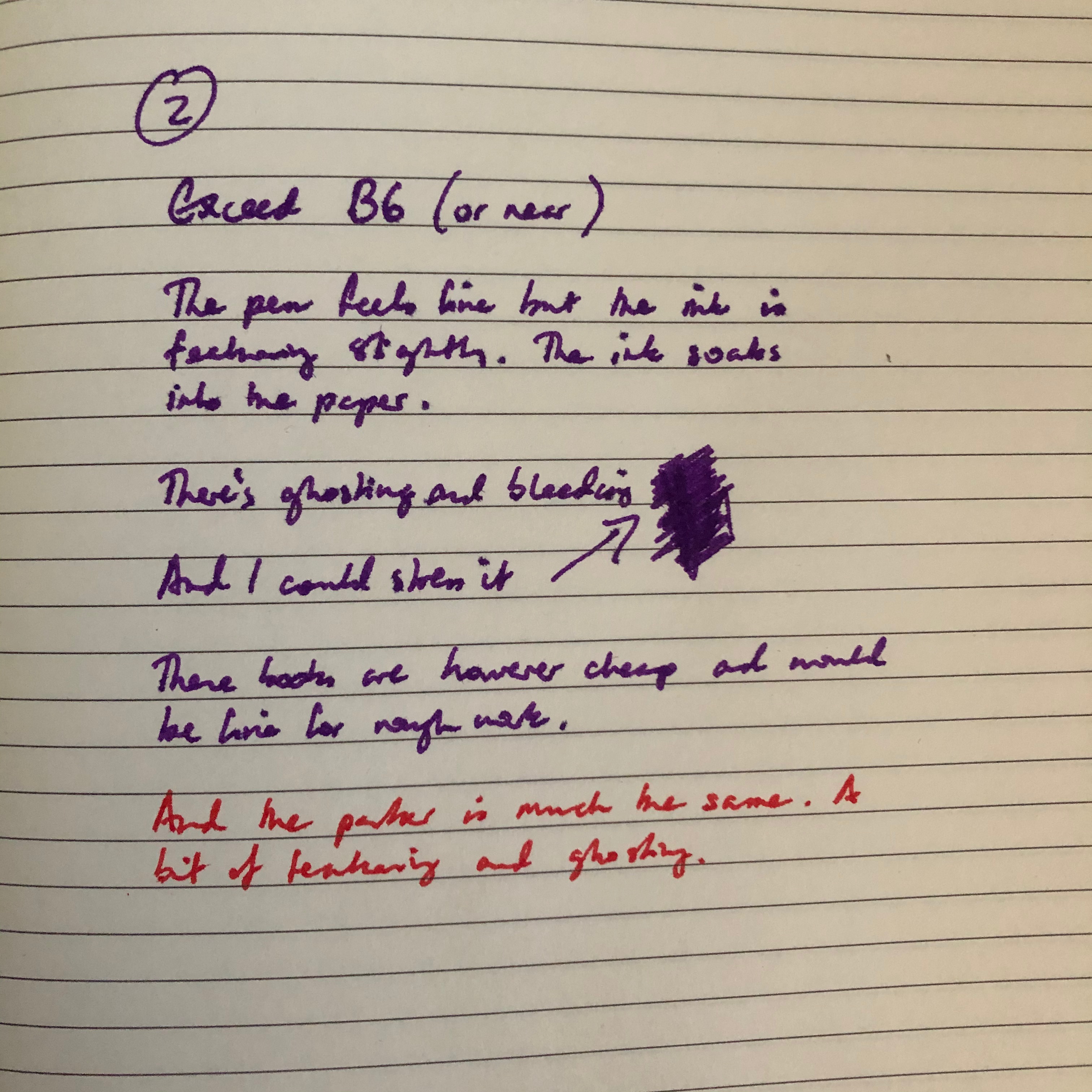 Occasionally I travel to Utah, USA for work. During a trip to Walmart to get supplies, I found these Exceed notebooks. They are very similar in design to Moleskine but are half the price at under $9. In such circumstances, it's always worth trying something.
[caption id="attachment_9113" align="alignright" width="150"]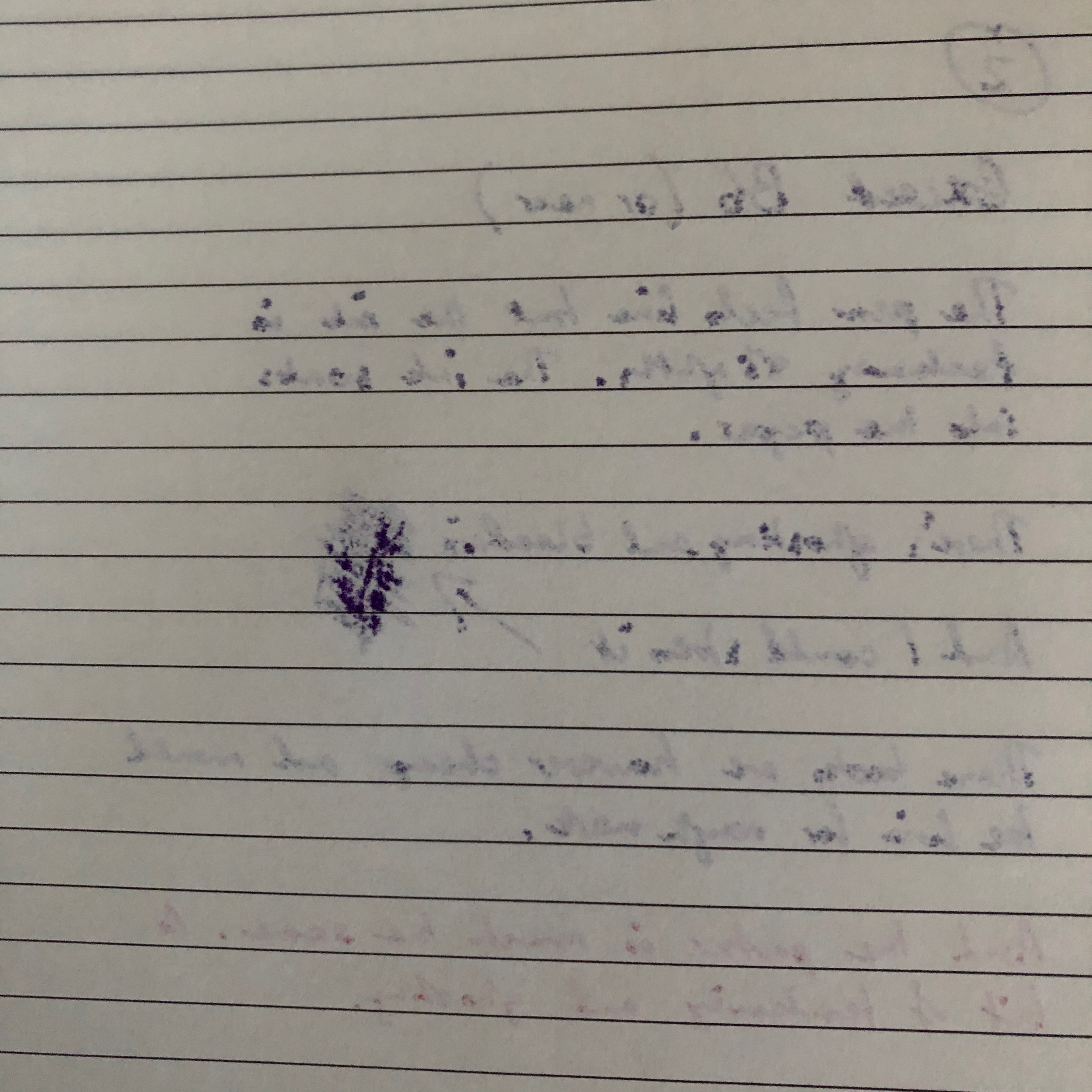 Ghosting & Bleeding[/caption]
I've used two of the 80gsm B6 notebooks over the last six months - a pink one for Russian study and a black one for odd daily notes. I've stopped using the pink one. There is no difference in the two, but I find writing on these notebooks a little frustrating with a fountain pen. There's ghosting, bleeding and with wetter inks, feathering.
The paper feels and looks cheap - because it is. It would be better to use these notebooks with a biro or a gel pen. If either of these is your pen of choice, then actually this is a good value notebook for you. The elastic band and single bookmark ribbon are standard. There are lined, dotted and plain editions.
[caption id="attachment_9112" align="aligncenter" width="300"]

Feathering[/caption]
(In the interests of the environment, the black notebook is still in service as my day notebook, but the pink one has been retired in favour of a pink Lechtturm B6 lined journal.)
2b. Exceed A5 dotted notebook (100gsm)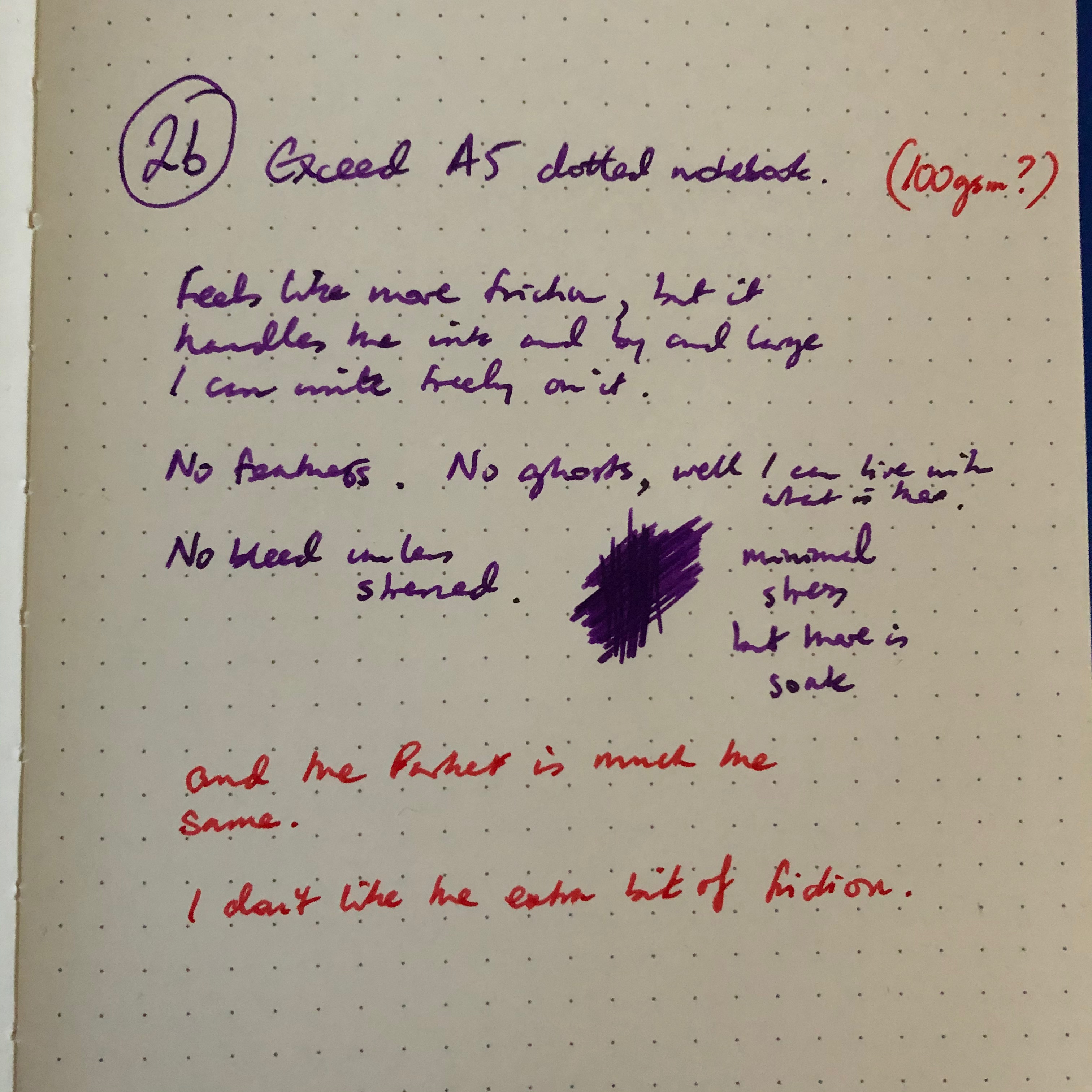 Fountain Pen Love recently reviewed this pad. I found these on the same shelf at Walmart as the 80gsm B6 notebook, but unfortunately, I cannot find them online to post a link. And unsurprisingly at 100gsm, it's a better quality notebook. It has 240 pages.
[caption id="attachment_9117" align="alignright" width="150"]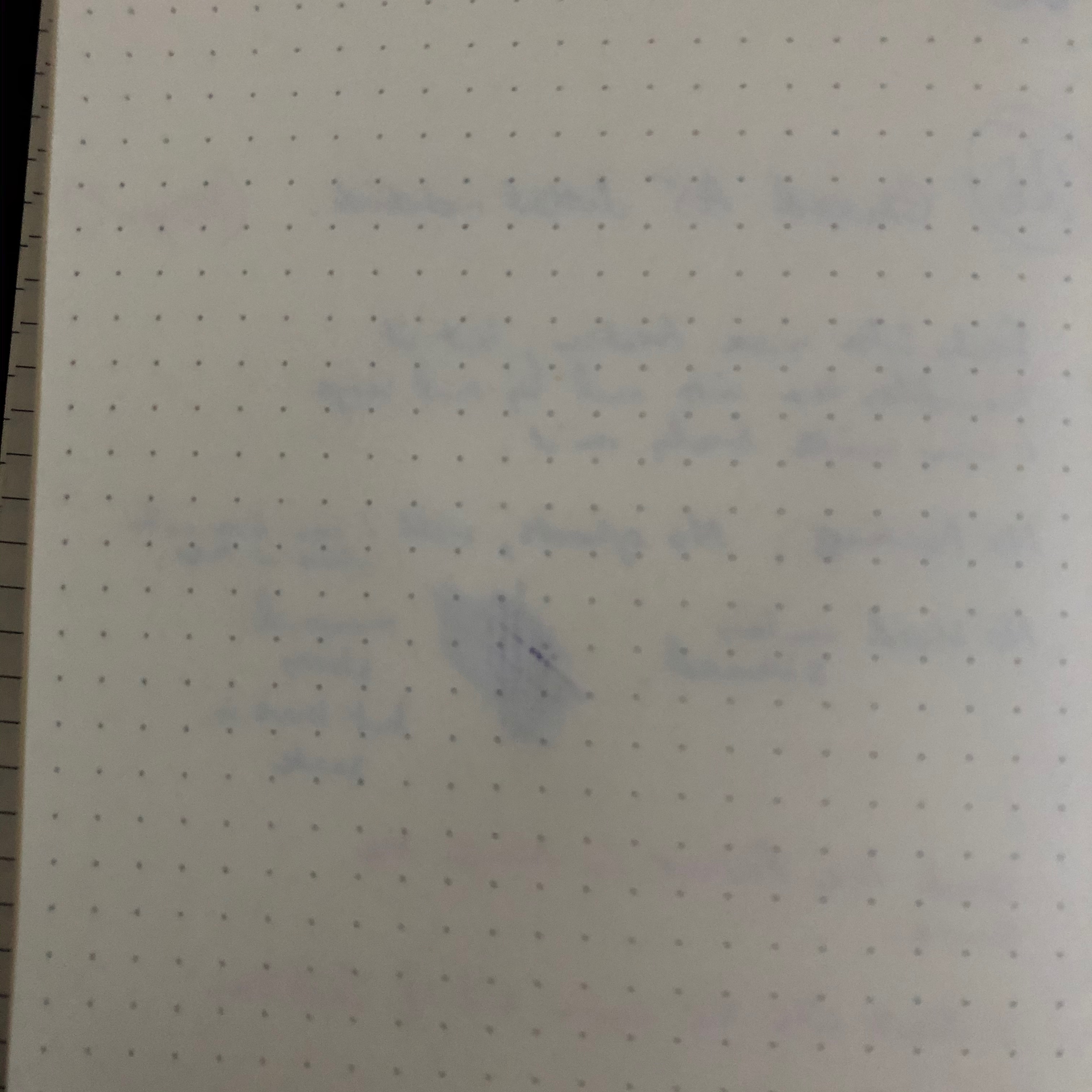 Minimal ghost[/caption]
There's more friction on the pen when writing but there is no feathering, minimal ghosting and only very slight bleeding when stressed. The bleeding is so minimal that we may as well say it is non-existent.
Some versions seem to have page numbers and there is a 78gsm version as well. I would avoid the 78 and buy the 100gsm if you have the choice. The book comes with two bookmark ribbons and the usual elastic book holder. If you can cope with the extra friction and slightly diminished writing experience, this book wins on price which is under $10.
I'm still using this notebook to take notes for a course I'm taking.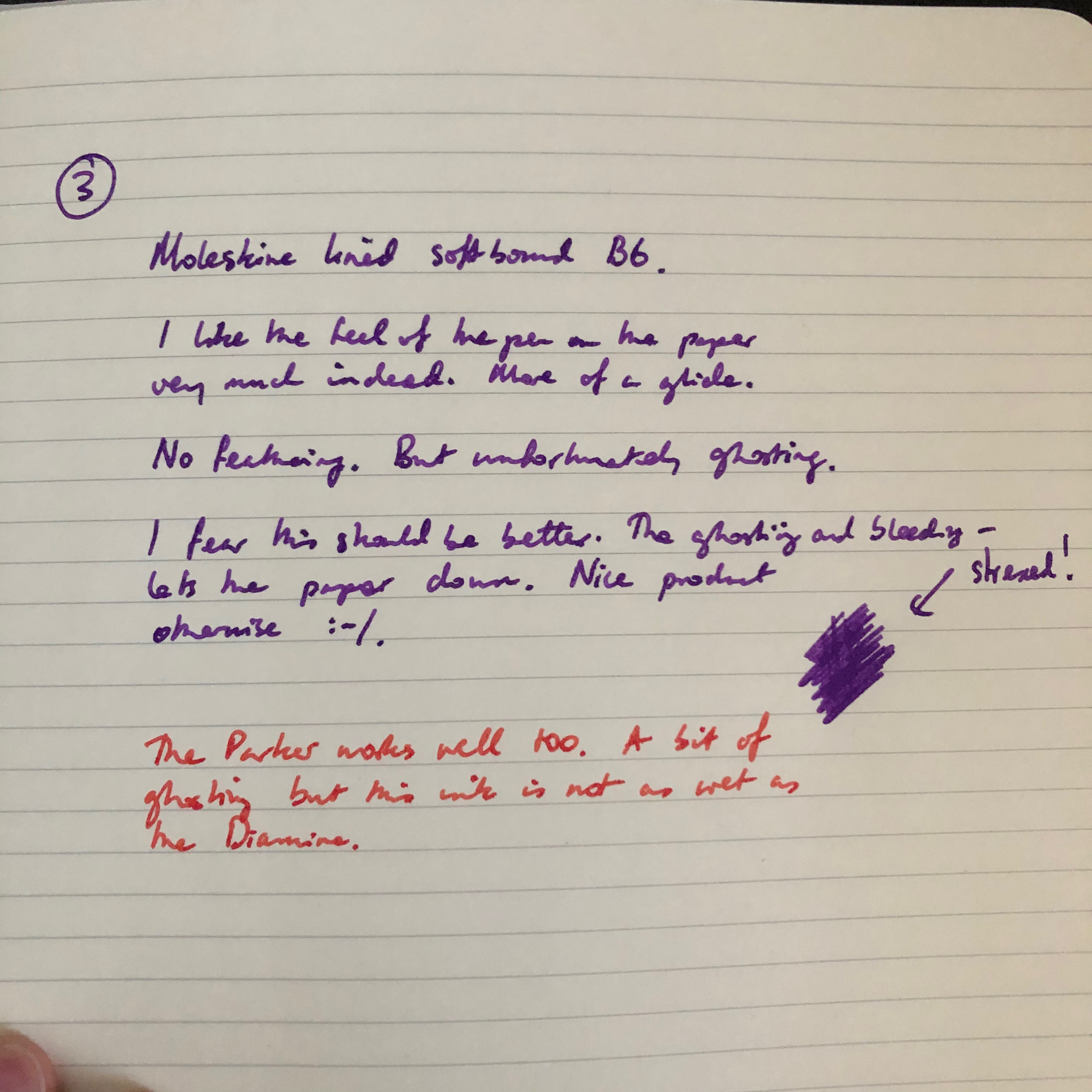 I used the Cahiers journals for this test, which come in sets of three at around £15. My experience is that most Moleskine notebooks are similar in quality to these. I have used soft and hard covered books. I prefer the extra-large B6 books because, in my opinion, they are easier to write in. My daily journal is a day-to-page A5 lined Moleskine diary. An large notebook will set you back around £11.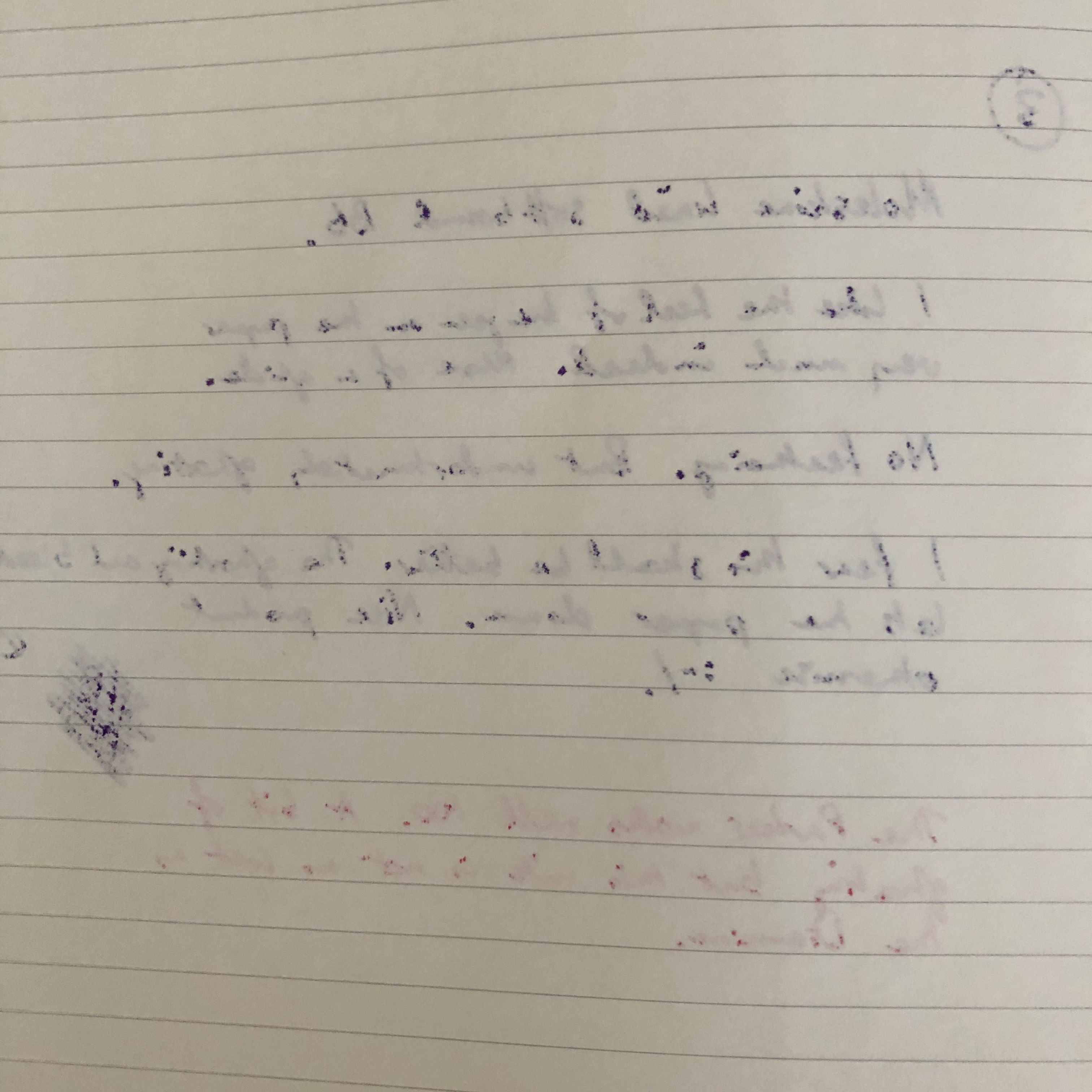 Using these journals became fashionable about 10 years ago. They are great. They close nicely and they stay open flat making them easy to use. However, using them with a fountain pen is where it goes wrong. There is simply too much ghosting and bleeding with these notebooks, making them difficult to read. Great notebooks for gel or biro pen users.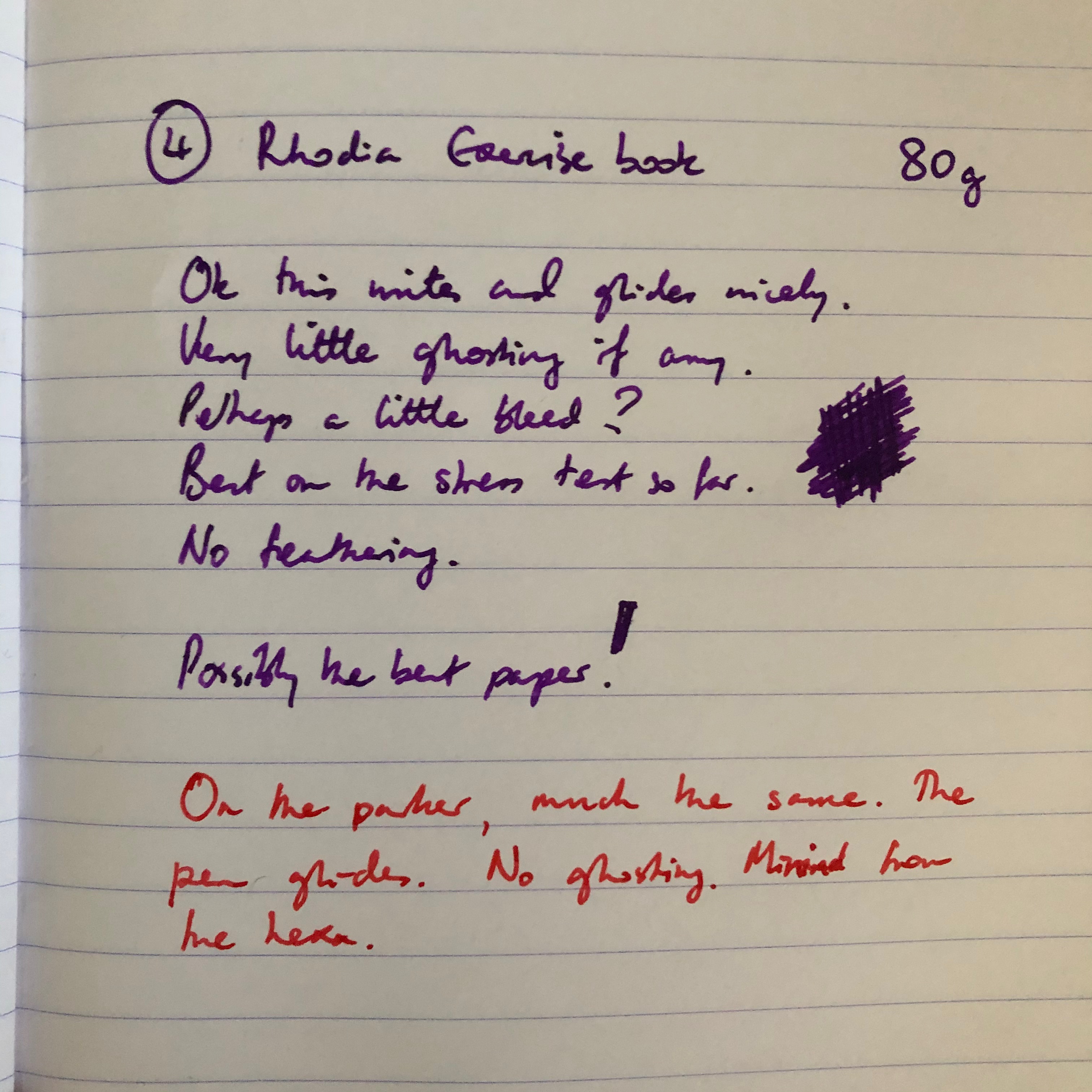 The Rhodia I used for the test was a small exercise book of 48 pages and they cost around £2 depending on where you get them. A comparable notebook to the other ones tested will set you back further. These French made books are 80gsm and the paper is of reasonably high quality.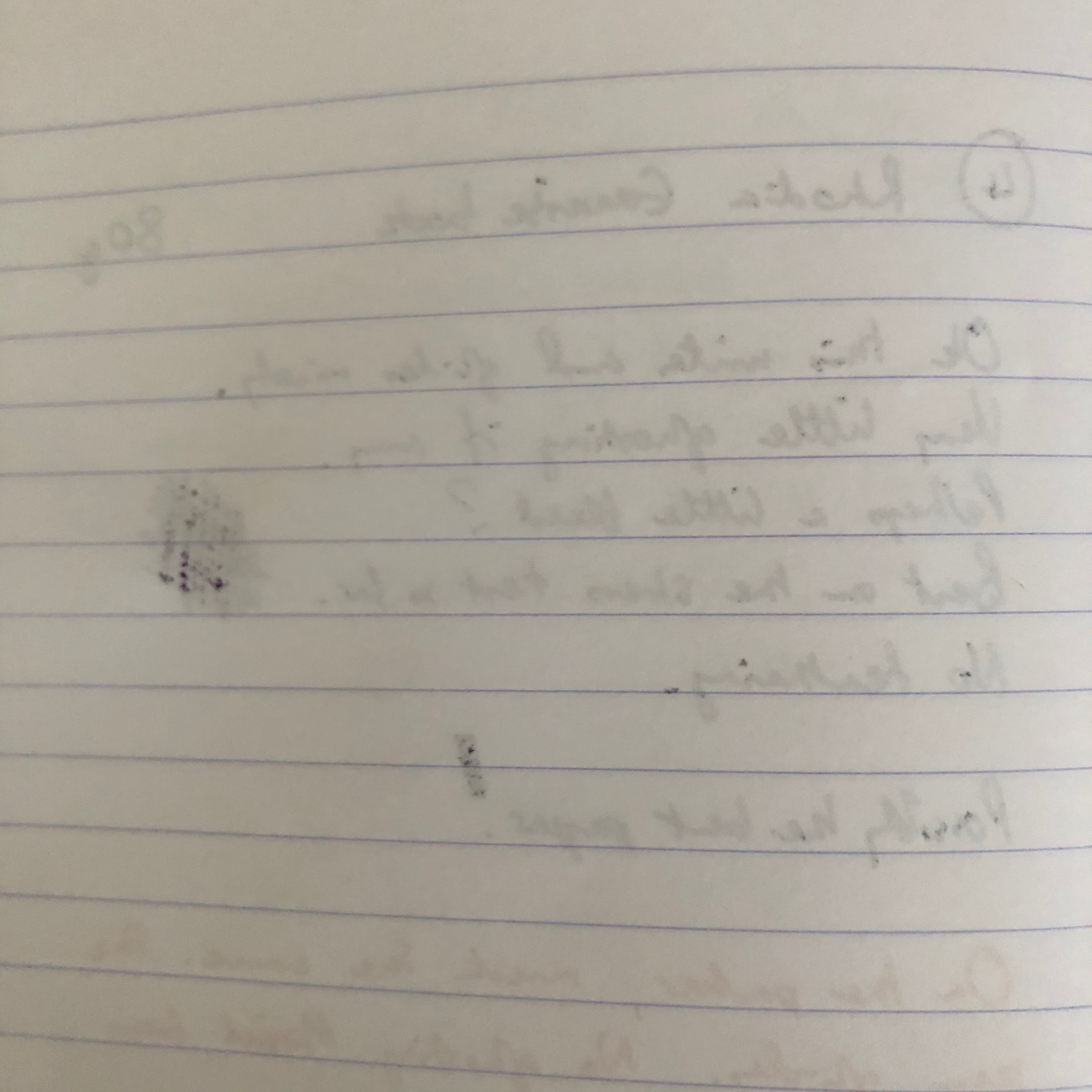 The paper takes the ink very well. There is no feathering, minimal ghosting but some bleeding under stress. So why don't I like it? There is a slight drag on the Rhodia paper when I write and I don't find this comfortable. Writing has to be easy and pleasurable. For others, this might not be an issue - it is probably a matter of personal taste.
My conclusions:
For me, Lechtturm is the overall winner. The paper holds the ink, does not bleed or feather (unless stressed) and it is easy to write on the paper. Additionally, the Lechtturm has page numbers, a contents section to write as you go and stickers for archiving the notebook when it is full.
The Moleskine has these features but is beaten on quality. I have not yet switched my main diary over to Lechtturm from Moleskine and I expect I will occasionally use them still. The B6 (Extra Large) Moleskine's are easier to find than the Lechtturm ones of the same size. Moleskine notebooks are cheaper than Lechtturm, but for a fountain pen user must be able to tolerate bleeding and ghosting.
The Rhodia notebooks have good paper, but I cannot get hold of the journals as easily as the others. I don't like the slight drag on the pen.
The Exceed 100gsm is good for the price but avoid the 78/80gsm version. Unfortunately, I cannot get hold of these easily in the UK so it loses on availability.
(This page contains affiliate links.)