Wine 2020#2 - Blueberry Wine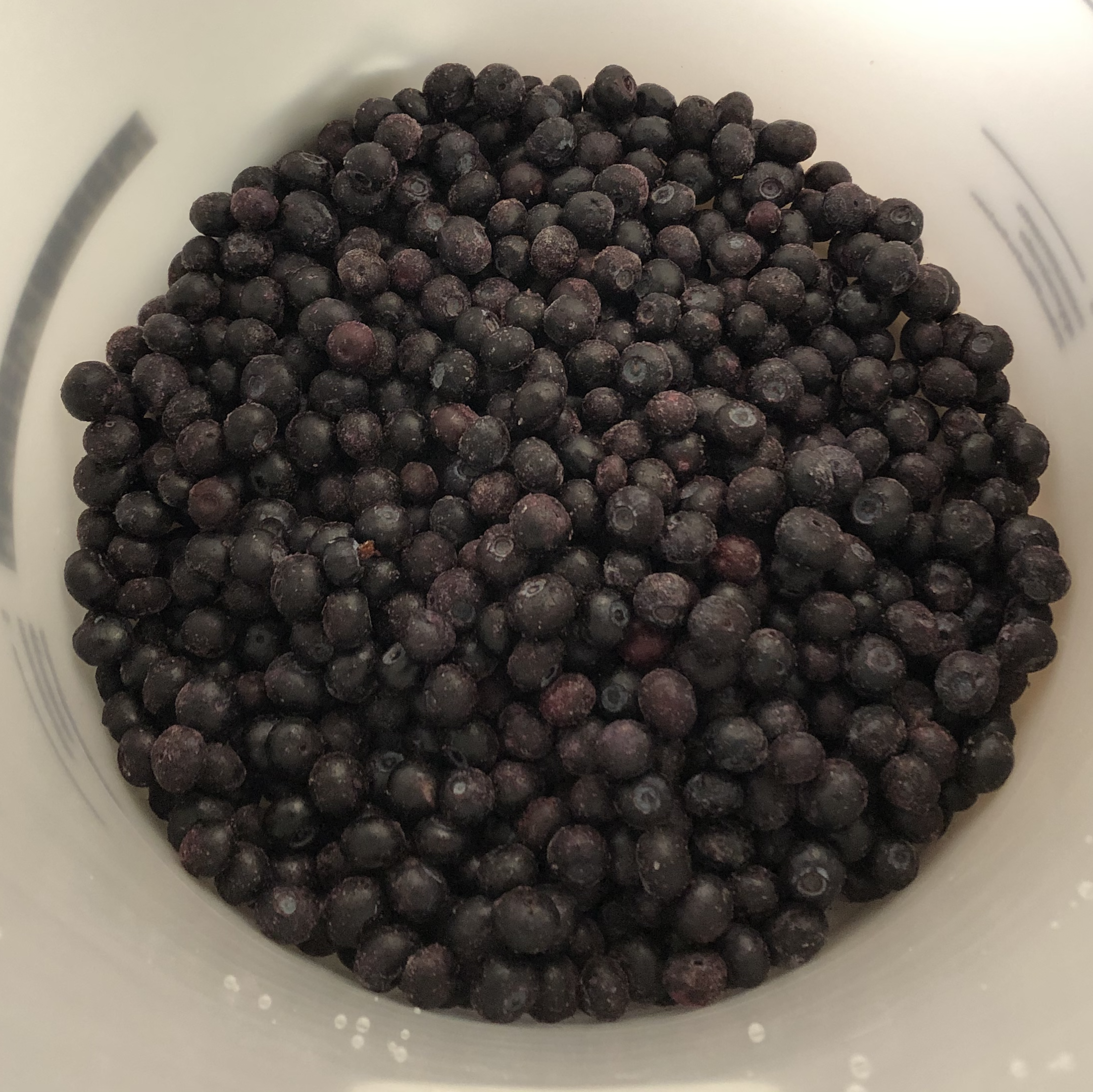 It's time to initiate another wine bringing the count of wines to 2 this year. I am intending to make one wine a month, perhaps two. The actual making of the wine is not too time-consuming at the beginning, but it helps if you are available for it daily for stirring and reracking.
Once again I'm following the recipes in the book Fruity Passions. Apparently, there was a BBC series accompanying the book but I cannot find it anywhere. No doubt it is in the BBC vault somewhere.
[caption id="attachment_9235" align="alignright" width="300"]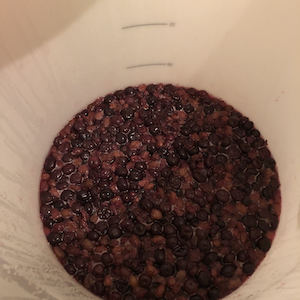 A fermenting mass of blueberries[/caption]
This is a relatively simple recipe. Take 1.2kg of Blueberries (I used frozen) and cover with about 3.5 litres boiling water to extract the juice. Leave it for a day. Then dissolve 1kg sugar in a litre of boiling water, let it cool and add to the must with 450g of washed chopped sultanas and the juice of a lemon. Add the yeast. Let it ferment out for 4 days and strain it in a demijohn.
I started this wine on Sunday and today I transferred it to a demijohn. It just needs to work on itself for a couple of months before I will rerack it and then bottle it once it is properly cleared. It's likely to be a little tart in taste and could probably do with being blended with something else. When the time is right, I intend to make some rhubarb wine which, I'm told, is good for blending.
[caption id="attachment_9253" align="alignleft" width="300"]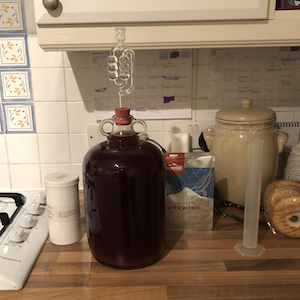 Blueberry wine[/caption]
I decided to do a cost analysis of the wine. I'm going to get into the habit of this for future brews. Forgetting the power and equipment, the total cost of the ingredients including yeast is £10.27. If I can get six bottles out of it that will be £1.71 a bottle. It's more likely I'll end up with five bottles at £2.05/each. If you like country wine and you like the fiddle of it, it is cost-effective in terms of ingredients.
The picture shows the wine freshly strained into a demijohn where it will spend a few months. The beer yeast is getting primed for tomorrow's brew - a Porter.