Hoppily Box February 2020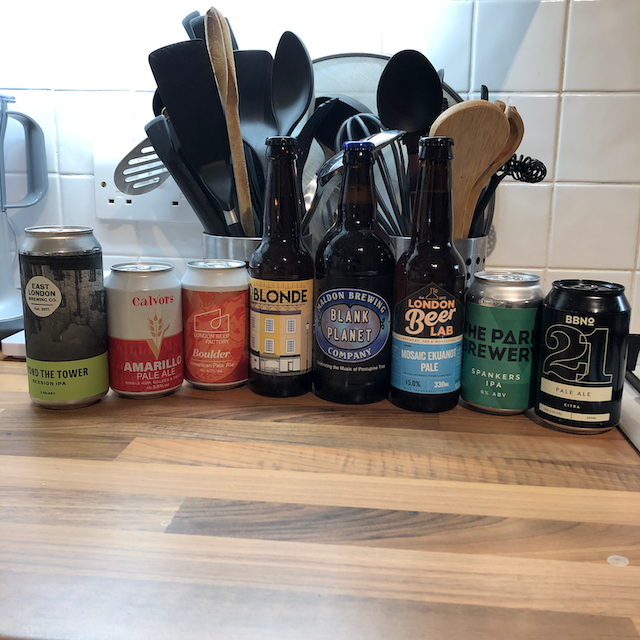 The latest Hoppily box arrived last weekend in time for a session on Saturday afternoon. I have to say I had my mind on other things during the tasting, so bear with me if the notes are a little scant this time. It was a rare occasion that something serious had cropped up and despite it getting my attention and being solved, I had descended into some classic Chris-grumpiness. I'm not sure if this should be hyphenated.
The first couple of beers were not impressive for me. I had two fellow tasters with me and we worked on them from the smallest ABV up to the highest. I will summarise as I go along rather than do a summary. I took the notes last Saturday and I've only just made sense of them. So here goes: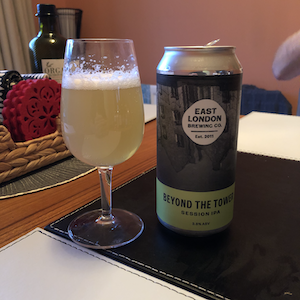 1. Beyond the Tower Session IPA,  East London Brewing Company, 3.8%
I'm unreliably told that this brewery has been taken over by one of the big brewing companies, but I couldn't find any evidence on their website so I will stay stum. Ah. This is a hazy number and looks like a wheat beer in the glass. Has some head retention with mandarin on the nose. So far so good. My view of it on Saturday was that is lacked complexity and had a grassy flavour. I'm afraid the grassiness kills it for me. Overall this one drops into the bottom 4. It's difficult when tasting the first one in the set because the palette is fresh and there is no yardstick to measure it by.
2. Amarillo Pale Ale, Calvors, 3.8%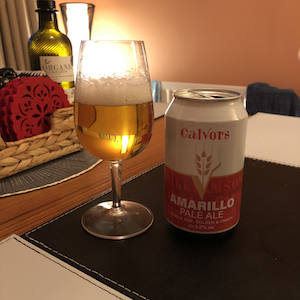 The beer poured well, looked beautifully golden and crystal clear. The head had the potential for lacing but disappeared rather quickly. The Amarillo hop was there on the nose. Unfortunately when I tasted it there was nothing to the brew. Maybe the Tower overpowered it. I doubt it.
Out of the eight, this was the least of my favourites. Perhaps it was just my grumpiness, but this one was not for me. A complete shame as the Suffolk-based brewery do their best to brew without chemicals or preservatives. I will give their other beers another try at some point.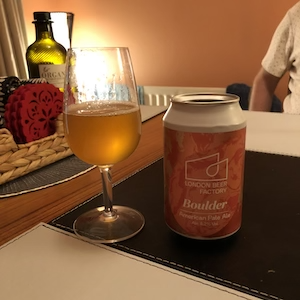 3. Boulder APA, London Beer Factory, 4.2%
It's an American Pale Ale and it's light and a bit fruity. I stopped taking notes at this point and I cannot remember why. I scored it above 2 but equal to 1 putting it in joint 5th place (there were 3 in the end). I was not massively impressed. I drank it though (surprised?).
4. Notting Hill Blonde, Moncada, 4.2%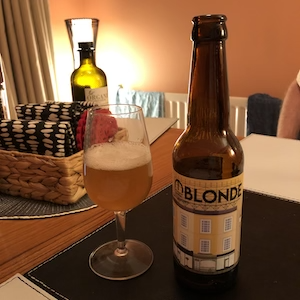 The beer had a malty nose with a relatively pleasant taste and a residual sweetness. But still, I'm not getting anything that hits a home run. Similarly, the chaps drinking with me were not overly impressed (and Lee drinks anything). Another joint 5th place. By this time, my distractions disappeared and I was back to my normal self (probably due to 4 thirds of beer).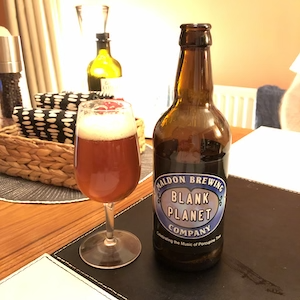 5. Black Planet, Maldon Brewing Company, 4.4%
There we are - something worth drinking. There was little on the label to suggest what we would get other than a red ale. This is a red and smoky ale. Actually, it's very smoky. We wondered if the right label had been put on the bottle, particularly once we'd compared the untappd review. If smoke is your thing, this is probably your thing. Apparently, it celebrates the music of Porcupine Tree, but alas I don't understand the link. This one came 4th.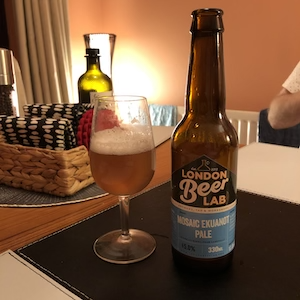 6. Pale - Mosaic & Ekuanot, London Beer Lab, 5%
My notes say "Hooray we are getting somewhere". But other than that, they are rather illegible. Saturday afternoon laziness I suspect. The flavour was good. I suspected that there was a beer fault on the nose, but once the beer had opened up it improved considerably. Loads of citrus on the palate. Out of the box, this came second. I will have to revisit it because my notes do not give it justice.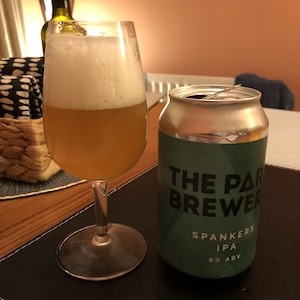 7. Spankers IPA, The Park Brewery, 6%
My spirits must have lifted further at this point of the day because the notes were better and more legible. This beer from the Park Brewing in Kingston-upon-Thames had plenty of lacing and a good head. It was hazy as you might expect for an American-style IPA. Plenty of hop on the nose. We got all of the Citra, Senco and Centennial hops all the way through. The strength of the beer was obvious. This was a very pleasant beer indeed. That's more like it. Overall it came third, just behind the next one.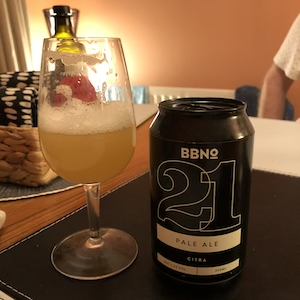 8. 21 Pale Ale Citra, Brew by Numbers, 5.2%
This beer is a single hop (Citra) version of Brew by Numbers' Pale Ale. And you get the Citra all the way through - on the opening, the mouth and the farewell. It has a dry clean flavour. It has an orange juice haze. Did I mention lots of Citra? Yes please - we will take a case. This beer, the Spankers and the Pale from London Beer Lab were by far the best in the box. We ended the session very much on a high note.
(You can, if you wish, follow me on untappd...)