Eggs Royale is one of my favourite Saturday cheat breakfasts, but it need not be a cheat breakfast at all. If the Hollandaise sauce is sugar and starch-free, and the muffin is replaced with something else, then it is a good breakfast for the Slow-Carb diet.
Eggs Royale Low-Carb (Serves 2)
2 large ripe avocados at room temperature
About 4 heaped teaspoons of feta cheese or cottage cheese (optional)
1 packet of smoked salmon
4 large eggs
Hollandaise sauce
You can use a pre-made Hollandaise but it's likely to have starch or sugar in it.
For a quick microwave Hollandaise:
4 egg yolks
115g butter
Lemon juice (at least quarter of a lemon)
salt
Mash the avocados in a bowl, mash in the feta or cottage cheese and cream the mixture with a fork until smooth. You can leave out the cheese if you want.
Using a large cookie cutter, make two bases each on two plates using the mixture. Add the smoked salmon on top.
Using your largest saucepan, fill with boiling water to make a water bath. I usually need to boil the kettle twice.
Get your Hollandaise ready.
Reduce the temperature of your water bath so that it is just below boiling.
Take a note of the time and crack the eggs into the water bath.
Leave for 3-4 minutes and they will be runny and done. If you prefer them cooked more, guess what - leave them in there longer.
Using a slotted spoon, drain the eggs on paper towel. Stack each egg onto the salmon and pour Hollandaise over it. Season to your taste.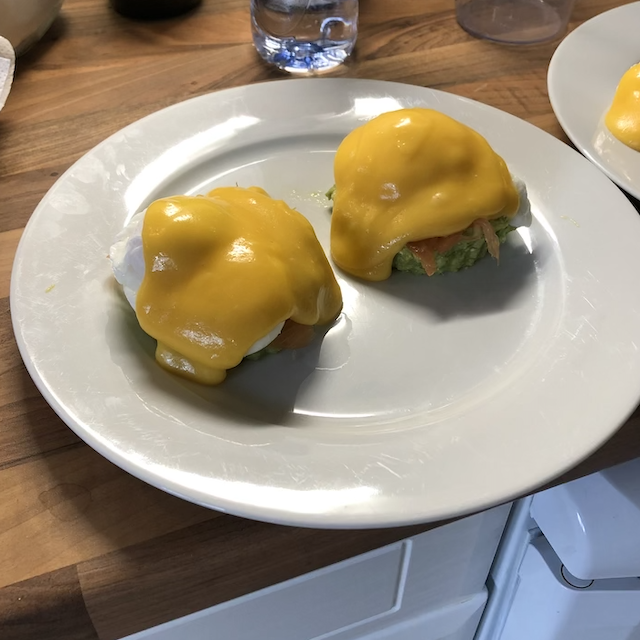 For a quick microwave Hollandaise, whisk the egg yolks, lemon juice and salt in a microwavable bowl. In a microwavable jug, melt the butter gently on medium in the microwave, then drip it into the egg mixture slowly, whisking as you go. Microwave the lot on high for 10 seconds, then whisk. Repeat twice until you have a thick Hollandaise sauce. In terms of timing, I would whisk the egg yolks before poaching the main eggs and then finish the sauce whilst the eggs are poaching.