This will be my last Hoppily box for a little while. I like Hoppily and the Hoppily taproom, but I'm economising a bit due to some up and coming expenditure - that's if we can actually spend the money given the current pandemic. Also, I'm cutting down on the drinkies and generally on subscriptions. I drank these in two sessions, starting on the 21st and finishing on the 28th.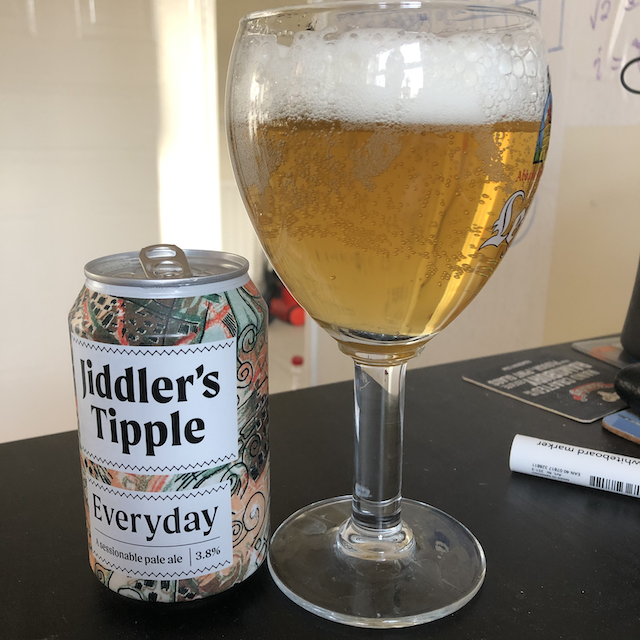 Everyday IPA, Jiddler's Tipple, 3.8%
The first out of the box and one of the weakest at 3.8%, but you would not know. This beer is from a small north London brewery and seems to be their only beer. There is an immediate fruitiness on the nose and a pleasant citrus aroma. There's a bit of grassiness on the taste profile, probably due to dry hopping but it isn't unpleasant at all. It's a crisp refreshing IPA worthy of a session at 3.8%. The head is frothy and is retained well to the bottom of the glass. Not that it lasted long. Great to have a good one straight out of the box.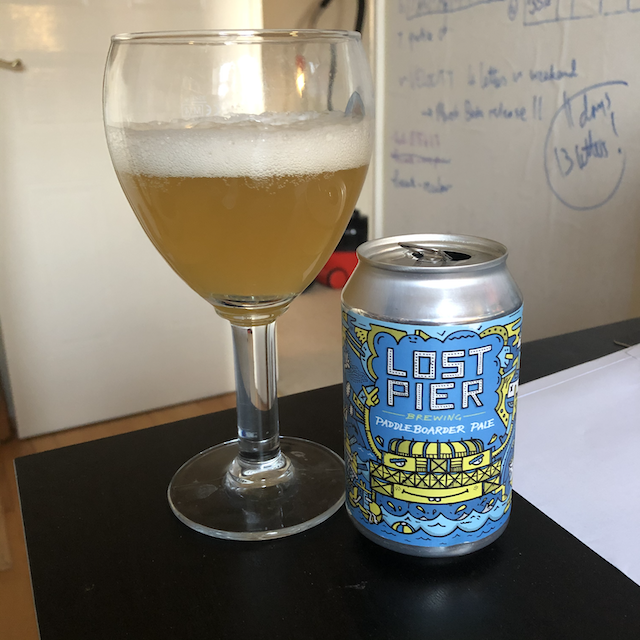 Paddleboarder Pale, Lost Pier Brewing, 3.4%
I should have had this one first given it is the weakest in the box but so be it. This one originates from a brewery in Brighton. It's hazy and has good head retention. I suspected that this would be due to wheat in the grist but there isn't any - there are oats though. The label says it is a single hop in there and it is Mosaic. It's a perfectly drinkable beer - fruity and citrusy on the nose and palate, but it isn't as complex as the Jiddler's. Perhaps I should have had it first, but it was 1730 and I made haste to the beer box! A hasty mistake.
Bombay Castle Indian Pale Lager, JP Brew Limited, 4.5%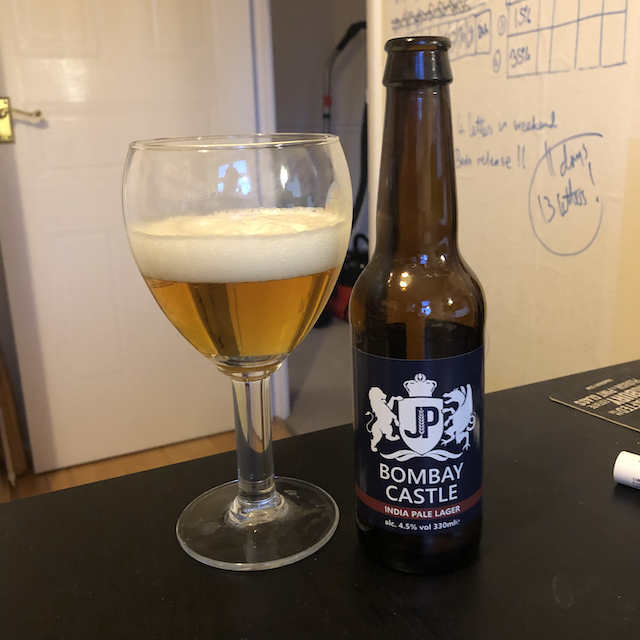 This is another Londoner out of an office based in central London. I was surprised to see that yeast has been left off of the ingredients. It's 100% British and it's vegan as well, meaning it hasn't been filtered with animal-based finings. On the pour, there is a large head which holds well and laces the glass. It has a very malty nose but quite a grassy finish to the flavour. This is a hybrid between a lager and an IPA. I'm not sure that I'm a fan. If they'd done something a bit different with the hop profile, this would have been a nice malty lager. Not awful but interesting. Will definitely try their Pure Organic Lager and British Standard Lager at some point.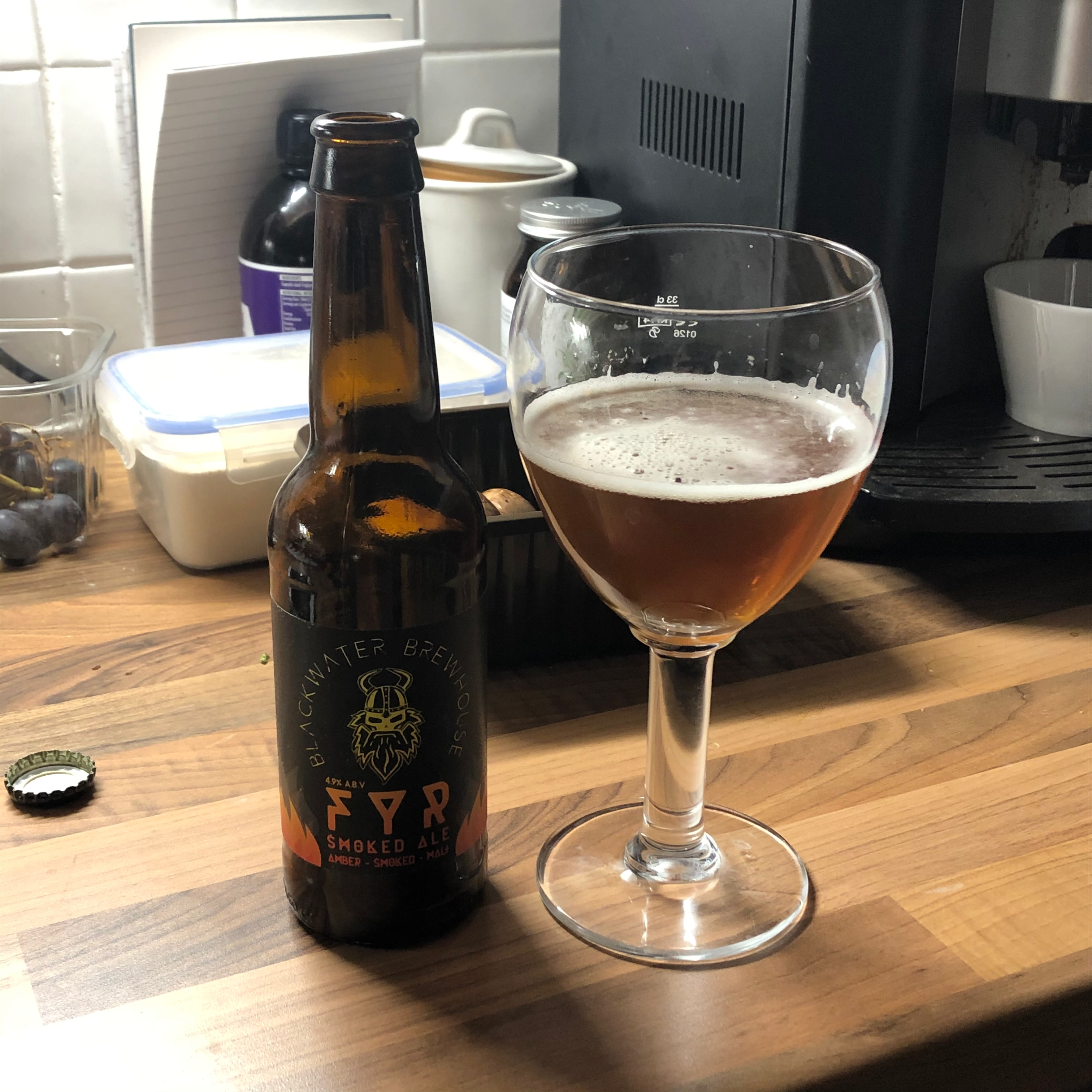 Fyr smoked ale, Blackwater Brewhouse, 4.9%
This one originates from Maldon in Essex and the brewery has some interesting stuff. Fyr is what it says on the bottle, a smoked ale. Unless you know in advance, the first taste is slightly off-putting, like the first pint you have when you were, er, 15. But then it smoothed out in the glass. The smokiness became less prominent and the beer tastes balanced. Smoked beers are not my favourite, but it is a balanced well-rounded beer. The Hoppily box is good this month so far. At this point, in the interests of liver preservation, I parked my tasting session for a week.
To summarise so far: 1. Everyday IPA, 2. Fyr Smoked Ale, 3. Bombay IP Lager, 4. Lost Pier. None of them are disasters, all very drinkable beers.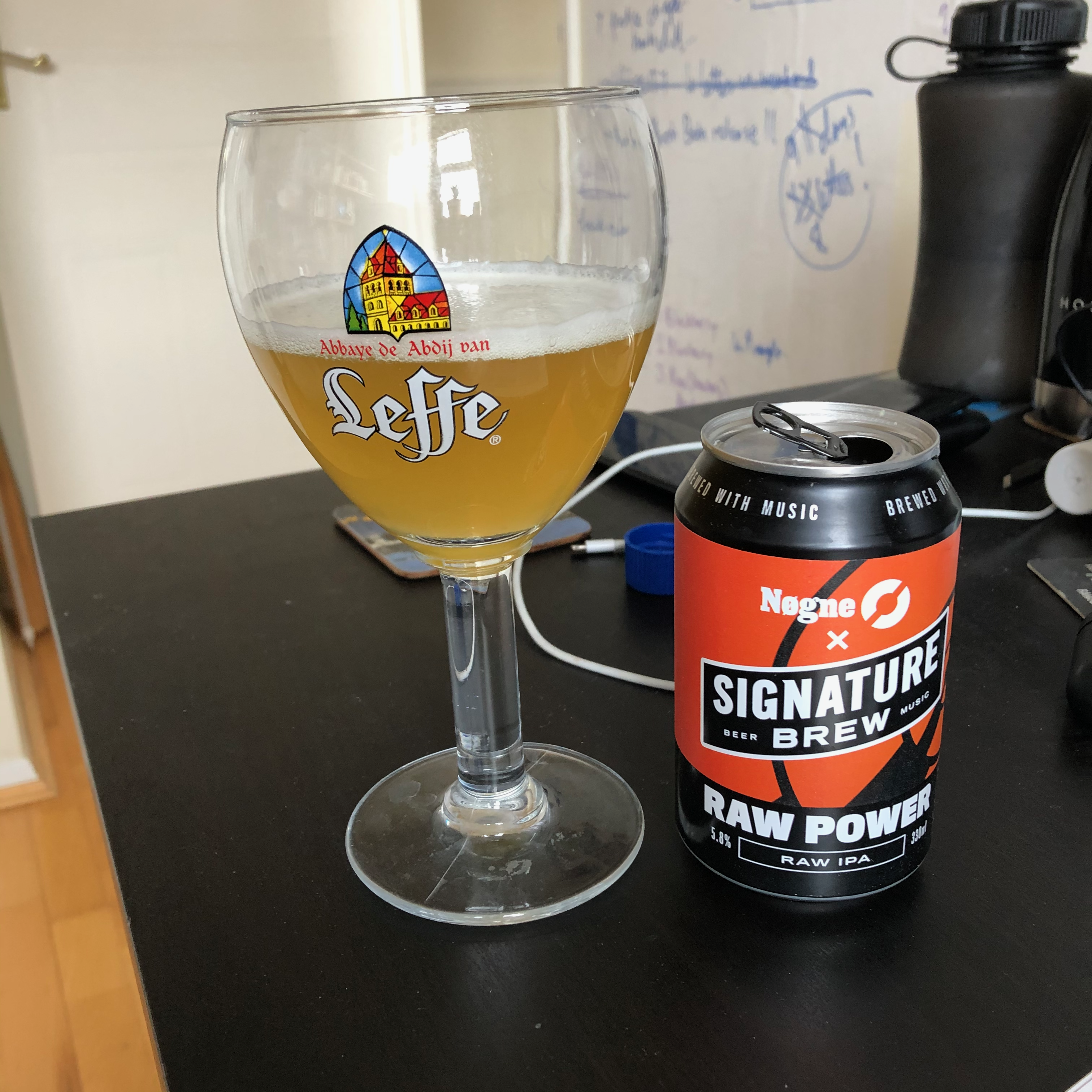 Raw IPA, Nøgne, 5.8%
We restart our tasting on Saturday 28th with this Raw IPA from Nøgne. It's brewed in Walthamstow E17 using Scandinavian brewing techniques due to the brewery's HQ being in Norway. On this beer, we have a fruity grapefruit nose and a similarly tart grapefruit hit on the palate. Possibly a tad too tart for me. The pour was lively and the head has reasonable retention with some lacing on the glass. As it develops there's something a little earthy on the nose. I'm supposed to be getting gooseberry, peach and mango hits - let's look for those: perhaps a bit of peach, but I'm getting grapefruit all the way. Each to his own. It's a good beer, but it has an acquired taste. It sits behind Everyday IPA (at least, as I remember it!).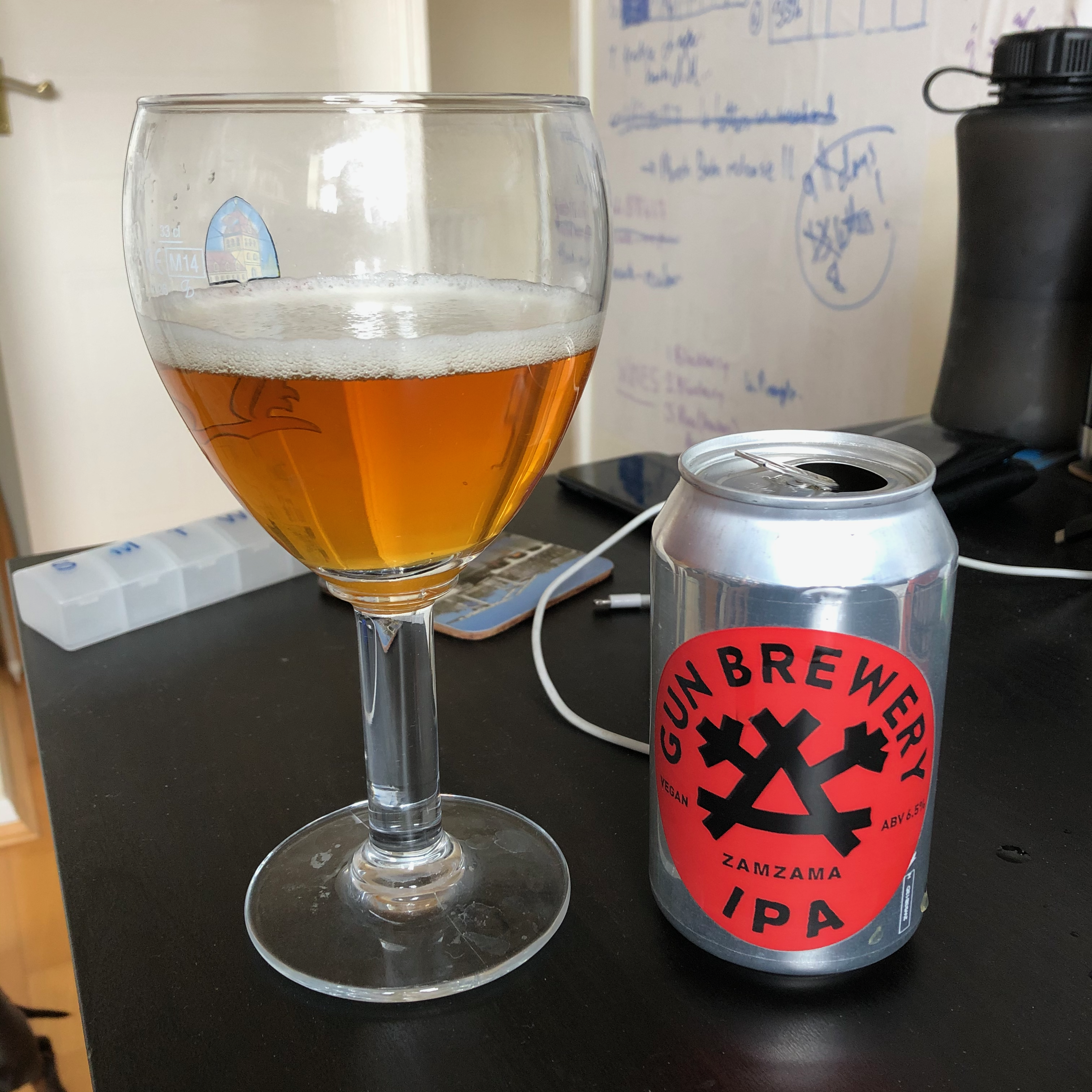 Zamzama IPA, America IPA, Gun Brewery, 6.5%
Originating from the Gun Brewery in East Sussex, this tinned IPA is very golden in the glass. The pour is as lively as it should and the head settles down quickly to a ring of foam against the glass. It's a vegan beer - no isinglass or similar finings have been used, but they don't need to use them - it's a beautifully clear beer. I'm getting the malt on the nose and you can definitely detect the strength. Also, the hoppiness is there on the palate. Is it an American IPA? Possibly. The best before date is April 2020. It's just opinion, but American IPAs need to be drunk young to get the fullness of the hops. The hop character will fade in 6 months.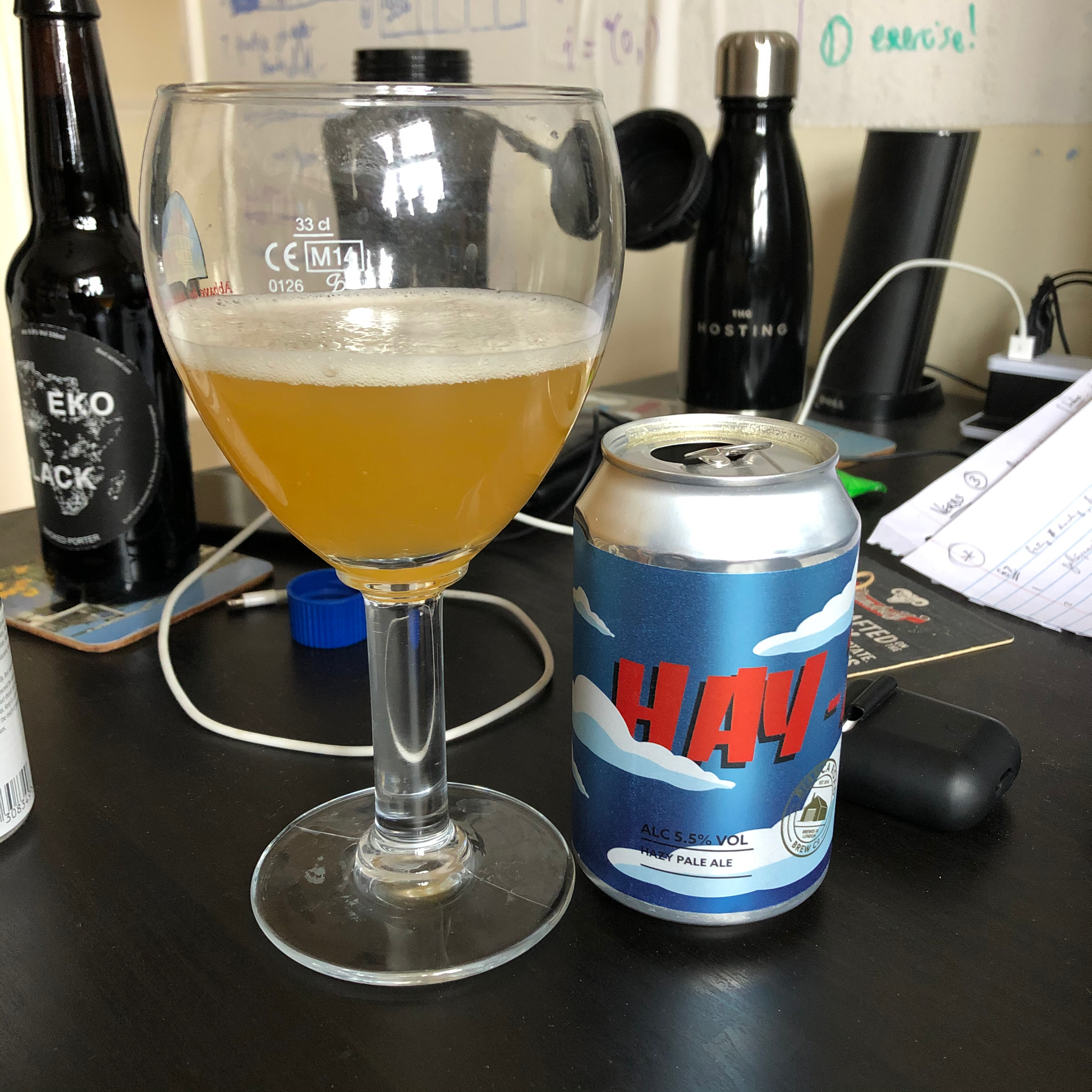 Hay-Z Hazy Pale Ale, Bianca Road, 5.5%
This beer comes from southeast London A less lively pour and the head has almost disappeared with a ring of lacing around the glass. Hazy it is, almost an orange juice colour. It's fruity and citrusy on the nose. It's very hoppy with a slight grassiness on the palate. A well put together beer but sits behind the rest due to the balance.
Eko Black Smoked Porter, Eko Brewery, 5.0%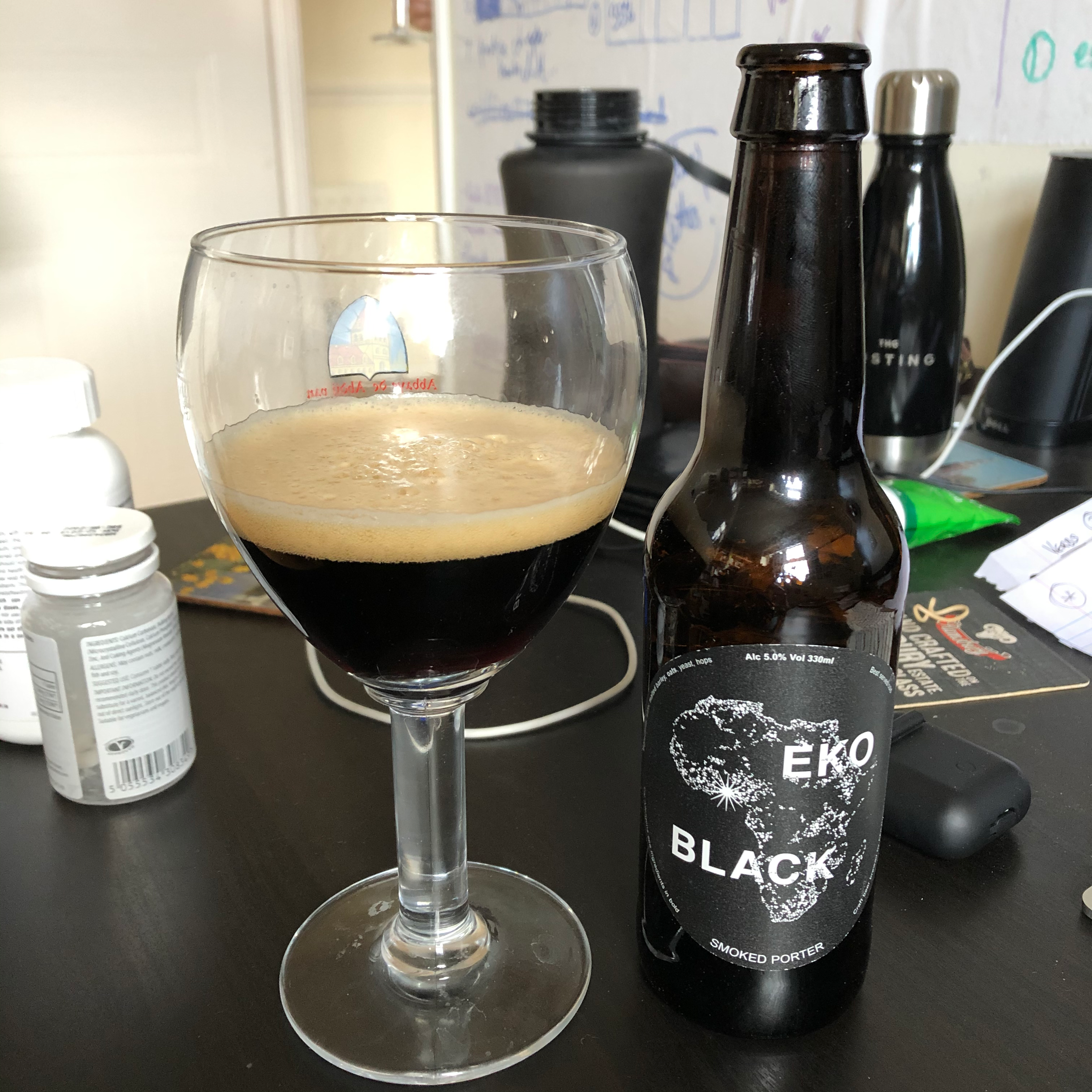 And last but not least, we have a smoked porter from Old Street in London. There were two smoked beers in the box. I thought it best to leave the porter to last to avoid it overpowering everything. This is another one suitable for vegans. Actually, there really is no need to use animal-derived finings. Even a bit of haze is acceptable these days. Right onto the beverage then. It is browny black. The head settles down to a thin foam. We have the predictable dark chocolate nose and a slightly sharp chocolate flavour. As it opens up, the chocolate flavour becomes more rounded and the sharpness decreases. I like it. The smokiness is there, but actually, if you hadn't told me I might have missed it with my weak palate. Finishes in the top 4 which are: 1. Everyday IPA, 2. Raw IPA, 3. Eko Black Smoked Porter and 4. Fyr Smoked Ale.
Hope you are all keeping safe and COVID-free.