I woke up with a familiar feeling - a mild headache and a slight stomach grumble that is simply a symptom of the body adjusting to the new diet. I succeeded on the first day with a low-carb chicken green curry with cauliflower rice for dinner. Of course, the first day is not too hard. I don't expect today will be that difficult. It will be tomorrow and the subsequent day that will form the first hurdle.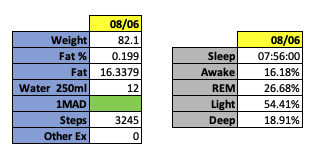 I over-hydrated with 3 litres of water and herbal tea. I perhaps overdid it with coffee at 4 cups, but I drank no alcohol and didn't have to snack. I managed 3000-odd steps, but that's fairly good considering I didn't leave the house. Let's see how today goes... I'll keep going and to keep myself on it I will bore you, gentle reader, with the details daily, possibly with a picture of the day too. How nice?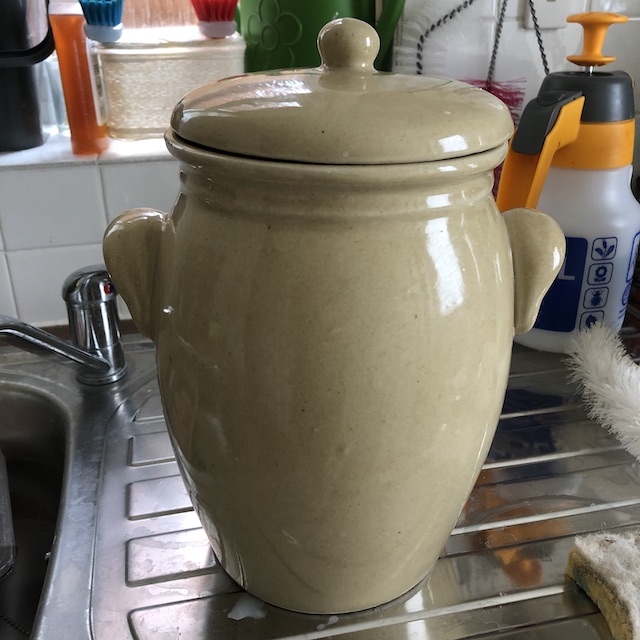 In between work yesterday, I had another clear out. Pictured is my Rumtopf pot. For the last two years, I have been keeping a Rumtopf going. What you do is macerate fruit with a similar weight of sugar, add it to the pot and cover it in rum. You repeat with different fruits from May to November, ending up with a full pot of soaked fruit. The juice makes a very strong sweet rum-based aperitif and the fruit is traditionally eaten at Christmas in some countries. You will find Rumtopf in Germany, Denmark and Austria.
Alas, I cannot cope with all of the outputs of these experiments so the Rumtopf pot is scheduled for exile, either to a willing recipient or to the loft.