1. Quote of the week
"We're going to democratise the automobile and build a car for the great multitude that everybody will be able to afford. We will price it so that no man making a good salary will be unable to own one." -- Henry Ford, 1907
2. What I've been enjoying
The blissful weather. It has been very hot this week. It did rain on Friday but at exactly the right time in the morning to water the garden. It's been great to be able to sit in the garden and read, but also to be able to go out on the bike in good weather.
3. What I'm reading
I finished Strategy in Crisis by Michael de Kare-Silver. This book about the importance of business strategy and how many businesses do not get their planning right, either by not engaging their organisation or by giving it the long-term approach that it needs. The book provides a toolkit to developing strategies and has plenty of case studies of large businesses. Interestingly it was written at a time when Apple was in decline. Despite its age, I found the book extremely relevant and perhaps Michael should update it for 2020.
I have a massive reading backlog and about five books in progress. Three of these are Russian grammar books. The other two are books that can be put down and resumed easily, and in fact, I want to clear these off the slate. But as a break from that, I am reading Viking Britain: A History by Thomas Williams. The Viking times are a period of history that I know little about. I bought the book cheaply as a paperback the same time I bought Fire and Fury (a book about President Trump), so it has been on my shelf waiting for at least a year.
4. What I'm doing in my free time
I have not had much free time during the week. At the weekends, I have been perfecting the Full English breakfast. If you like streaky belly bacon, the best thing you can do is to start cooking it in the oven. It takes 10 minutes and reduces the mess of doing it in the frying pan, also allowing you to concentrate on getting the fried eggs right.
5. What I'm learning more about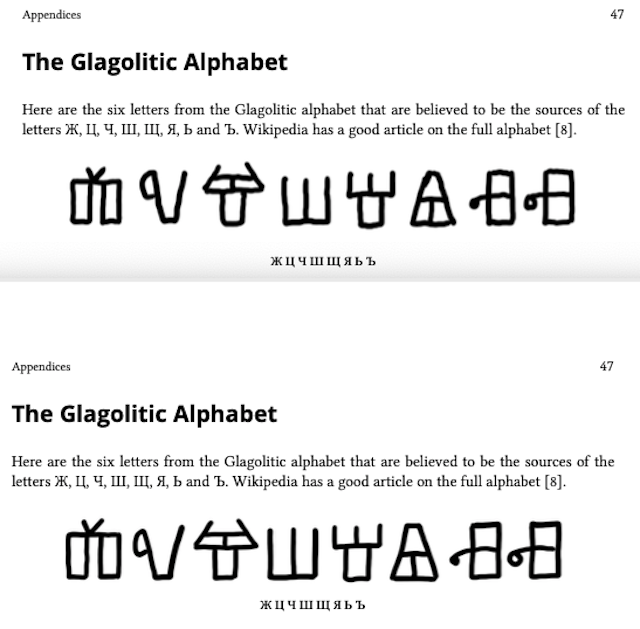 My Procreate skills are still not great on the iPad, but I've been putting some effort in this week. There is a marked improvement on the bottom set of characters, which are just a trace of the top set. To improve a character, make the layer it is in opaque and trace over on a new layer until it is right.