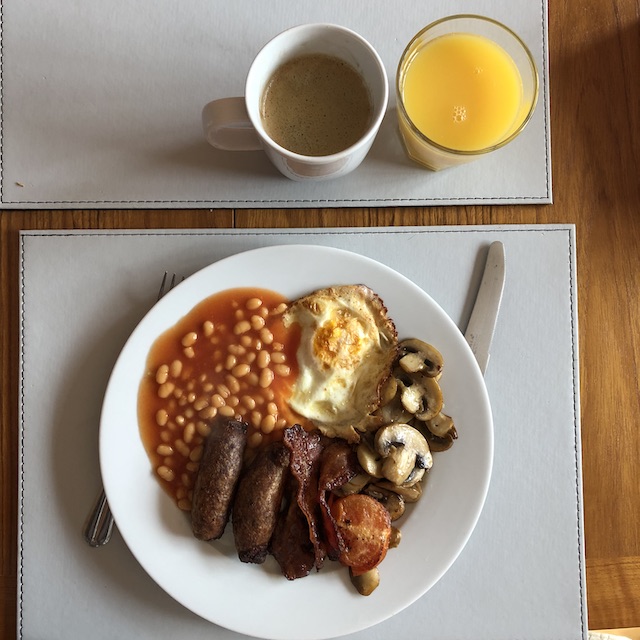 Saturday 25th July: There was rain forecast but I still decided to go out on my bike. I had a full English, then tea with my parents in the morning along with copious amounts of cake and set off with a view to doing 100 kilometres on my bike. However, the universe had other plans for me.
My first port of call was Upminster as I wanted to ride the cycle path in Ingrebourne park and add some distance to my ride. This is cycle path 139 which is suitable for hybrid bikes
There's a section of this cycle path on soil and I don't think I would want to use a road bike on it. The route takes about 25 minutes between Upminster and Rainham is all off-road and goes through some beautiful scenery.
At Rainham, I continued into London using cycle route 13. I managed to find a section of the cycle route that cuts out at a dangerous and dirty piece of the path next to the A13. The cycle paths are not signed well, and it has taken me a few attempts to find the right way. This route took me to the Ripple Rd flyover on the A13, where I crossed the road and met with Cycle Superhighway 3. From there I took Quiet Route Q22 (Greenway) through to Bow. From there, the segregated Cycle Superhighway 2 runs along Mile End road and to my destination Brick Lane. On arriving in Brick Lane, I had a salt beef beigel and rested up for 10 minutes before getting on the bike again to do a 15km loop south of the river on the Cycle Superhighways and using London and Blackfriars bridges.
So far so good. South of the river, it was raining quite heavily and I got soaked. Despite the rain, I didn't have any problems with the bike on the road. Once I got back to the north side, I decided that it was best just to get home. When you are soaked and wet sometimes it's best just to get home rather than sit somewhere and attempt to get dry without any facilities.
[caption id="attachment_10419" align="alignleft" width="300"]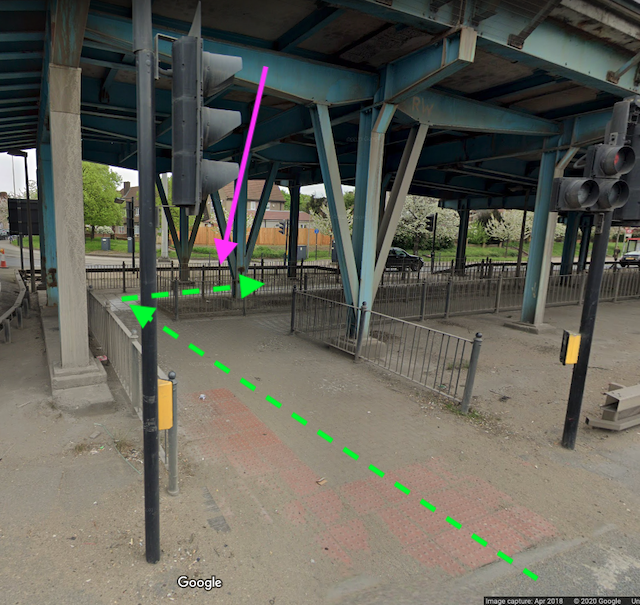 Scene of the crime (c) Google maps[/caption]
I took CS3 out of London back to the Ripple Rd flyover. I remember thinking about continuing through Dagenham on the horrible gritty paths I mentioned before, but I decided to cross the road at the lights and try and get on the cycle route 13. As I cycled over the crossing and turned right, I lost control of my back wheel and skidded badly. The next thing I knew I was on the floor with my arm wrapped around a metal fence.
Once the initial shock had worn off, I had another shock because although I could waggle my fingers, my hand didn't seem to be where my brain thought it should be. Initially, I thought I dislocated my arm. After a bit of a panic, I managed to straighten my arm into a recovery position and get my backpack off. It took at least 5 minutes before someone passed who was able to help. A gentleman called Lee parked his bike up and came and helped me. Over the next 30 minutes, we managed to get me across the road, find someone in the area to look after my bike and get an ambulance called. I wasn't able to do any of this myself and it's a good job Lee was so kind to help.
Because I wasn't bleeding and was not considered to be in a critical state the ambulance service sent an Addison-Lee taxi to pick me up. At Romford Queens, I was met by a triage nurse with a wheelchair ready.
The nurse looked after me well and inducted me into the hospital quickly. Then she took me round to the urgent care centre. I had to wait some time but I eventually got treatment for my arm. Every doctor and nurse I spoke to was competent and was reassuring. I have a fractured humerus and fortunately no dislocation. I'm told that it's quite a complex fracture.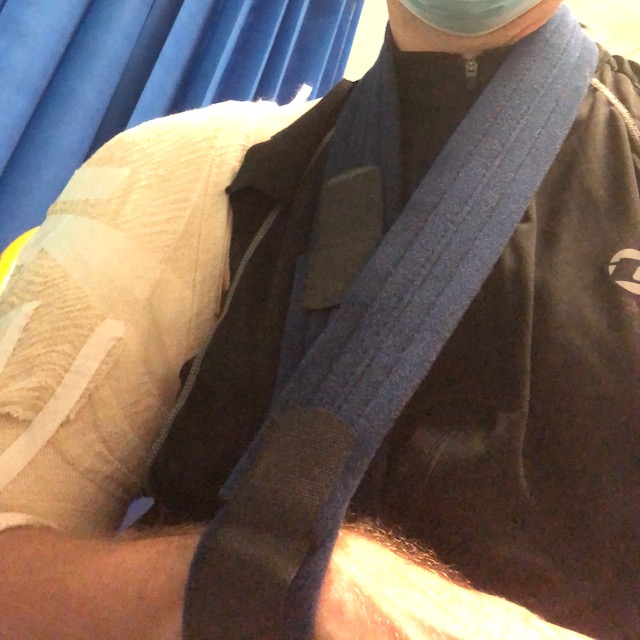 The medic that plastered my arm had a great sense of humour that kept me going through the painful process. My neighbour kindly picked me up in the early hours of the morning and took me home. The first thing I had to do is wash off all the dirt from the road, but after that, I went straight to bed.
The first couple of days afterwards were quite difficult. Once I got into bed, I slept very well but getting in and out of bed was extremely difficult. On one occasion it took me 30 minutes. It turned out that I had strained my right gracilis (one of the muscles on the inner thigh). As I write this, the leg problem has nearly gone, but I have been walking with a stick just in case.
I've got some more things to say at some point on my treatment in the hospital, but that is for another day. It's quite clear that most of the medical staff at Romford Queens have made a career out of helping others.


Looking back, it's not clear why I lost control the wheel.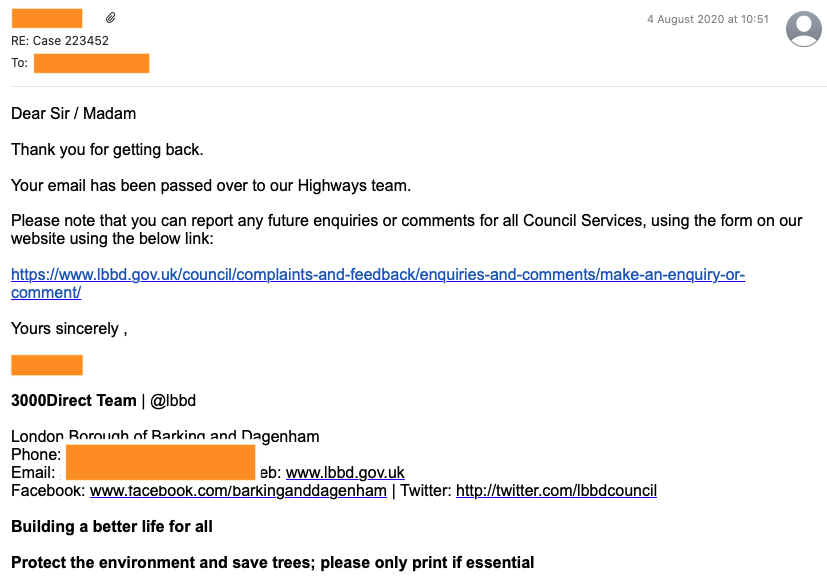 It was not particularly wet under the flyover. I've reported the incident to Barking and Dagenham council. They've yet to give me any useful response that suggests they've examined the crossing – mostly automated "did you know you can report online?" e-mails.
In 2014 I was able to cycle 130km comfortably and I had almost got back to where I was in terms of cycling stamina. Moments before I crashed, I felt good and full of energy. On a Saturday I usually do 100 kilometres, and, on this occasion, I was still feeling good at 80km. During the week, I was doing some lightweight weight training and walking the dog. All of that has ended with a crash. I will not be able to cycle again for at least two months. I was looking forward to cycling to Amsterdam in September. I cannot use my writing hand for the next couple of weeks and I'm not allowed to drive.
If you've been following this blog, you will know that up to the crash I was on a one-meal-a-day fasting diet. I've become a little relaxed on the diet as there are more important things to consider.
Despite the frustrations, I can still work done because I can type with my left hand and use voice recognition. It's not perfect by any means but this article was dictated then fixed by (left) hand. The problem is studying where I rely so much on writing. Also, my book on Russian Handwriting has been put on hold.
I guess the way to look at it is that some of these things are just out of our control and we have to make the best of them. I'm doing what I can at work and I'm making sure I get the right rest. Provided the bone heals in the next couple of weeks, the next step will be to get movement back and then return to normal slowly but as steadily as possible.