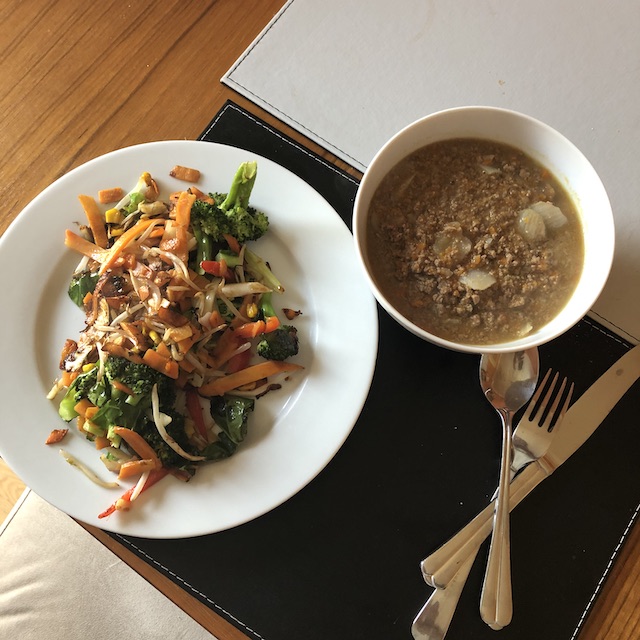 Yes, yes. I haven't blogged for a number of days. We are approaching 100 days of 1 Meal A Day and I've been relatively successful in terms of losing weight and despite the fact I've been injured. It's become a regular habit to eat this way for me, so I'm less inclined to blog about it. Also, it's an extra 5 minutes of guff to do in the morning.
Anyway, although we aren't at 100 days yet, here are my impressions.
It's an "easy" way to have a healthy diet because the rules are simple - don't eat until dinner time.
The results are clear. You can see that the weight reduces. (Although of course, both the fasting argument and lower calories argument apply.)
I don't get as hungry as I expected (although yesterday was exceptional). In fact, just before my accident, I was able to cycle 75km in a fasted state.
My fracture has healed so far with no problems. I've eaten good protein every day.
We don't particularly spend less on food, but we eat more protein which is expensive.
My gut feel is that I would do better generally if I had two meals a day provided they are low-carb, or even back to the slow-carb diet of 3 meals a day.
Given the above, I'm probably going to switch to a hybrid of 1 - 2 meals a day with one day off at the weekend. But we will see - the 100 days are not up yet.
At the beginning of the 1MAD period, I was 82.1kg with a body fat of 19.9%. Currently, I am 78kg with 18.3% fat. The day I had my accident I was 78.2kg at 17.9% body fat. I've clearly not been as active for the last two months but I've maintained my weight more or less.
Anyway... we had a break at the weekend and I managed to cook Eggs Benedict in the morning on Saturday and a full roast in the evening. Despite efforts otherwise, I still cooked too much. On Sunday we had pancakes, visited the pub, had a walk and ordered fish and chips. We had far too much to eat really, but my weight didn't go over 80kg.
Monday was an easy 1MAD day and I had some leftover salmon with a beef stir fry. There was more leftover beef from the roast on Tuesday and I made a savoury mince. I possibly cheated a bit because I used a Knorr gravy cube and these usually have sugar in them. I found it difficult on Tuesday and ended up eating around 1430. I also had some wine in the evening, hence the amber status.
My arm is much more mobile and I can raise it above the shoulder, but it ached a lot on Saturday due to the cooking. There's still a lot I can't do with it, but basic mobility is there. On Sunday I had to put it back in the cuff because of a circulation problem.
I've started to test for ketones again and here are the statistics as of today: