Ik leer Nederlands. Or at least 2 years ago I was. I did a two week intensive course in Amsterdam. And intensive it was. We had to spend at least 6 hours a day on it. I learnt a lot. I remember the odd bits and pieces - I remembered the verb "to learn" from memory when I wrote the first sentence, but sadly I cannot speak Dutch and I'm not at the A1 level. I do intend to rectify this one day.
When we were staying in Amsterdam, we went to a traditional Dutch restaurant. I had Erwtensoep (pea soup) and Stamppot (mashed vegetables). The Dutch aren't going to win awards for this food, but it is hearty and filling. This week I made Erwtensoep. I could not find the smoked sausages in the supermarket and I had to make do with yellow split peas rather than green ones. Here is my take on the recipe based on the one at Dutch Table.
Erwtensoep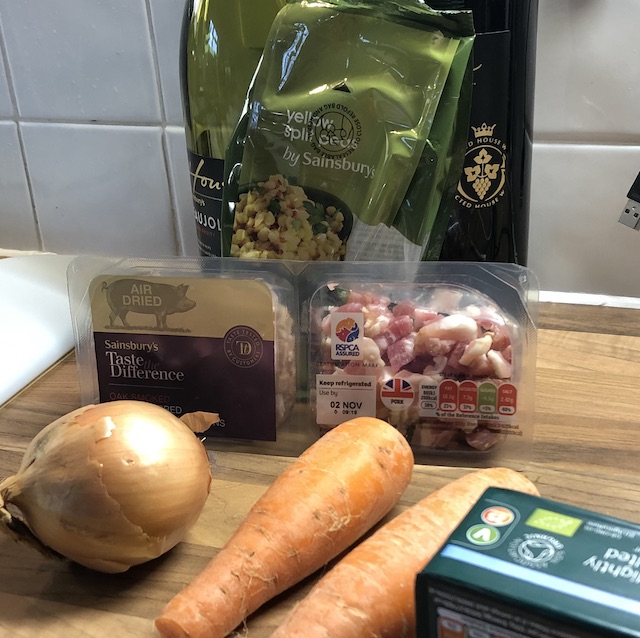 500g Yellow (pref Green) split peas
1 small onion
2 medium carrots
(2 celery sticks)
2 bay leaves
smoked lardons
I confess I forgot to put the celery sticks in... duh. Anyway, here is the method.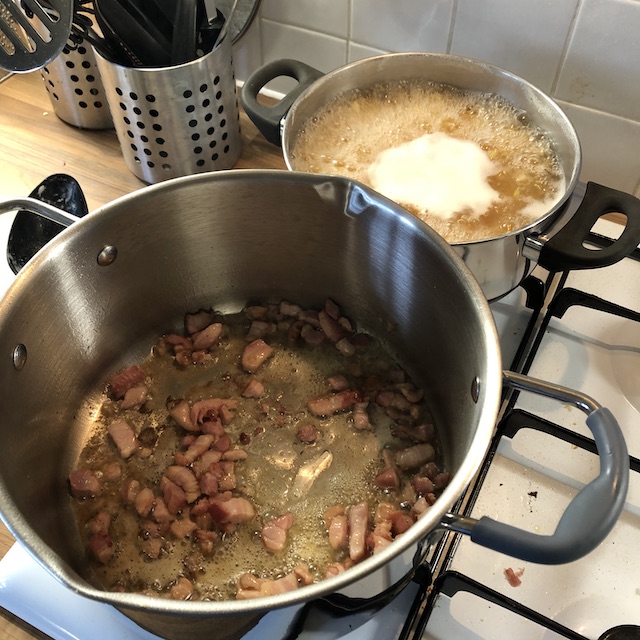 The night before, soak the split peas in salted water.
The day after, drain the peas, rinse them well and then add fresh water.
Boil them for 10 minutes without a lid, removed the scum that comes off. You'll need a big pan for this.
Meanwhile, chop, julienne or grate the onion, carrots and celery.
In a big pan over a medium to high heat, fry the lardons in butter for a couple of minutes, then add the onion, carrots and celery. Sweat these down for a couple of minutes with a lid on the pan.
Once the peas have boiled, add everything carefully (pour away from you) to the big pan and add more water to cover.
Add the bay leaves, salt and pepper
Bring to the boil then simmer for 40-50 minutes
After it has cooled, remove the bay leaves and blend with a stick blender or stir vigorously to break down the peas.
When I make soups, I usually let them rest on the stove for a couple of hours. They need to cool anyway but of course, this means they continue to cook, which I think makes them better. I got stuck on a meeting today so overcooked the soup on the heat by about 20 minutes. It matters not!
How does it taste? Well despite being yellow and not green, its roughly how I remember it from Amsterdam. It is a little gritty and I would be tempted to cook it for longer perhaps. But I'm very much enjoying it.
This soup should be served with smoked sausage. This evening I'm not bothering with that and will have a steak afterwards. Decadent or what!?