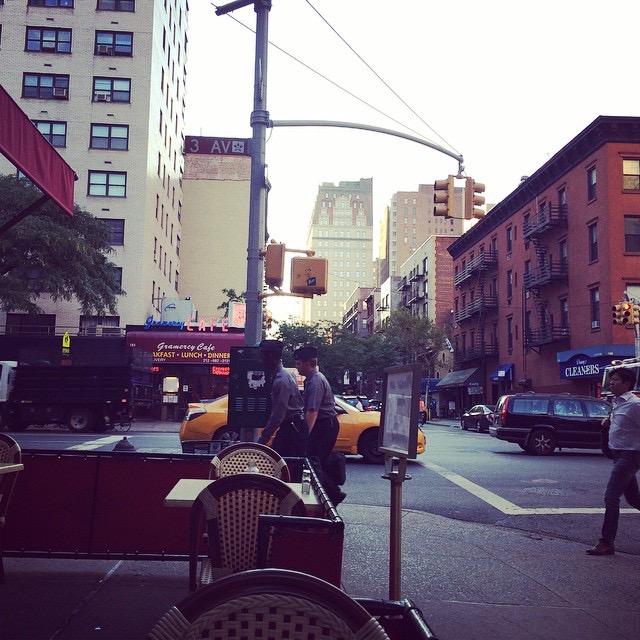 We were due to go to New York last April and it was never to be. Ultimately the lockdown stopped us from going. Now I have a favourite spot in Manhatten and unfortunately, it has changed, as often things do. Everything typically has a beginning, middle and an end.
I used to stay in Hotel 17 on East 17th Street. It is a reasonably priced hotel near to Union Square and as a result of the express subway, a good place to stay to get to the Yankees Stadium. The only disadvantage is that it has shared bathrooms, but they seemed to be cleaned every hour when I was there. The minimum stay at this hotel is now 30 days, which makes it unsuitable for a quick holiday.
In the picture, I'm sitting in a restaurant on 17th and 3rd. The service wasn't very good there. However, from that spot, you can see the Gramercy Cafe, a 24x7 cafe where you can get anything you want. If you want a portion of broccoli with your breakfast, they'll do it. If you want a steak at 3am, you can get it. Unfortunately, it has changed and by the power of Google Maps we can see what is going on. I'm not sure if the cafe has changed owners but now it is the Gramercy Kitchen. I'm sure it's fine - the menu looks good.

Over the other side of 17th, there was a handy wash and fold. That became a nail bar and now it is an empty shell. The wash and fold was so handy and extremely cheap. If you have one of these in your area, don't bother owning a washing machine.
Anyway, it's all changed and we need to find a new New York spot once this pandemic is over. It's a slight wrench because I stayed there at least 6 times - in fact, I've lost count. The good news is that Triona's East is still going. I've been in that bar with my wife, my brother and I've met people in there that I'm still in contact with.