RaH #2 - Il Ragù di Gennaro
I saw this recipe on the Two Greedy Italians 10 years ago and I've had the book for most of those years. It was only recently that I made the recipe. This meat ragù is Gennaro Contaldo's personal recipe containing beef, pork ribs and sausages. Ragù is often eaten on a Sunday in Italy, with the sauce and pasta as a first course and the meat served as a second course. I suspect years ago, there was not much meat to go around.
I had more meat than the recipe and as a result I made a few adjustments.
Il Ragu di Gennaro (Essex style)

- Extra virgin olive oil
- 1 onion finely chopped
- 500g topside beef cut into chunks
- 800g pork ribs
- 300g pork sausages (roughly four)
- 2tbsp tomato concentrate diluted in 150ml red wine
- 6 x 400g tins of chopped or plum tomatoes
- Basil, salt and pepper


We were told at our Italian cooking lesson last year that Italians only use extra virgin olive oil, so let's be authentic. The method is very simple but I didn't follow the book. I always brown my meat first, then do the other things in the debris. In a hot saucepan with the oil, I browned the top side, then the ribs and then the sausages. I did this in batches to avoid overcrowding the meat. I removed each batch and left it in a bowl.
Then I softened the onions for a few minutes, adding a bit of olive oil as necessary. Then I added the tomato concentrate mixture on a high heat, stirring and reducing it by about a third.
Finally, I added the tins of tomatoes and the meat, adding some dried basil, salt and pepper. I mixed it all up thoroughly, brought it to the boil and left it to simmer. I added a teaspoon of sugar to cut through the acidity of the tomatoes. And had a sneaky Guinness.
I let the sauce and meat simmer for two hours.
After two hours it was cooked but the sauce was too loose. Frankly, I added too much liquid, so I brought it up to high heat for 30 minutes to reduce everything down, before cooking it further for 30 minutes at low heat with the lid off. The sauce needs to be thicker for the pasta.
This is how the "second course" is supposed to look (notice the book was a casualty of an exploding red wine bottle on Friday...):
I haven't been able to get a decent picture that does it justice, but here was the final product in the pot which you can see is very rustic...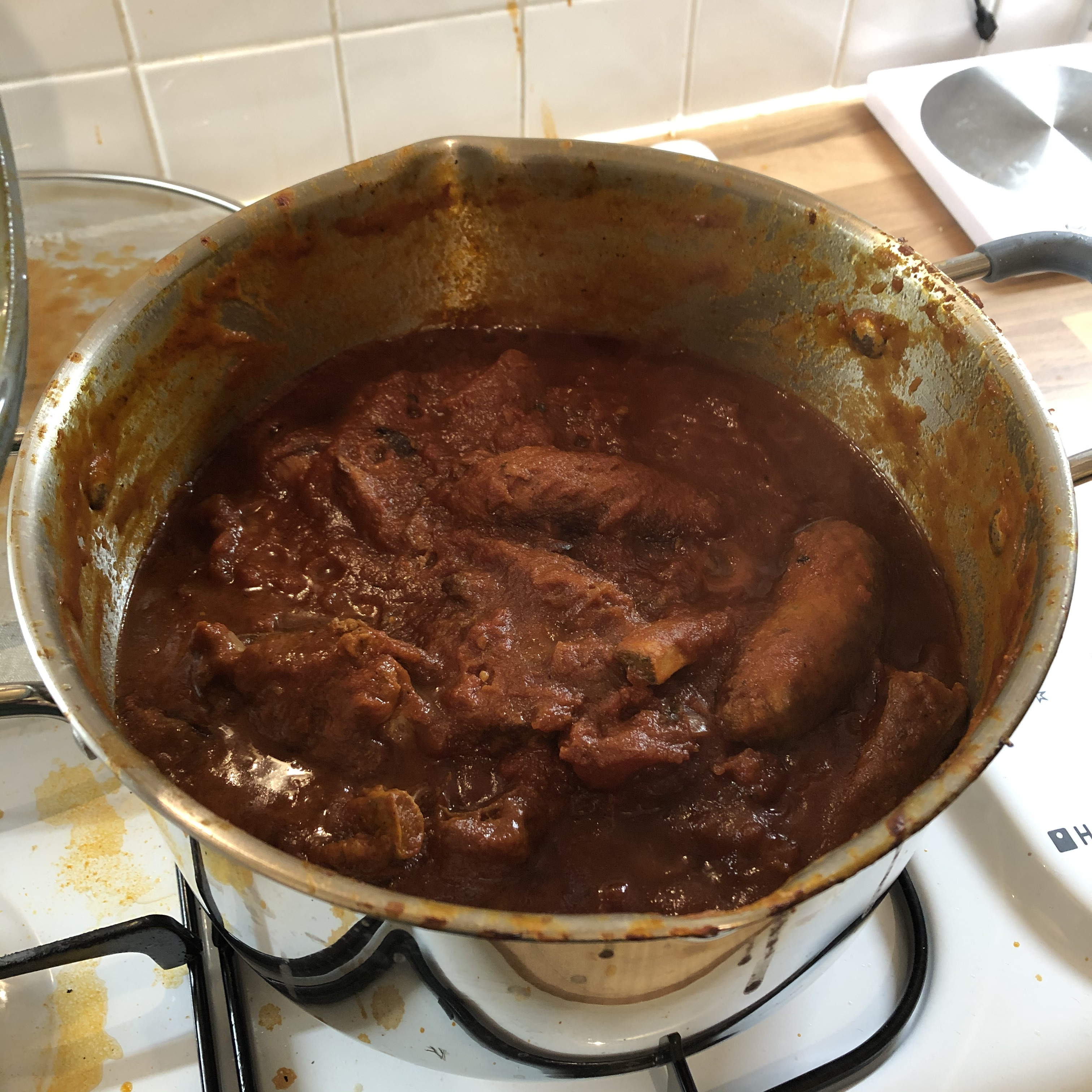 The wife and I made some homemade pappardelle (on the strict orders of the missus who prefers the thick ribbons) and served them with the sauce for a first course, having the meat for a second course.
And it was delicious, particularly with the homemade pasta, which we got just right. The sauce was rich and all of the meat was tender. Because we used ribs, there is the odd bit of debris in the sauce that you can't eat. If I did this again, I might not use the ribs as a result. Also, if you intend to have a first and second course, you need a bit more sauce to balance both plates. But I'm marking this one off as a success.
This work is based on the recipe in Two Greedy Italians (p124).
Kindly proofread by Matt at Isthmus Consulting.