[caption id="attachment_6133" align="alignright" width="386"]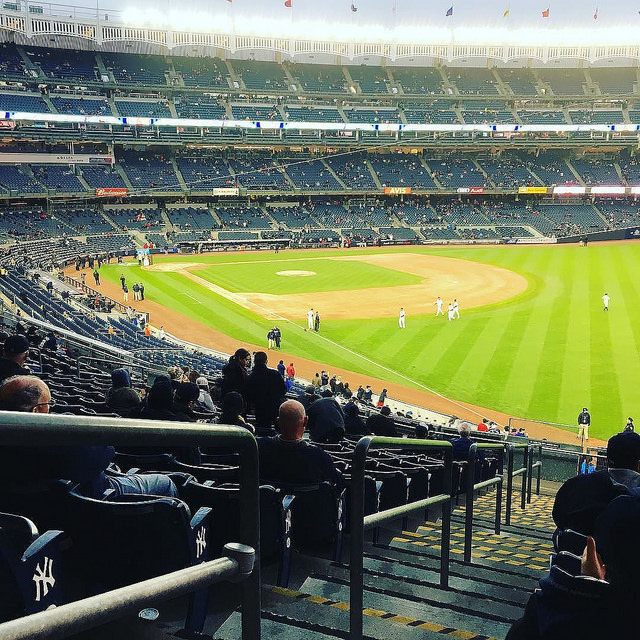 Yankees stadium[/caption]
I was completely wrong about the baseball. It was not rained off at all. The first game against the Red Sox was on Friday night. The Yankees did not play well in the first inning but managed to win in the end. I was a little surprised and annoyed to see that the crowd were booing David Ortiz - his crime would appear to be the opposing team's designated hitter and also he is retiring soon. Criminal stuff. There are rumours that he is "on the juice" to increase his performance - perhaps this is where the hostility stems. Derek Jeter was never treated like that at Fenway, at least when I was there. But then there were never rumours about Derek being on the juice.
I could not stay to the end of the game because it was too cold. This is the first time I've been in New York and not been able to wear shorts. When I came in April 2012 I got sunburn. This year it is decidedly cold.
[caption id="attachment_6119" align="alignleft" width="384"]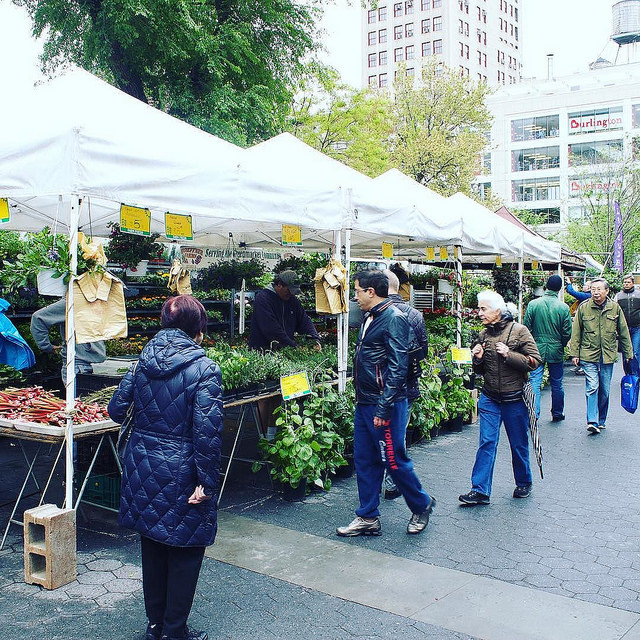 Union Square[/caption]
On this trip, as I walked the streets at night, I noticed a lot of cyclists without lights on their bikes. There must be significant casualties here given the disregard by most of them of traffic rules. A couple of years ago I tried a hire bike in New York and lasted 15 minutes before returning it due to fear of an accident.
Having crashed into bed early, Saturday was a day of baseball too. I started off with a Starbucks. Starbucks is a reliable place to get wifi. BT has given me a massive 100MB of data to play with so I have restricted my mobile data to iMessage and similar messaging protocols. Forget Facetiming anyone on that mobile plan. After my usual breakfast in the Gramercy cafe, I took a stroll around Union Square where there is a farmer's market on a Saturday. There was a wealth of fruit and vegetables, but also fresh fish. Gramercy is definitely an area I would consider living in if I came to New York more permanently. You can find anything you want here.
[caption id="attachment_6088" align="alignright" width="386"]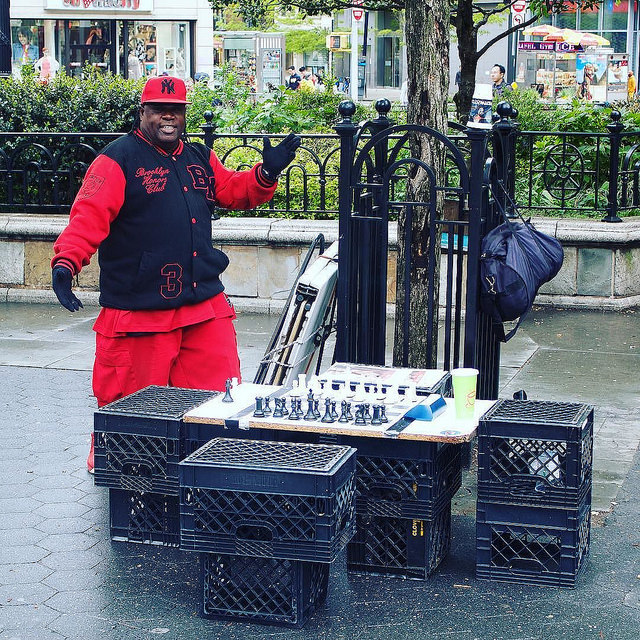 Chess Dude on Union Sq[/caption]
At one end of Union Square there are usually people playing chess. Due to the rain and time of day, there was only one guy. I stopped to have a chat with him - he gave me the weather forecast for the day which was pretty accurate. The rain did actually hold off as he said it would.
There is a definite rhythm in Manhattan as one walks through the streets. The crossing signs flashing red seem to set a pace and one finds oneself navigating the island by turning right or left to avoid stop signs and to keep going. There is also a distinctive roar of automatic cars as they take off from the traffic lights.
[caption id="attachment_6120" align="alignleft" width="384"]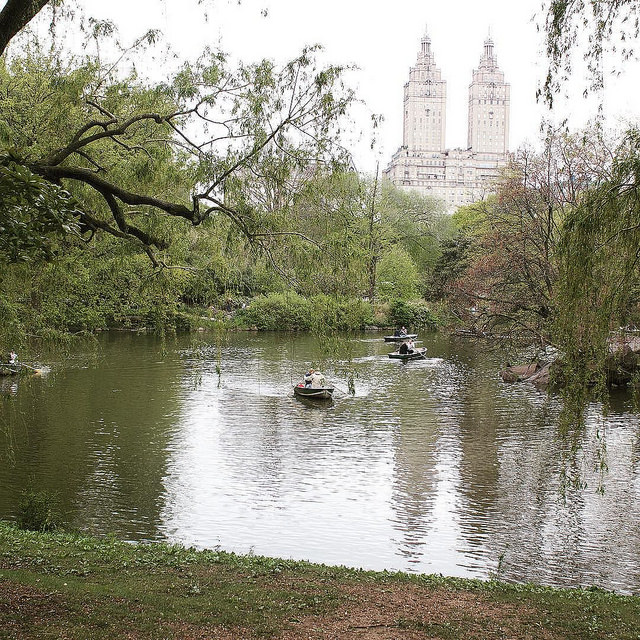 Central Park[/caption]
I went up to Central Park for midday. I had intended to see That Guitar Man, but my schedule was tight. As it turns out he didn't play that day due to the weather and he will open this year on May 21st. I took a walk from 83rd Street back to 59th via the park and then I got back on the subway to the Yankees stadium.
Since they have put tighter security on the stadium, it takes a lot longer to get in and I missed the start of the game. The turnout was huge for the second Red Sox game with plenty of Boston fans there too. Despite the rivalry between Boston and New York, fans from both teams sit together in relative peace. This is a far cry from the football stadiums of the U.K.
It was a much better game than on Friday night with the Yankees taking a significant lead in the 4th inning. Once again Ortiz was booed. Unfortunately I had to leave early and get on the Amtrak to Baltimore for a two and a half hour train journey to see a friend.
[caption id="attachment_6105" align="alignright" width="377"]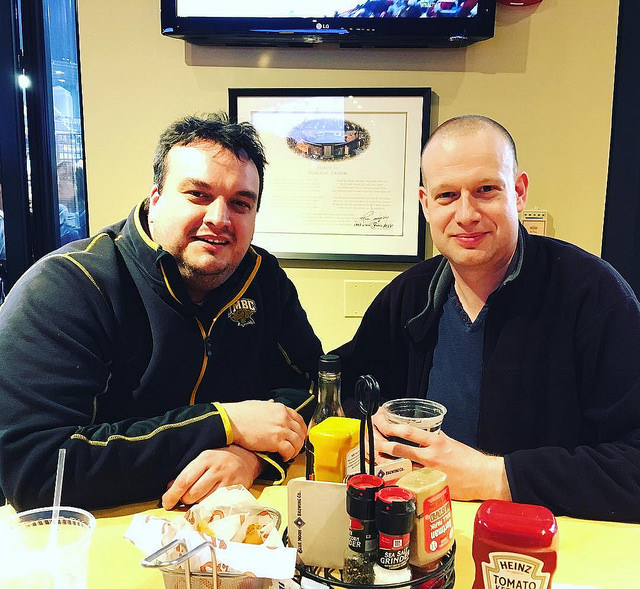 A picture of Jamie & Chris is taken every 2 years[/caption]
I met Jamie on the Internet years ago whilst we wrote some code together. He wrote a BSD-licensed version of grep and I contributed some code. The tool has ended up being included in the Android developer's toolkit. Don't worry - most of my code has been corrected or removed... We were originally in contact by email and then one day in 2012, by pure chance, I happened to be in Baltimore when he was. I joined his family for breakfast that year and we have kept in contact.
On Saturday night we watched the Baltimore Orioles and we had good seats behind home plate. When you sit near the plate you can hear the crack of the ball on the bat and the glove. The Orioles played well too.
[caption id="attachment_6118" align="alignleft" width="381"]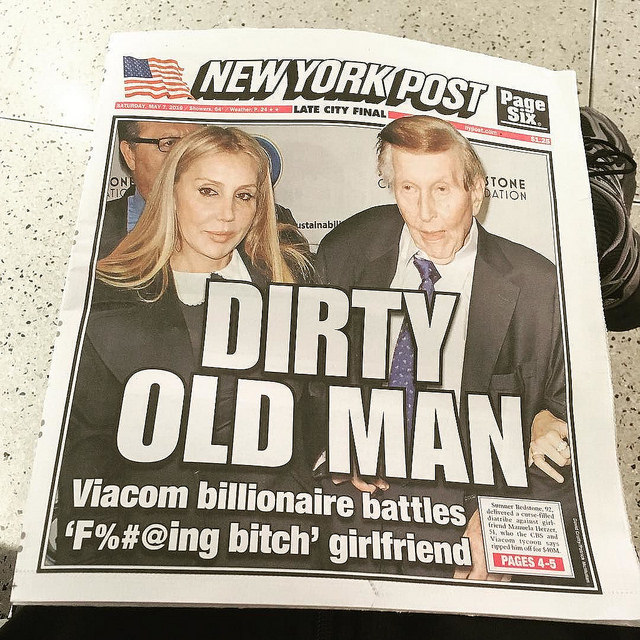 More class journalism from the Post[/caption]
We had dinner in the stadium. Stadium food tends to be limited and you won't see Michelin stars. (You will see the occasional Michelin tire in the car park.) However the atmosphere of the restaurant was friendly and I would happily eat and watch a game here again.
The last train back to New York returned me to my hotel at 2am but the trip was worth it. Strangely my body clock still woke me up at 7am and so I'm up and getting ready for another day.
Gramercy Cafe
184 3rd Avenue, New York, NY 10003
Phone: +1 212 982 2121
Union Square Greenmarket
Union Square Park, 14-17th Street where Broadway and 4th Ave merge.
Central Park
Between 59th and 110th Street, New York.
That Guitar Man
Plays at Hearns Head, Central Park - check website for schedule.
Yankees Stadium
1 East 161st Street, Bronx, NY 10451
Oriole Park at Camden Yards
333 West Camden St., Baltimore, MD 21201