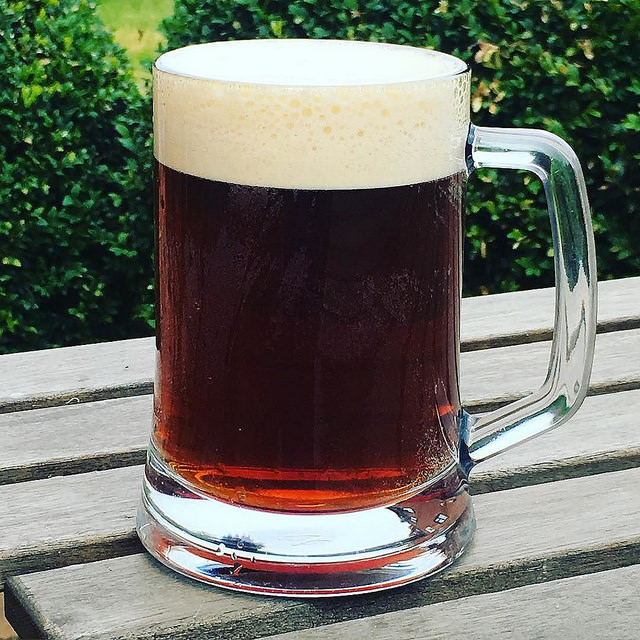 The London Bitter got opened earlier than expected. We took our little pup to pub where we usually take her and we were told to put her on the floor due to environmental health legislation... We usually put her on our laps, just to keep her calm. The pub owner didn't seem to mind - it was his wife who flagged our flagrant violation of the law.
I quite like the place so I won't mention where it is. Unfortunately our puppy is becoming more aware of her surroundings, so the next 10 minutes were filled with whining and barking. We had to leave to avoid any issues. Fear not - I am able to replicate the full English pub experience in my garden. Sometimes we do food as well.
This bitter has been teasing me in the barrel for some weeks. I brewed it the same day as the IPA and I've been looking forward to it. It is mainly pale malt with crystal malt giving it the dark colour and flavour. There are three hops - Challenger, Fuggle and Golding - but it is not too hoppy. The Goldings are used at the end for the aroma and the Challenger and Fuggle go in at various stages of the boil.
On the first pour, it is lively. I leave my barrels for one week in the warm so that there is a fermentation to produce carbon dioxide. Recent experience tells me that I should reduce this, at least in the summer months. It looks like a nice pint.
On the taste, it is similar to a Doom Bar or a London Pride, but it has a strong flavour. My first thought is to reduce the amount of crystal malt in the recipe next time. But this is another success and I am pleased with it.