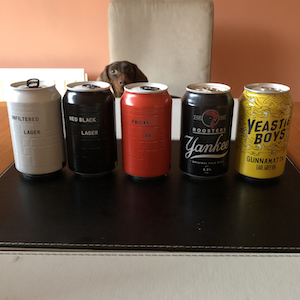 (If you are confused about beer tasting and diet posts on the same day, today is a cheat day which is allowed on the Slow-Carb diet.)
I had not intended to do any beer tasting today, but I parked in Waitrose to visit the barbers... so to get the pound back from parking, I popped into the shop and bought these beers. Yes, I'm cheap but because I'm a complete sucker, the Yankee tin drew me to the shelf.
Despite the massive hassle of getting my dog to look into the camera when I want to take a photograph of her, she decided to photobomb this one. Well, she can stay in it and her PR company will just have to write to me if they want to object. Prices below are today's and are from Waitrose.
Unfiltered Lager, And Union, 5%, £2.19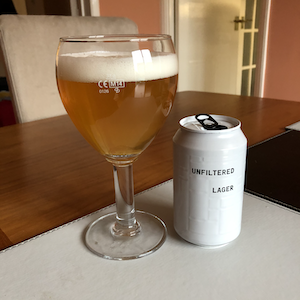 I have not seen or tasted these beers before from And Union brewery in Bavarian. The simplicity of the tin made me curious. Marketing works even on me, or at least it does today. This beer is uncomplicated. There is a malty nose and unsurprisingly it tastes like a solid German lager. Despite not being filtered, it is relatively clear. I'm not getting much hop. I was pleased with it and gave is 4.25 on untappd. Recommended, but be careful - it does not feel like a 5% beer when you drink it. It's very much like a homebrewed beer.
2. Neu Black Lager, And Union, 5%, £2.19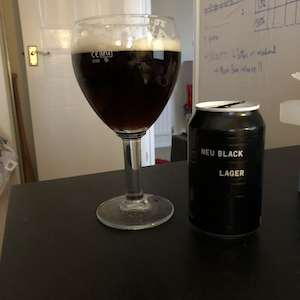 Very lively on the pour, I didn't get much on the nose at first. The first taste gives a roasted malt flavour to be expected in a dark beer. It then settles down to a clean dark lager with a maltiness that one would expect from a German lager. Still, at least for me, there's not a lot on the nose and not masses of hop. Well rounded and smooth. I will be visiting this one again. Looks like And Union has a nice collection of beers. I should have picked up the whole range at Waitrose, although I do have one more to taste (see below).
3. Yankee American Pale Ale, Roosters Brewing Co, 4.3%, £2.00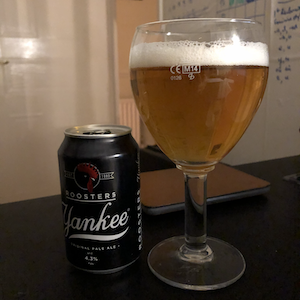 This is the can that drew me to the shelf today, as I am a Yankees fan (despite living miles away from New York). It pours well and isn't too lively. The head soon dissipates leaving a thin and acceptable head. There's plenty of foam retention on the glass. There is a soapy taste at first, but it settles down into a light clean pleasant mildly fruity IPA. A small amount of maltiness comes through. The hop isn't too much for me and this one will make a very pleasant drink on the patio in the summer. Exceptionally good value for the price. Another case, please.
4. Gunnamatta Earl Grey IPA, Yeastie Boys, 6.5%, £1.85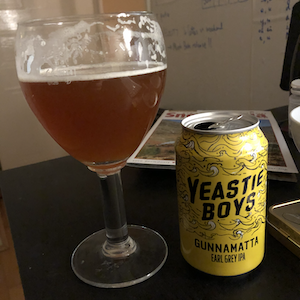 This one comes all the way from New Zealand. Oh no, it doesn't. It's brewed on license in Berkshire by the West Berkshire Brewery. It's slightly amber in colour and is lively in the glass. It contains tea as well as the usual ingredients. It claims to be "boldly floral, like your granny's bedroom". It is certainly floral and I'm not sure it suits me at all. The Earl Grey flavour is there in the mix and it occasionally tastes like lemonade. I'm getting the strength but I'm not sure I would guess it was so strong. This one is for the IPA hipsters - a club that I'm not a member of and I'm probably barred from. Not my cup of tea - sorry.
5. Friday IPA, And Union, 6.5%, £2.19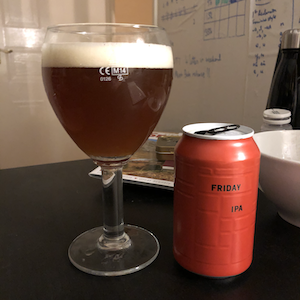 I'm excited because it's a beer from And Union. And I'm not disappointed. The head settles down to a bead. The nose is floral and hoppy, but not too much. There's a fruitiness on the flavour. It's very drinkable. No off-tastes. Like a homebrew, I'm not sure it tastes like a 6.5% beer but not to its discredit.
Actually, these were a more or less solid bunch of beers for 42p north of a tenner. The beer at a supermarket these days (is a Waitrose a supermarket?) is rather good. The Earl Grey IPA was my least favourite. The Yankee and the And Union beers are ones that I will definitely try again. I should have bought the other beers from And from Waitrose today for this tasting. There's a Weiss and a Sunday Pale Ale. Another Saturday I guess. This is good quality gear, everyone.
On Saturdays, you can find me on untappd. And you will find my dog stealing my chair.
[caption id="attachment_9190" align="aligncenter" width="300"]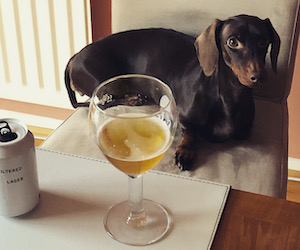 "I didn't touch it, Daddy."[/caption]
(No affiliate links today!)