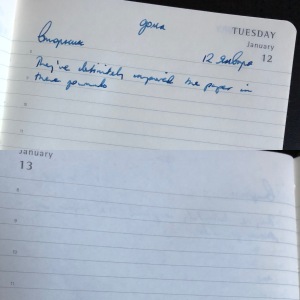 Last year I wrote a post about paper. Specifically I was interested in the differences between the premium paper journals on the market. At Christmas I received a Moleskine A5 hard-cover day-to-view journal as I do every year. I asked for a Moleskine because they are one of the few companies that produce a day-to-view format.
The 2020 edition (as with previous editions) did not have very good paper particularly when used with fountain pens. The paper suffered from ghosting (seeing what was written through the page) and bleeding (where the ink soaks through and is noticeable on the other side of the page). This year I have been pleasantly surprised as Moleskine seem to have improved the quality of their paper.
I can see no mention of this on their website. The paper is still advertised as 70g/m2 and there has been no obvious change in their marketing. The difference can be felt when writing. There is more resistance against the pen and there is no bleeding at all. They must have done something! Good for me though - I use a daily journal and I used fountain pens exclusively.