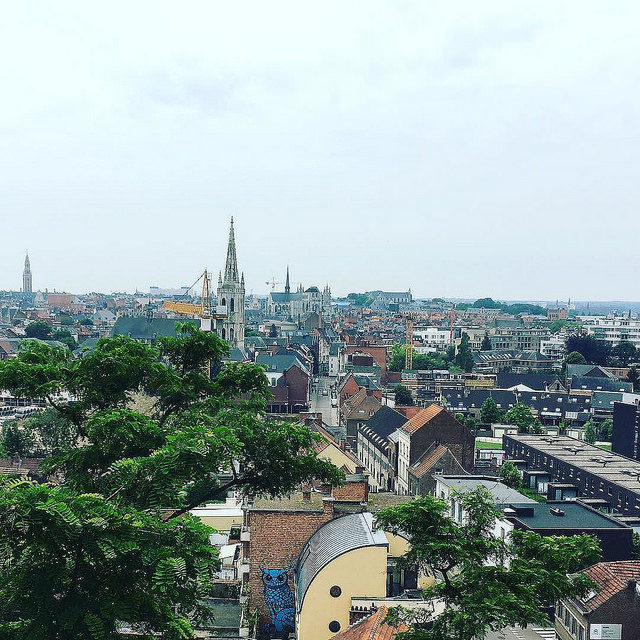 I spent this weekend in Leuven, Belgium. Leuven is in Flanders where Dutch (or to be strict, Flemish) is spoken. My last holiday in New York was definitely not to drink beer. This holiday was most certainly to have a few cold ones with a couple of mates who were accompanying me.
[caption id="attachment_6327" align="alignright" width="300"]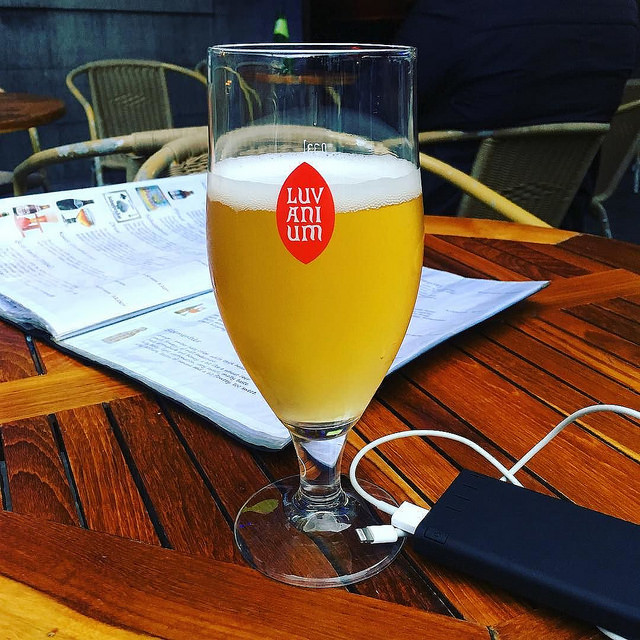 A local brew[/caption]
We left on Friday afternoon and took the Eurotunnel. This is by far the easiest way to get to the continent. I have gone by ferry before and it is relaxing, but on this trip time was of the essence. The time zone on the continent is an hour ahead and we needed to get across Belgium before it was too late in the evening. On this occasion we got delayed because a train had got stuck in the tunnel. Added to this there were a number of English football fans on their way to Paris for the Euro 2016 games. Despite getting the chance to get on an earlier train, we actually ended up in France later than expected. And because the only eating options were at the Eurotunnel terminal, I ended up having a Burger King which is very unlike me on a week day.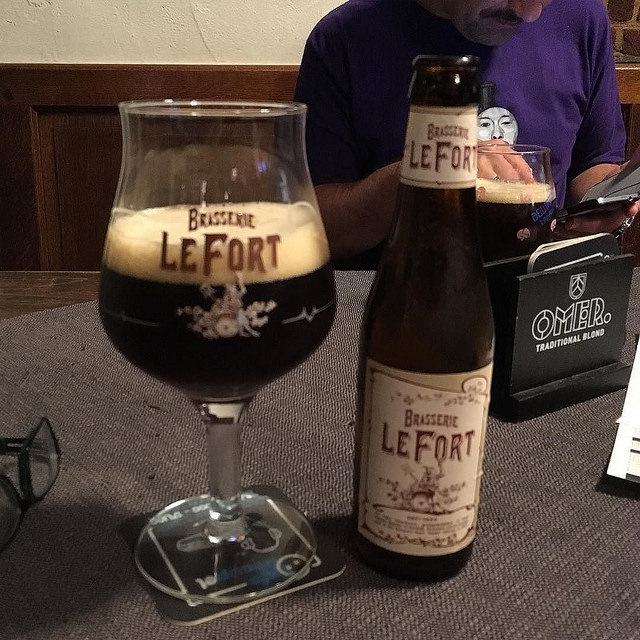 Once we were on the E40 heading the Belgium, the journey was absolutely fine and we arrived late at our apartment. The only time we intended being at the apartment was at night. The little place slept four people and had a very small kitchen, a lounge and a bathroom. It was very good value for £130 for two nights between three people. Parking was extra but very near to the place.
Of course, we needed a night cap. We didn't stray very far trying a local bar Kaminsky that was very near to the hotel. Untappd reliably informs me that I started with a Leffe Bruin and followed it with a Lindemans Kriek, a cherry lambic. Its tough to mess up bottled beers, provided they are stored correctly. These were lovely. The bar staff were friendly but a little slow. We headed back to the hotel for an early start.
Saturday had moderate weather. It wasn't too hot but it was warm enough to be comfortable. We started at a restaurant called Notre Dame where they served healthy breakfasts. I started the weekend with an omelette which I was able to order in Dutch. We then had a wander around the town. The Grote Markt (Great Market) has the town hall and cathedral. One cathedral is much like another, but we paid a visit and lit candles to our respective relatives that are no longer with us.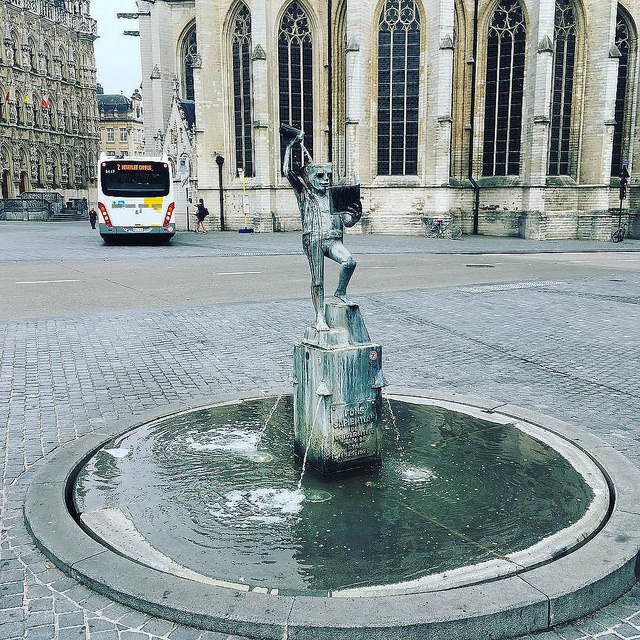 Near the Grote Markt is the statue of the student pouring beer into his head. Many a student has come to Leuven to learn and drink beer.
We took a walk up the hill to the abbey but couldn't get in. I managed to get a picture of Mary on the hill.
The Oude Markt (Old Market) is a social centre and we earmarked a few of the bars for a beer later on in the day. By this time, it had to be 5 o'clock somewhere (in fact it was 1130 local time) and so we decide to visit The Capital, a bar that boasts 100s of beers  on the menu.I saw that they had a Lindemans Apple Lambic on tap and I went for this.  The others went for Oud Bruin and Wolf 8. All very drinkable beers. We sat outside and watched the world go by.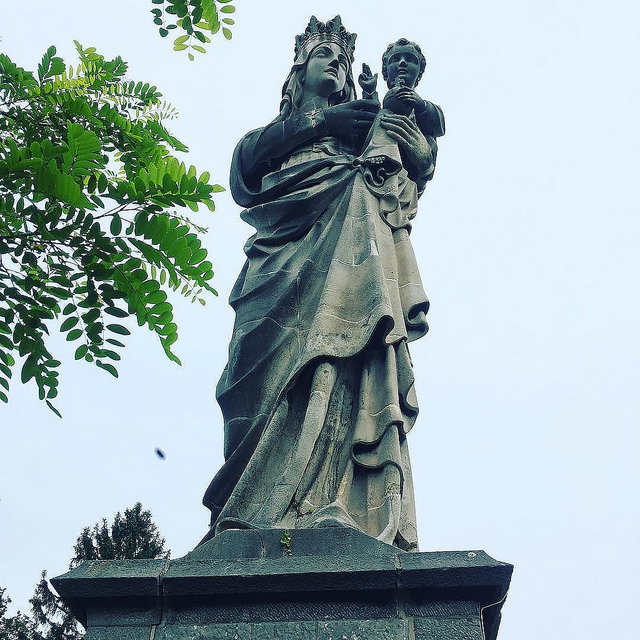 I have an interest in Lambics at the moment because I have just brewed a Cherry Lambic. It is conditioning in my garage as I type.
The second beer for me was a Wolf 8 having enjoyed a sip out of my comrade's first drink. He went for an Oude Gueuze, a sour beer which is an acquired taste. Time was passing and our only constraint was a booked tour at the Stella Artois brewery. We left The Capital and headed somewhere for food ending up at De Kansel for Stoofvlees (Flemish Stew) with Belgian Fries and another beer. This time I opted for a Cornet which complimented the stew well. It is said that every Belgian owns a deep fat fryer and is ready to make fries at all hours of the day.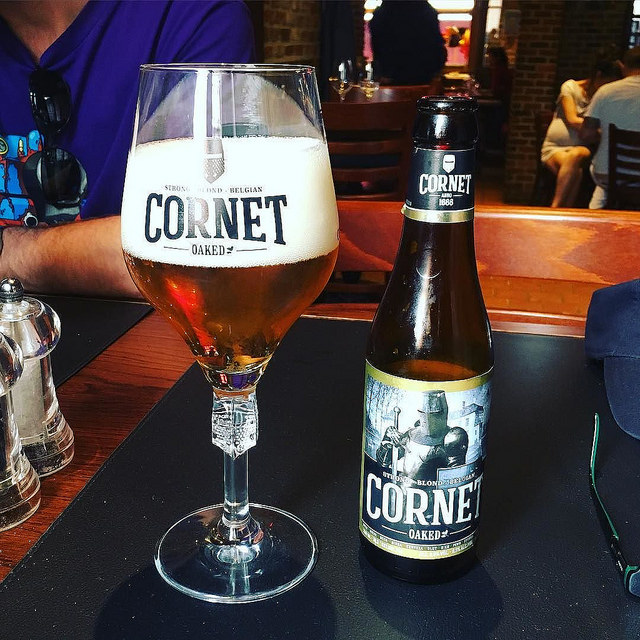 Time was running thin. We found that generally service is relaxed in Leuven. We still managed to get to the Stella brewery on time but only just. Unfortunately part of the brewery was shut to the public, but the tour guide gave us a very good talk on how Stella was made before showing us the factory floor. Compared with the Brooklyn Brewery tour I had last month, this was much more informative. Stella is made from grain wort and corn wort. The grain and corn are mashed separately and the worts are mixed together before the boil. Short of giving us the exact recipe, we got a good overview of the process. Then we were given free Stella.
I have to confess that I was a little disappointed with it, having drunk very good Belgian beer all morning, but the tour is not to be missed if you are in Leuven. Stella Artois was a beer originally made for Christmas as a special. It was so popular it has remained until this day.
[caption id="attachment_6324" align="alignright" width="300"]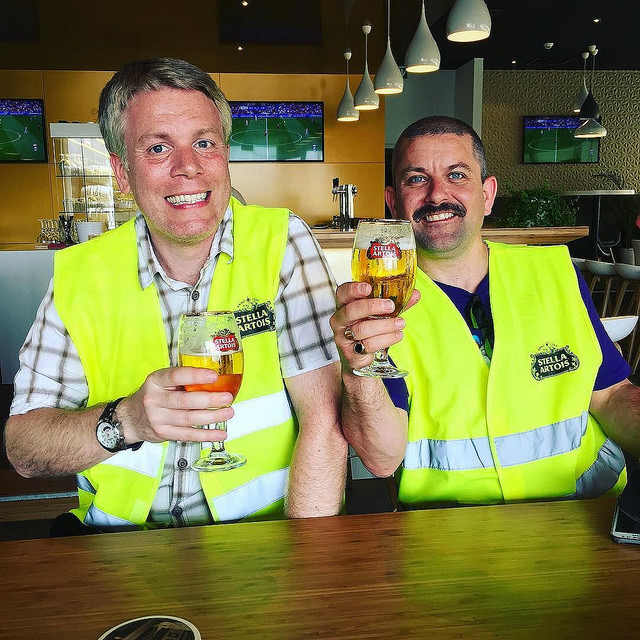 The chaps tried their best but the brewery still has beer.[/caption]
The brewery is owned byAnheuser-Busch InBev, the multi-national brewery and one of the largest consumer companies in the world. Also brewed on the premises is Leffe and Hoegaarden. ABInBev are headquartered in Leuven.
Domus is a local microbrewery and unfortunately it was shut during our visit. There is a beer month in Leuven between April and May, and I may have to find an excuse to pop back next year.
The next step was to head back into town. There is a Belgian beer bottle shop near the town centre with a great range of beer and we stocked up for home. All the stock was stashed back at the apartment before heading out for the evening. The first stop was Cafe Universum where the service was fast and I had a Peach Lambic. This turned out to be incredibly low in alcohol for which I received considerable stick from my fellow drinkers. We took the opportunity to line our stomachs with a Belgian Waffel.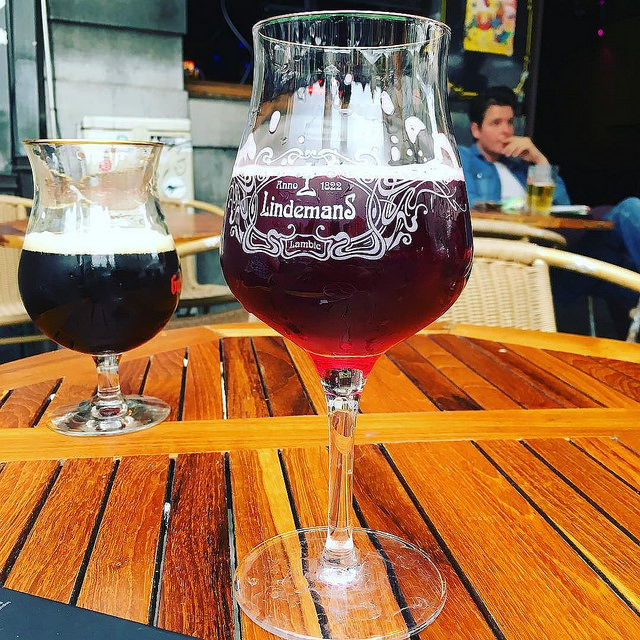 The place we spent most of the evening was Cafe Belge. The town is small enough that we ended up recognising people we'd seen earlier in the day. The waitress had been drinking (only a diet coke I will add) in the Capital earlier. I started with a Boon Kriek - another Cherry Lambic and this one was sour. The England vs Russia Euro game started and we sat and watched it. The service was pretty minimal and we managed to get the beer menu back and choose another. I had a local beer - the Luvanium. At this point the service disappeared, and most people were outside without drinks just watching the football. Actually everyone was enjoying the game and cheering the goals whether they be English or Russian.
On the Oude Markt there is a Chip shop as you would expect. After a portion of fries drowned in mayonnaise, we headed back to Cafe Universum and I finished with a LeFort. We were pretty much done for the day. Synopsis of the day: we walked around Leuven, had a brewery tour, had eaten well and every beer we had was great.
Leuven is a lovely town and the people are friendly. It is one of the first places where the locals have replied to me in Dutch when I have tried to speak it, despite the large neon sign on my forehead saying English. As I said before, the service in the bars and restaurants is a little relaxed, but the food and beer is good.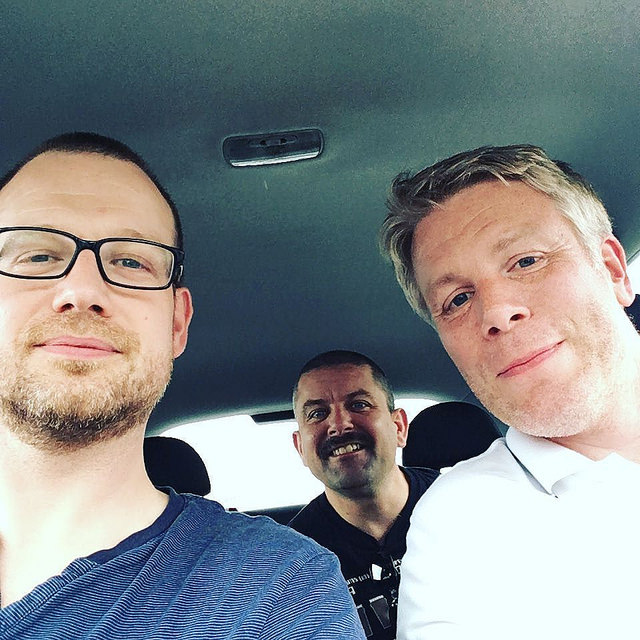 On Sunday morning, we were up early to get omelettes at the Notre Dame restaurant before heading back to Calais. Very little is open on a Sunday in Calais and I went to Calais Wines to get some wine for home. My advice is don't go on a Sunday. Had we arrived earlier on the Friday we would have been able to go to the Carrefour and get some good but cheap wine. We popped into Calais and had a steak before heading to the Eurotunnel in a cheap but good Brasserie called Au Calice. French passport control was actually checking passports for once so there were delays. Other than the delays, we enjoyed the break and regretted not staying a bit longer in Leuven.
Condo Gardens apartments
Dekenstraat 87, 3000 Leuven, Belgium
+32 13 29 62 15
Kaminsky
Léon Schreursvest 1, 3001 Heverlee, Belgium
+32 16 29 01 26
Notre Dame Quasimodo
Grote Markt 11, 3000 Leuven, Belgium
+32 16 22 37 62
The Capital
Grote Markt 14, 3000 Leuven, Belgium
+32 486 21 90 18
De Kansel
Muntstraat 15, 3000 Leuven, Belgium
+32 16 22 09 23
Brouwerij Stella Artois
Aarschotsesteenweg 20, 3000 Leuven, Belgium
+32 16 27 79 80
Belgian Beer Shop
Tiensestraat 31, 3000 Leuven, Belgium
+32 16 70 02 20
Cafe Universum
Herbert Hooverplein 26, 3000 Leuven, Belgium
+32 16 20 07 50
Cafe Belge
Oude Markt 35, 3000 Leuven, Belgium
+32 497 10 72 06
Frittz
Oude Markt, 3000 Leuven, Belgium
Au Calice
55 Boulevard Jacquard, 62100 Calais, France
+33 3 21 34 51 78